What Is A U Part Wig
Apr.23,2022
If you are looking for a wig that can enhance your beauty and give you that natural look you are yearning for, a U part wig should be on your bucket list. What's more, this wig is more affordable compared to the lace front wig. If you are new to the world of wigs, you may not know nothing much about U part wigs.
In this article, we discuss everything you need to know about U parts wigs, including their features as well as reasons to invest in a U part wig. Let's delve into them.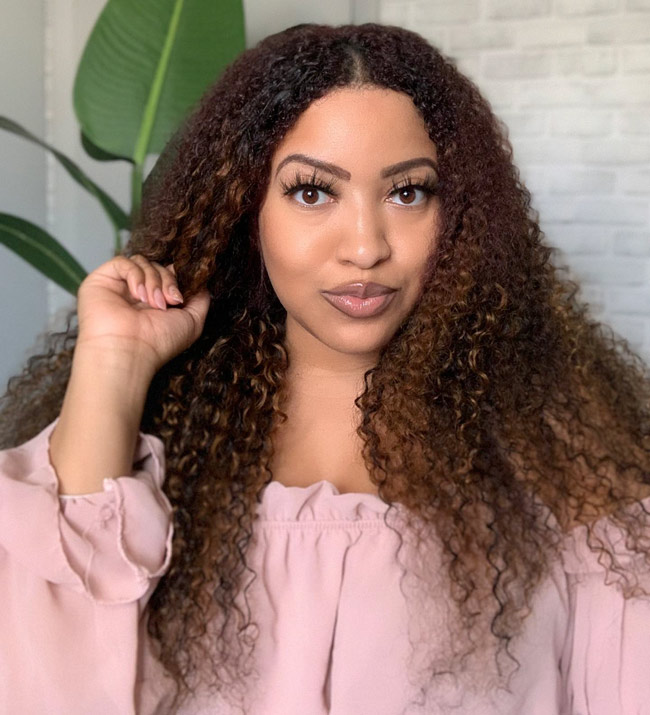 What is a U part?
A U part wig, also known as U-shaped wig is a type of cheap human hair wigs that is modified half wig with a u-shaped opening on the top area of the wig that the wearer can cover with their natural hair. The u-shaped hole can be in the middle, left, or right based on your needs.
U part wigs have increasingly become popular thanks to their natural-looking features. They are also absolutely beautiful and will definitely enhance your looks. Let's take a look at some of the features of a U part wig.
Features of U part wigs
Now that you have a better understanding of what a U part wig is all about, let's see some of the features of a U part wig.
Features of U part wig
-Blend perfectly with the natural hair
-No glue and no sew-in
-Natural-looking
-Breathability and comfort
-Super secure
-No stocking cap is required
-Matches the roots of the hair
-Can be installed or uninstalled everyday
Reasons to invest in a U part wig
If you have never tried a U part wig, you are probably wondering if it is worth it. Well, here are the top reasons that should prompt to buy a U part wig.
It gives wearers a more natural look
One of the reasons you should buy a U part wig is that it will give you a more natural look. Of course, when buying a wig, one of the top things you should consider is a natural look. You need to make sure that the wig will give you a natural look as much as possible. This is the only way the wig will enhance your appearance.
Thankfully, a U part wig can give you that natural look you desire. That's because these types of wigs generally don't have the unnaturally bumps and bulkiness that most wigs have and can make a wig look unnatural. In addition to that, the weft is so thin it won't be easy to notice it. This wig also allows you to wear your own natural hairline, thus making it easy to achieve a more natural look. So if you are in the market looking for a wig that allows you wear your natural hairline, a U part wig is a perfect choice.
They have strong breathability and are comfortable
When you are buying a wig, one of the most important factors you need to pay attention to when buy is breathability and comfort. A breathable wig can prevent you from sweating. It allows your scalp to breathe.
The opening at the top of the wig makes the wig offer strong breathability, thus guaranteeing comfort. What's more, the wig doesn't have lace, it is very lightweight, making it easier to wear the wig the entire day. So, one of the reasons that should prompt you to buy a U part is that it will provide you with great comfort.
Flexible hairstyles
Are you one of those ladies who cannot stay with one particular hairstyle for a very long time? If that's the case, then you need a wig that offers flexible hairstyles. This is where U part wigs come in. They will provide you with flexible hairstyles. For starters, this wig allows you to wear your own natural hairline. Additionally, with this type of wig, you can make a middle part or side part according to your preference.
It is a glueless wig
Another incredible reason you should invest on a U part wig is that it is a glueless wig. This means that the wig doesn't require glue or adhesive to install. So if you are allergic to glue or adhesive or you have sensitive skin and looking for a wig that doesn't need glue to install, a U part wig is an ideal option. Glue can significantly damage one's hairline. Fortunately, a U part wig eliminates the use of glue.
U part wigs are affordable
Another fantastic reason you should invest on a U part wig is that it is cost-effective. Some wigs can be very expensive, making it pretty hard to purchase them. This can be very unfortunate. The truth is that your tight budget should not limit you from buying a high-quality human hair wig. Thankfully, when it comes to U part wigs, you don't have to worry about your budget. That's because they are very affordable. Compared to lace front wigs, U part wigs are more affordable. The wigs are also very high-quality and long-lasting, so you are certain that they will serve you more.
Final thoughts
U part wigs are one of the best wigs in the market today. These wigs are incredibly beautiful and will enhance your looks and give you that elegant and beautiful look you desire. What's more, these wigs are high-quality, especially those that are made from human hair.
However, if you want the wig to last longer, you need to take good care of it. You need to wash it regularly and condition it. This way, you will get rid of dust, dirt, or oil buildup. You should let it air dry if possible. Using too much heat can damage your wig. Make sure that you set the heat to moderate. Also, store your wig carefully to avoid it from tangling. Hang it on a mannequin head or wig hanger. Finally, avoid sleeping in your wig. All these can help you take good care of your wig.
Write For Us
Questions & Answers
Q
Why Should I Choose U Part Wigs?
A
The U part wig has many advantages and I would like to summarize it in four areas: First, creating a natural look. Unlike lace wigs that achieve a natural look through a transparent lace covering, this wig makes the wig appear very realistic and natural by blending the wig with your natural hair. Second, protects your hair and scalp. the U-shaped wig has U-shaped holes that allow your hair and scalp to breathe more because it is not subjected to the stress of a traditional sewn-in weave. Third, it promotes hair growth. A U-part wig is essential in your transition from wig to natural hair. You can remove it at night to give your hair a chance to grow and breathe. Finally, protect your skin. U-part wigs don't require glue and stitches, which is a lifesaver for girls with sensitive skin. Also, these clip-in wigs won't harm your real hair and prevent hair loss.