V Part Wig Or Headband Wig Which Is Better
Mar.25,2022
Nowadays, thanks to the advancement of technology, ladies, especially black women have plenty of hair options they can choose from. It is no secret that wigs can enhance your looks. They also protect your natural hair from elements and conceal your hair loss, making a wig an essential item that every black woman should have.
When it comes to wigs, the most popular wigs you can pick include the v part wig and the headband wig. Both of these wigs are incredibly beautiful and will give you that elegant look you want to achieve. But which can you choose between the two? Which one is better? Well, let's find out. In this article discuss: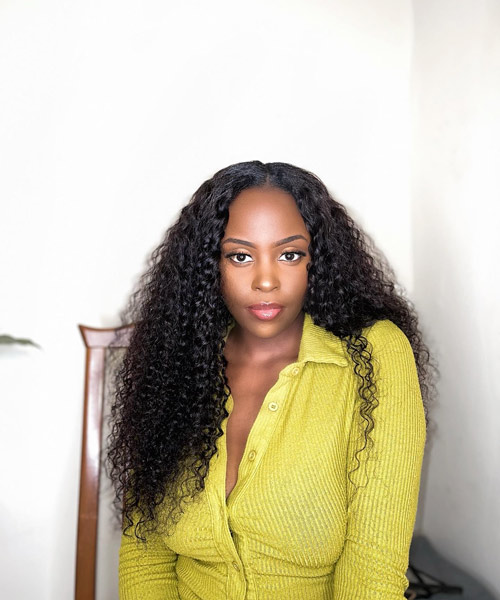 1.What is a v part wig?
2Advantages of v part wig
3.What is a headband wig?
4.Advantages of a headband wig
5.The similarities between v part wigs and headband wigs
6.The differences between the v part wigs and headband wig
7.Which is better between the two?
Let's get started!
What is a v part wig?
A v part wig is typically a type of wig with an opening at the top of the wig that is v-shaped. The opening is left to allow your natural hair to pass and blend through or that natural look.
The Advantages of v part wig
Flexible hairstyle
One of the best things about v part wigs is that they allow you to wear your own scalp. You can also make a side part or middle part depending on your needs. And if you want to add some hair accessories to try different hairstyles, you can go ahead.
A more natural look
Since the opening at the top of the wig allows you to pass your hair through, showing your natural hairline, this makes the wig give you that natural look you are trying to achieve.
The v part wig is glueless
This type of wig doesn't require glue to install, making it an ideal choice for ladies with sensitive skin or who are allergic to glue and adhesives.
Easy to wear
Since v part wigs have no lace to be trimmed, this makes it easy to wear the wig, making it an ideal choice for beginners or those ladies with tight schedules.
More affordable
Another incredible thing about v part wigs is that they are pretty affordable. Compared to lace wigs, v part wigs are far much more affordable.
What is a headband wig?
A human hair headband wig is a type of wig that has a piece of cloth that resembles a headband attached to it. It is held in place using adjustable straps and clips on the back of the wig cap. This means that no glue is used to install the wig. A headband wig is typically worn at the back of your head, as you style the front of your hair and tie the headband. It is also called a half wig.
Advantages of a headband wig
It protects your natural hairline
Since you don't have to use glue to install the wig, this means that you will protect your natural hairline from any damage that can be caused by the glue.
It saves time
This wig can really save you time, especially when you are in a hurry since you don't have to spend a considerable amount of time cutting the lace because they don't have lace.
Versatile hairstyles
If you are one of those people who like to try new hairstyles now and then, a headband wig got you covered because headband wigs come in different styles, lengths, and colors to choose from.
It is easy to wear
Since headband wigs have no lace to be trimmed and also no glue is applied, this makes it pretty easy to wear. This makes it a lifesaver, especially those mornings when you are so much in a hurry.
Light and comfortable
Headband wigs are generally light, comfortable, and breathable. So you don't have to worry about sweating in it so much when you are in a poorly ventilated room or when the sun is hot.
Perfect for any occasion
Other than offering a more natural look to the wearers, headband wigs are perfect for any occasion. Not only can you wear it in your daily life, but you can also wear it to a wedding, theme party, church, date, etc.
The similarities between v part wigs and headband wigs
1.They are both easy to wear
2.No lace and no use of glue
3.More affordable compared to lace wigs, making them cheap wigs
4.Flexible hairstyles, such as a ponytail and high bun
5.They both give a more natural look
The differences between a v part and headband wig
Different cap construction
The v part wig cap has a v-shaped opening on the top and some hair strands attached. On the other hand, the headband wig is composed of a complete wig cap, hair strands attached to the wig cap, and a piece of cloth [headband].
Different prices
While both of the wigs are cheaper compared to lace wigs you can purchase them using wigs afterpay service, they have different prices. If you compare a v part wig headband wig of the same density, material, and length, you will find that you will have to pay more for a v part wig.
Different installing methods
To install the v part wig, you braid your hair and leave some along the hairline needed for the v-shaped opening, then insert the clip and adjustable straps on the wig into the gap of your braided hair. From there, you can blend the natural hair with the opening.
To install your headband wig, you braid all your natural hair first, put the wig cap attached with the hair strands on your head, and then cover the front end of the cap with the headband.
Which one is better?
When it comes to a v part wig and a headband wig, it is pretty hard to say which one is better because they have almost the same features and they can enhance your appearance. So your choice will depend on your taste, preference, and hair goals. If you are experiencing hair thinning, the v part wig may not be ideal for you because your natural hair may not completely cover the v-shaped opening. So you can choose a headband wig. But if you don't like the idea of wearing a headband on your head, a v part wig is ideal for you.
Write For Us