Tips To Style Human Hair Wigs
Aug.26,2022
Nowadays, many people like to wear human hair wigs. Wigs not only can be used in many ways, but also can be molded into many shapes. It will give you a beautiful new hairstyle every day. When you decide to buy a wig, you need to find out all the information about it. For example, when you get the wig, whether you can put the wig on as soon as you get it. Some people choose to wear the wig as soon as it comes out of the packaging, but many people prefer to have it styled before putting it on. They believe it will better suit their style. We recommend that you don't immediately put on your wig when you first get it. Styling the wig first will make it fit you and fit your style better. Most wigs need to be treated to create a natural look, so it's best to shape the wig to suit you first. If you don't know how to style a wig, then read on. Here are some tips to style a wig.
The Tools You Need To Style Your Wigs:
A wide-tooth comb
Shampoo
Hairpin
Hair-cutting scissors
A curling iron or hair rollers
A Mannequin Head
Hair spray

1. Wash Your Human Hair Wigs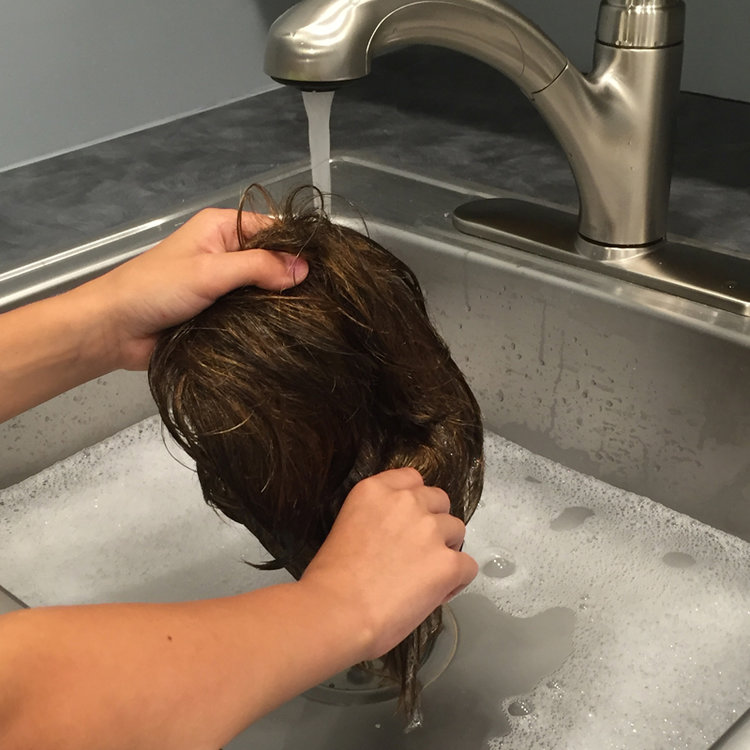 You can't put on the wig immediately after you get it. Because some chemicals may remain on the wig. When making wigs, it is inevitable to use some chemicals for treatment, which can make the hair look good and keep the shape of wigs during transportation. And when you open the package, there may be a smell on the wig. This smell is a moisturizer sprayed by the supplier, which can keep the wig from deforming during transportation. So the first thing to do after receiving the wig is to clean it. Then use a towel to dry the excess water on the wig. After the wig is naturally dried, it can be shaped.

2. Put The Wig On The Mannequin To Comb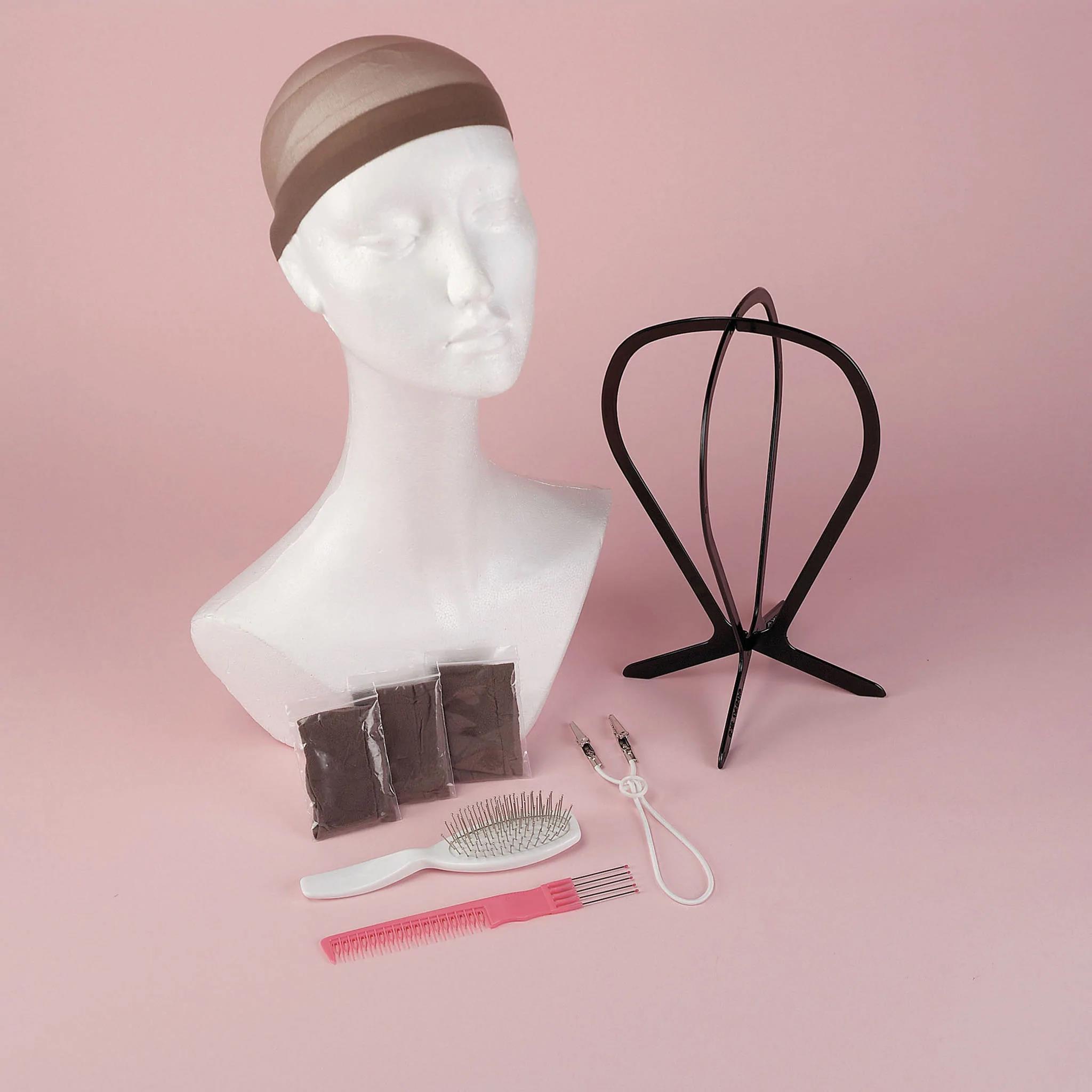 Before modeling the wig, make sure that the wig is dry, and no water can remain, otherwise it will cause damage to the hair. After the wig is completely air dried, put the wig on the head of the mannequin and fix it with a hairpin. Then comb the wig with a comb or your fingers. The best way to shape a wig is to put it on a mannequin. Because not every one of us is a professional hairdresser, putting the wig on the mannequin can let us have more energy to design the hairstyle instead of thinking about how to fix the wig. Another advantage of the mannequin head is that you can see all the angles of your hair when designing it. Although you can also use a wig holder, the mannequin head has an additional advantage, that is, you can hold the hairpin and modeling tools, which will be useful when creating a bun or other complex shapes. They can also help you avoid tangles.

3. Use a Heat Protectant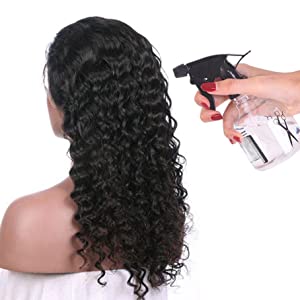 Before using the curling iron or hair rollers, be sure to apply the heat protectant on the hair. Because human hair wigs are made from 100% human hair, any operation on hair can damage the health of hair. Moreover, the human hair wig has lost its vitality and should be well cared for. Use a heat protectant will help protect your wig from the damage to high temperatures. It's best to use products specifically for wigs. This will better protect the wig and make it look healthier.

4. Straighten Your Wig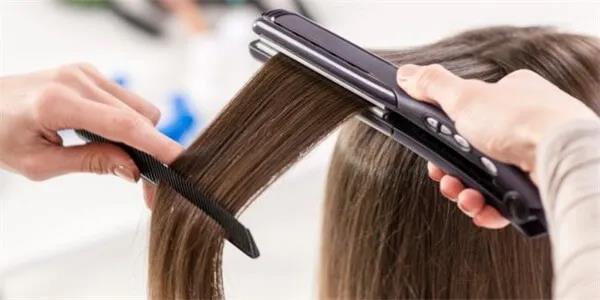 After fixing your hair, you can start styling it. Before styling, you can trim your hair with scissors until you are satisfied. If you want to make your hair straight, you need to use a hair straightener. First, divide the wig into several parts, to ensure that each hair will not be ignored. You can use your fingers or a wide toothed comb to separate your hair. Start from the bottom of your wig and divide it up. According to the density of the wig, you can divide the hair into several parts, generally 4-6 parts. Each part of the hair is clamped and fixed with a hairpin. Then straighten your hair with a hair straightener from the bottom to the top until these parts of the hair are finished. Finally, comb it with your fingers or a wide toothed comb. You can see if the shape is satisfactory and if there is still room for adjustment.

5. Curl Your Wig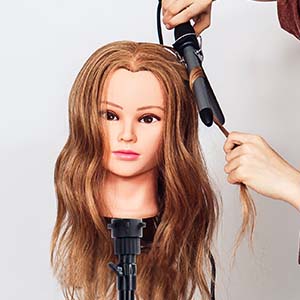 If you want to make your hair curly, you need a curling iron. Just like straightening a wig, the first step is to divide the hair into several parts. Use a hairpin to fix each part of your hair. Take a small strand of hair and wrap it tightly around the curly stick. Determine the retention time according to the curl curve you want. Curly hair with large radian needs to be retained for less time, while curly hair with smaller radian needs to be retained for longer time. Let the hair cool for a few minutes after all the hair is rolled, which helps the curly hair to be better fixed and maintained in order to keep the curly hair in the best state without deformation. You can also apply a layer of wig spray to your hair.
Write For Us
Questions & Answers
Q
How often should you wash your wigs
A

You should wash a human hair wig about every 6-8 weeks, or 7-10 wears. Many people who wear human hair wigs daily, find this the routine to be successful in cool weather, and may wash more frequently in hot weather.
Q
Can I use hairspray on a human hair wig?
A
Complete each section until all the hair is curled. Finish off the style with hairspray. You can use these heat styling tips on your human hair wig every day, but make sure to apply a leave-in conditioner spray and heat-protecting spray before styling to keep the hair hydrated and protected.
Q
Can you wash a human hair wig with regular shampoo?
A
Never, ever use regular hair care products on your wigs. Harsh chemicals in regular shampoos, conditioners, and styling products will cause irreversible damage to both synthetic and human hair wigs. Natural hair products will make your wigs look frizzy, matted, or unnaturally shiny.