The Ultimate Guide to Finding a Wig Vendor
Feb.09,2023
The selection of wig products is not an easy task. I'm sure you've noticed that there are many different kinds of wig products being sold in the market. If you open the internet and search for the keyword wig, you will come up with a wide array of results.
They look beautiful and perfect, but in reality they are of varying quality. Because the material, style, fit and so on are rather vague.
If you want to find a trustworthy wig supplier, this blog can help you.
Here is a list of steps to follow to start your search and save more energy while avoiding financial losses to some extent.
1. Do your research.
A good wig company should be associated with the origin and technology of the process. So you can learn where the world wig production center is, the process technology of that place must be the most professional, the production process specification is also the most mature, so that their products are not only good quality, and cost-effective, that is, with high cost performance. Here to popularize a point of knowledge, the world wig production center is China's Henan Province, Xuchang City. The network may not be easy to find authentic wigs produced in Xuchang City, beware of being cheated. Usually when you go online do not hesitate to order a product recommended by an internet celebrity just because you saw it on a social media platform, because the actual product needs to be evaluated. It is uncertain where their wigs are produced, how many years of production experience they have, and how professional they are.


2. Ask questions of their staff.
Manually asking relevant questions to their company people in person will get more direct and realistic information. In this process you can filter out the seller brands that do not have a good enough service attitude or are not professional enough.
The following questions can be the information you need to know.
Are your wig products made from 100% real hair? This time they may give you a positive answer, or they may tell you that the use of artificial fiber, or even tell you the name of the specific fiber, and may tell you that the use of mixed hair, that is, a mixture of such as horsetail, yak and other animal hair mixed with human hair hair. If they answer you, the use of artificial chemical fiber material production, do not believe their bragging about how good these chemical fiber wigs, realistic. They are just making a high profit from it and wasting your money. Because the production of 100% real hair requires high costs, while the cost of synthetic chemical fiber wigs is very low. They are simply irresponsible to consumers when they boast about the many advantages of synthetic chemical fiber wigs.
What is the origin of your hair?
Can I see pictures/videos? If you ask the person to see a video of their factory in the making of their product, they are usually happy to show you their production floor. The video will be more realistic than the photos, so it is beneficial to watch the video.
Do you offer free samples? Some companies will offer free samples, they are very confident in their industry and capabilities, and they are committed to building repeat business and expanding their user base.
What is the lifespan of your hair? Does it deform after washing? Can it be styled with coloring and perming, for example? (Real hair has a long life and can be styled in various ways)
What is your wholesale price? How do you do wholesale business?
How long does it take to ship after payment? How long does shipping take?
What is your return policy?
3. Test hair.
Want to know if the wig the other person is selling is really real hair? Use the burning method to test it. Take a few strands of hair, burn the ends and see if it turns into ash or a hard black substance. If it turns into ashes after burning, congratulations, what you bought is indeed real hair. On the contrary, if it turns into a hard black substance, then it is a chemical fiber material.
After you buy the hair back, you can use the finger comb method to test the quality of the hair. Run your fingers through the hair and see how much shedding occurs. If you see a small amount of hair loss, that's fine, it's normal. But if you see too much shedding, that's not good.
Wear your hair. I think this is the most important process, because no matter how many details and things we check, the ultimate goal is to achieve a realistic wearing effect. And to confirm whether a wig is a really good wig, by looking at photos or sellers picture is not to see, only their own head to see the effect is the best way to test! No one can get a realistic wig that really fits you and fits well without getting excited!
Leave your hair on for 3-6 weeks. Wash, curl, straighten, color and bleach. Do what you would normally do with hair extensions. If all goes well - no problems keeping the curl, still soft after washing, no excessive shedding, no abnormalities when heated, etc., you've got a truly superior quality wig!
In addition, I recommend trying to find the original factory to buy the goods, not the middleman.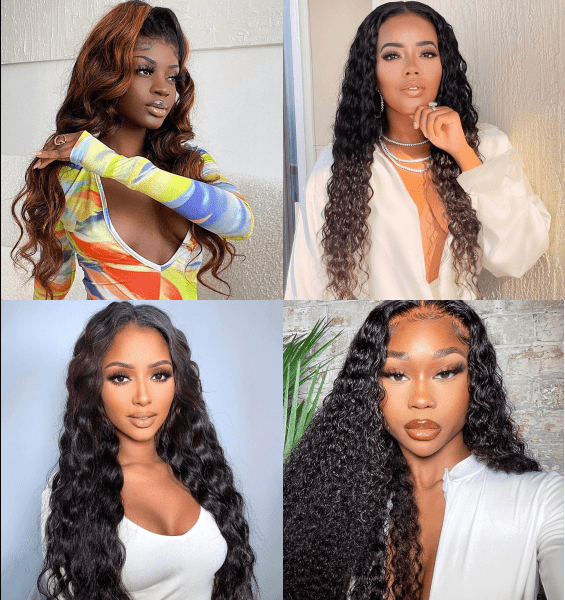 Here I want to introduce a wig vendor - HURELA, their factory is located in the world wig production center - Xuchang City, Henan Province, China. hurela wig vendor also has more than 10 years of production experience, the products are made of 100% real hair. Deep into this "wig capital", one in three people has a close connection with wigs. Huge wig industry belt, gathering wig factories and trading companies: factories, people work hard on stacks of hair, classified and filed by length, hair quality, every inch is "black gold"; streets and alleys, large and small stores operating wig business everywhere.

Production workshop, each wig production are through layers of processes, strict compliance with the domestic wig industry quality inspection standards. Cutting, cleaning, coloring, hair combing, scalp production, net cap gluing, perm dyeing and styling ...... hair products enterprises in Xuchang City more than 2000, hundreds of thousands of practitioners!

Hurela production of wig products look gorgeous and shiny, will not be knotted and fall off after repeated use, due to all the use of real hair materials, long life. Due to more than 10 years of industry development, wig raw materials access to more than enough and perfect. The major wig raw material suppliers - Brazil, India, Malaysia, Myanmar, etc., are the long-term partners of Hurela. In addition, China itself is one of the wig raw material suppliers, so China does not have to import hair materials from other countries. Chinese companies reprocess the hair imported from other countries to make it look shiny. The hair is mass produced in Chinese factories to ensure that it is always available and in stock. Warehouses are set up in the US and other countries with very good shipping timelines.
They have extensive expertise in hair manufacturing and the import and export procedures are always well monitored. They are always committed to providing top quality products with a good reputation. If you want the highest quality hair, contact Hurela Hair!


The diversity of Hurela vendor products
We are constantly developing and manufacturing new products that can be used to create a wide range of hairstyles. Here are some of the reasons why Hurela offers a wide range of products
Attention to global fashion trends allows them to create a variety of hairstyles and colors.
Hurela can style as well as bleach, perm and color hair in a variety of ways.
Hurela has extensive experience in selling and making hair, so they understand exactly what their customers need.
Hurela vendor has many advantages, but it is because of these advantages that they can offer the best wigs for the money! Good quality, but at the same time not too expensive, so that the buyer really benefits! The prices are cheap because Hurela itself is the manufacturer and not a reseller. They even offer free shipping! The cheap prices are also due to their location, Xuchang is a city with a low cost of living and low land rent costs, so Chinese hair wholesalers don't need to sell their products at high prices to make a profit!

Overall, China Hair Wholesale offers a wide range of quality goods at reasonable prices.

If you want to find a truly competitively priced wig vendor, come to Hurela!
Write For Us