T part lace wig VS U part wig: which is better?
Aug.29,2022
Pretty women who want to have more comfortable and better wigs have seen many types of wigs, such as V part wigs, U part wigs, lace front wigs, lace closure wigs and headbands wigs, spread worldwide. T part wigs as a new kind of wigs are in vogue because of their obvious advantages and special lace shape. T part lace wigs and U part wigs have lots of similarities and people what to know which is better to choose. In fact, they are both the comfortable and breathable wigs that can bring you more beautiful appearance. And for freshmen who lack enough wigs knowledge, it is hard to understand their differences in detail. Therefore, let us get to this point directly and learn it in depth.
This passage will show you what are these two types of wigs, their pros, and cons, differences of them and how to pick the right one according to your needs.
What is a U part wig?
A U part wig, named after its U shaped leave-out above the head top, is a good option for women. There is an empty section on the wig cap and linked edges by two bands. It is a thin kind of wig that provide more big area for scalp to breath and easy to cleanse. Install the wig through clips and an elastic band. No glue and lace. I know it sounds amazing that a wig has no lace. But there is no doubt that this design make wigs look more natural and allow you to style your own hairline. No lace means you do not have to wear it by glue or gels, so that can avoid product allergies to a great extent.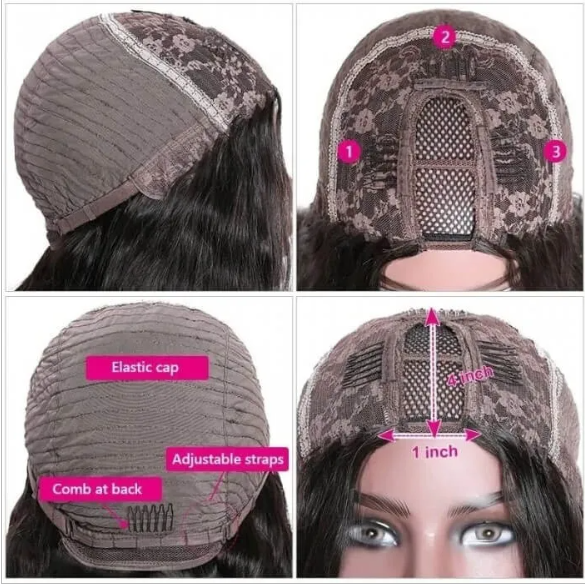 Advantages:
Easy to attach:
Cut one or two bands linked the wig edges, then you can see mental clips fixed inside the cap. Generally, more than three clips exist to help keep security of the wig. Do not worry about its safe. A U part wig clips tightly into your own hair, and one strong bang tightens your nape.
Time-consuming:
Installing the wig without glue will save so much time. In the rapid developed world, time is the most precious thing. Buying an available U part wig not only brings you more good appearance but also more time leaves out for you to enjoy your life.
No allergy:
Attaching your wig on your hair and do not touch your scalp, it is friendly to people had sensitive skin and allergic to chemical product like gels.
What is a T part wig?
A T part wig is a lace wig. Differ from lace frontal wigs, T part wigs only have two small lace area, located at the head top and along the hairline. The top head lace section is a rectangle in fact. It has the fixed width, half an inch, and different lengths. You can choose four, five or six inches length according to your head size and your tease.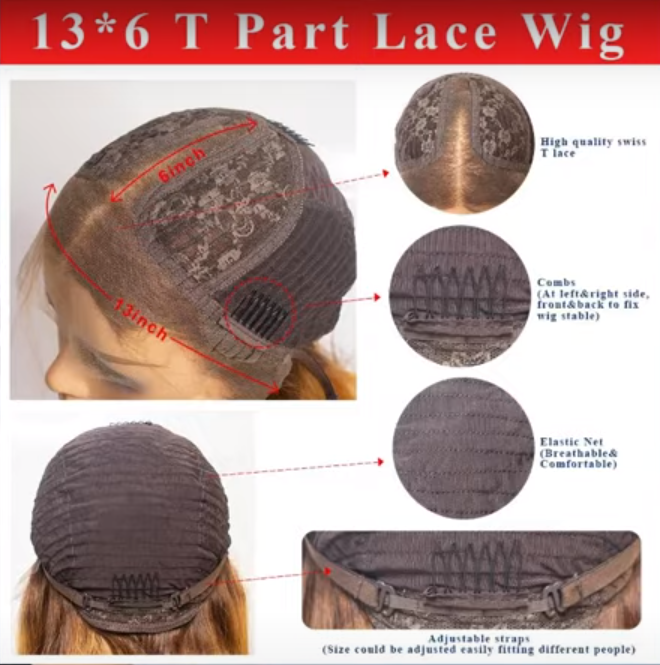 Pros of T part lace wigs
Natural hairline:
T part lace wigs provide us a choice to design our hairline used wigs' hair, which is friendly to someone suffered from hair loss and hair thinning. Trim the length into the proper length and lay down the lace on your skin. You will gain a perfect hairline styled by yourself.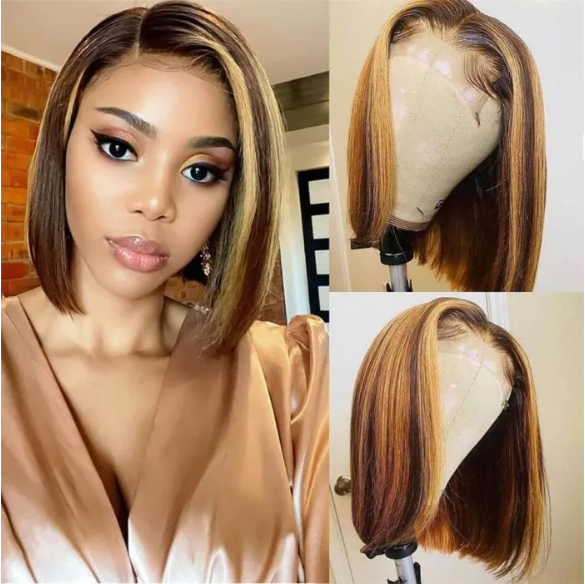 Cover a bad cut
A T part have a whole wig cap, so you can conceal all your hair inside it without the risk of hair dropping. You do not have to clip the wig onto your own hair. Covered by the wig cap, the bad cut or hair loss problem can remain under the cover. It gives you confidence to go outside and enjoy parties with your friends.
Handwoven
The hair onside the lace is sewn by the professional workers, making sure the hair will not lose by gentle pulling. Transparent lace color close to your scalp creates a natural line looking. No one could notice the true condition under the cap.
The differences between U part wigs and T part wigs
Lace:
U part wigs have no lace. They are glue-free for allergic people and easy to install.
T part lace wigs named after T shape lace help women style their special hair edges and balance their face nicely.
Hair leaving out
Because U part wigs need to clip onto your own hair, you must leave out a U shaped part of hair for installation. Enough hair is necessary for hiding wig edges.
There is no need for T part wigs to leave out hair. Covered by a whole wig cap, other people would see nothing from outside.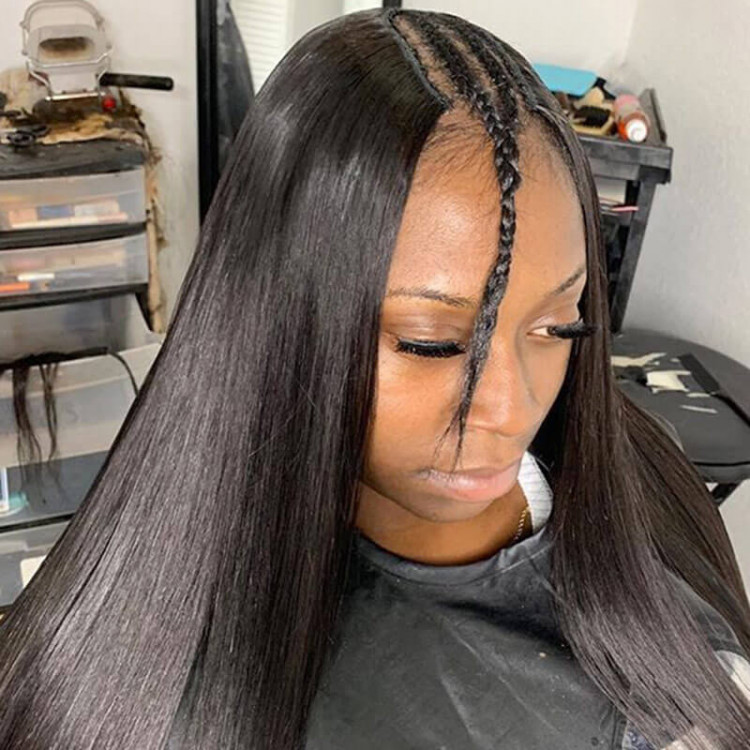 Wigs installation
No glue and no lace indicate fewer time of installation compared with lace wigs. Just fix the wig on your head by using elastic bands and clips. You can handle the installation method at the first time.
It is okay for you to attach T part lace wigs without using any glue or lace spray. Just cut the excessive lace off and tint some pressed powder. However, for perfect looking, most of the users choose to apply glue to lay down lace naturally. So, it may take more time to attach T part lace wigs compared with U part wigs.
Conclusion:
The biggest differences between T part lace wigs and U part wigs is whether wigs have lace or not, which determine their installation methods and time. If you have enough hair to leave out to wear U part wigs, just pick it! U part wigs will not let you regret. And if you have enough time to style hairline lace and your dream edges, please choose T part lace wigs. T part wigs can balance your face greatly and highlight your features.
Pay attention! You could try various hairstyles, such as Bob, BUN and Ombre, and style the hair by your heart whichever you choose because both of these two types of wigs are made by 100 percent human hair. Heat tools are allowed to be used.
There are so many natural and beautiful on hurela. Please select your favorite one and have your nice hair. If you still have something what to know, contact us! Our 24-hour customer service will answer your questions online and our products will never disappoint you.
Write For Us