How to hide your wig roots' color?
Aug.09,2022
Do you want to have a natural looking when you are wearing a wig? Wigs suppose to be the friendly tools that help us to change our hairstyles or color, bring us fresh feelings. But the uneven color on hair roots make the wig looks fake and break our desires to get more beautiful appearance. And what can we do about this? How can we deal with the problem by ourselves instead of changing into another wig? The most useful method is to conceal the color of hair roots.
Have you suffered from this issue: you purchased a wig on the internet, supposedly the wig should give you more pretty looking, but when it arrived, the color of hair roots were completely uneven? One side had dark roots and the other side had barely any. You used a clarifying shampoo and crushed vitamin C tabs to remove the uneven tint, but the roots still seem fake.
For this uneven color question, this article will talk about lots of easy and useful method to deal with it.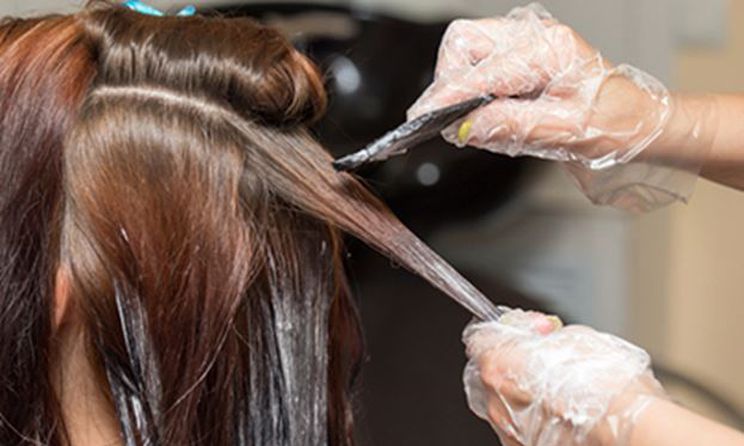 Please follow me, you will definitely get what you want to know!
Reasons lead to roots color different
1. The original hair color of the wig is dark, and the dyed hair color is lighter. For example, you buy a brown straight long hair and want to dye it into blonde. But the root of the wig do not totally become blonde and the brown color still left.
2. The quality of the wig is not good enough and the dyeing is uneven.
3. After buying the wig, people dye it by themselves. Because of afraid of dyeing the color on the headgear, they do not color roots, and the end of the hair is not completely dyed.
Wearing wigs with different color roots make your wigs seem super fake and unnatural. But how can we cope with it, Please look at the following steps.
How to hide your roots' color?
Notice: All of these steps above are recommended for human hair wigs, synthetic wigs are more fragile and hard to deal with.
Bleach your lace or your cap.

For light hair, such as blonde ombre, pink and olive green, it is easy to see the dark roots. In this condition, you can bleach the cap of the wig. Because hair knots are sewing or weaving tightly on the cap so that you can conceal the brunette color without carefully dying the root. And it will have no effect on the other hair.

Try a clarifying shampoo.

Clarifying shampoos could deeply cleanse the hair to get rid of excess buildup.

By removing product buildup, hardened sebum on the scalp, and excess oil, clarifying shampoos actually help the color or bleach penetrate the strands better, as these impurities leave a film that functions as a barrier.

Dye your wigs dark.

It is difficult to see your roots if your hair is dark brown or other dark color. Under the cover of these colors, even your wig has uneven sides, it is still easy to accept and hide. When dyeing hair, apply it from the bottom to the scalp, apply it several times. Make sure the dyestuff color your hair

evenly and apply it slowly in sections, so that the paste completely covers the hair roots.

Wearing a skin-tone wig cap. The lace looks thin and

light-colored

, a skin-tone wig cap is proper for you. And your wig will probably melt pretty well for you with some Got2B spray.
If your wig is a darker color or less saturated, wearing a black cap is better. The black hair cover will hide the variegated color of your hair roots, making the wig look more natural. And if your wig is red, like our new color 99j, black cap is really recommended for its good effect. The red wig head and black cap make it hard to see the real tone of the roots.
Try a light powder.

U

sing a

small brush

to apply translucent

finishing powder

or

light beige

matte eyeshadow on the lace. Run powder in the part with a small angled brush and brush a few times, which will create the sense of natural.

Put scar tape on underside

can also work really well. First, cut off the silicone lace tape, first tear off the tape and stick it to the inner wall of the wig, and then put the wig on the head. Also, be sure to cut the front of the melt tape into a slight curve, so you don't see a sharp dividing line.
Scar tape is a kind of patch using resin as raw material, and will not burden the scalp. At the same time, it also adopts an ultra-thin and breathable design, so even if you wear a wig all day, you will not feel uncomfortable. Some natural resin with mesh hidden cover is super adhesive and elastic, and can be reused as long as you don't tear it off after attaching it to the wig. In addition, it is waterproof, so you don't need to worry about rain falling when you go out.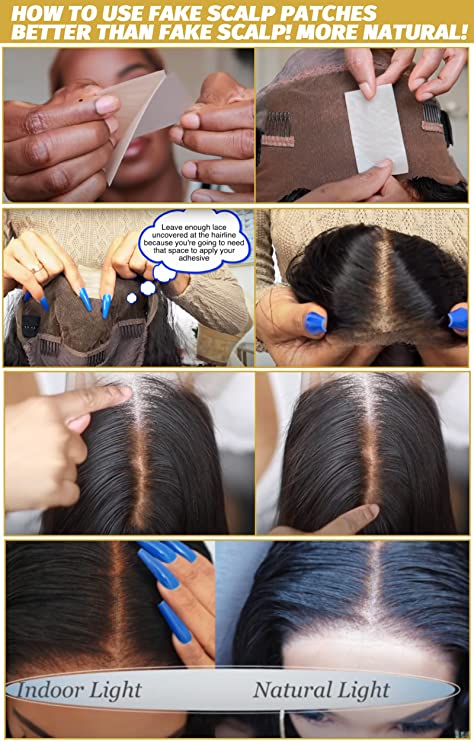 Add some texture at the roots. Having flat roots will only draw more attention to your regrowth, so the best way to disguise this is to choose styles with lots of texture at the roots. Adding volume to your roots, either by adding in some soft waves or teasing your roots, is a great way to give your hair a boost.
Write For Us