Do You Know About Headband Wigs
Aug.11,2022

There are many kinds of wigs to choose from for wig users. Among all wigs, the headband wig is the most convenient and fastest wig. In general, installing a wig can be a tedious process. If you wear a full lace wig, you need to apply glue and cut lace. Headband wigs are not required because they are fastened to your head with headbands and clips. It only takes you a few minutes to install the wig. This not only saves time but also allows you to have a beautiful hairstyle. Some people may not know enough about headband wigs. The following article tells you what a headband wig is, the benefits of a headband wig and how to wear a headband wig.
What Is A Headband Wig?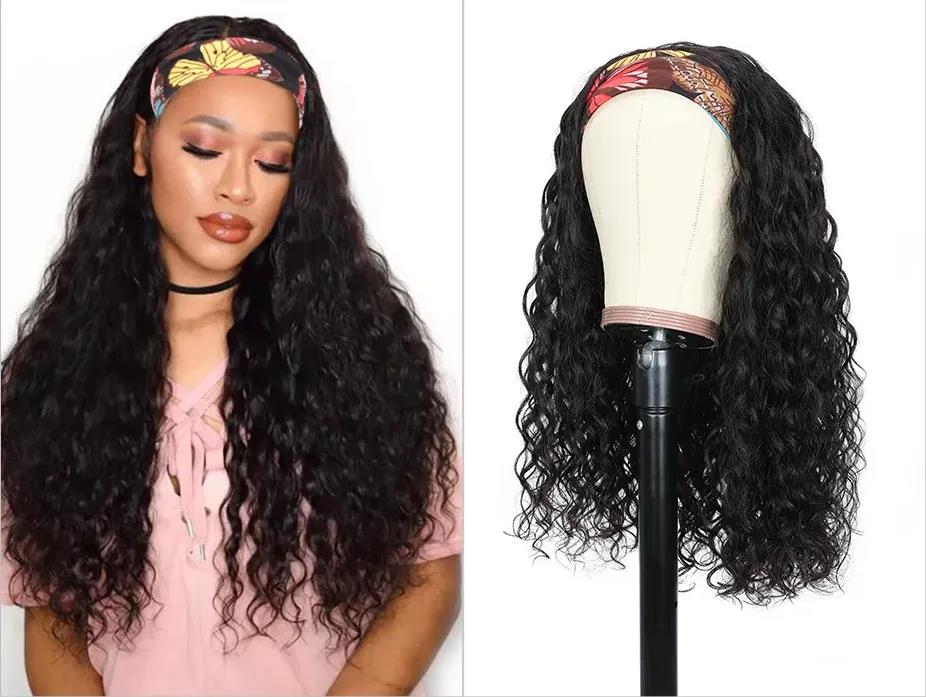 Headband wig is a new type of wig. A headband wig is a wig with a headband attached to the front. The headband covers the hairline to make it look more natural. It doesn't have any lace, so it's very simple to wear and doesn't need special customization. Headband wigs are different from other types of wigs in some aspects, but one of the key features is ease of use. When wearing a headband wig, you don't need to apply glue and cut lace. It can be placed on the head using a headband instead of a clip or other fastener and can slide around the head. No glue is needed to fix the wig. It can adjust the band to design your wig at will. The headband wig is the perfect choice for those who want not to harm their hair or head, whether they are novice wig wearers or long-term wig wearers. Headband wigs are made by 100% human hair. It is soft and smooth. The treatment of the hairline makes the headband wigs look more natural.
Benefits Of A Headband Wig: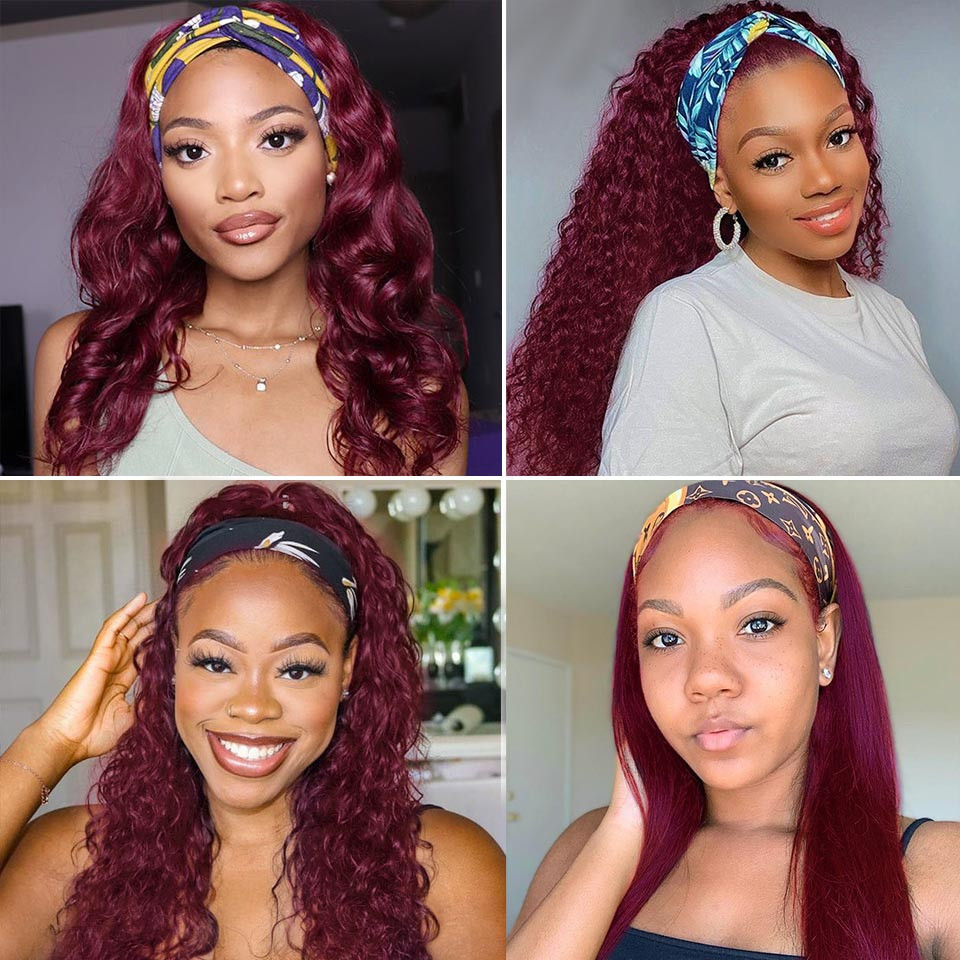 1. Easy To Install
Headband wigs do not require glue or adhesive, which reduces irritation to the hairline area and protects your skin better. A headband wig relies on Velcro and clips to keep the wig firmly attached to the hair. You just need to comb your hair before you put on the wig. Just keep the wig in place while you're wearing it.
2. Versatile Style
Headband wigs can give you a cool and relaxed look that you can also easily carry to your gym, parties, and office. That's why everyone, from the girl next door to Hollywood stars, chooses to wear headband wigs.
3. Breathable And Light
Headband wigs are made of breathable headband fabric. The human headband wig is very light, not as heavy as other wigs. And it can also cover the entire scalp. The wig headband is also very breathable, which is suitable for summer and winter.
How To Wear A Headband Wig?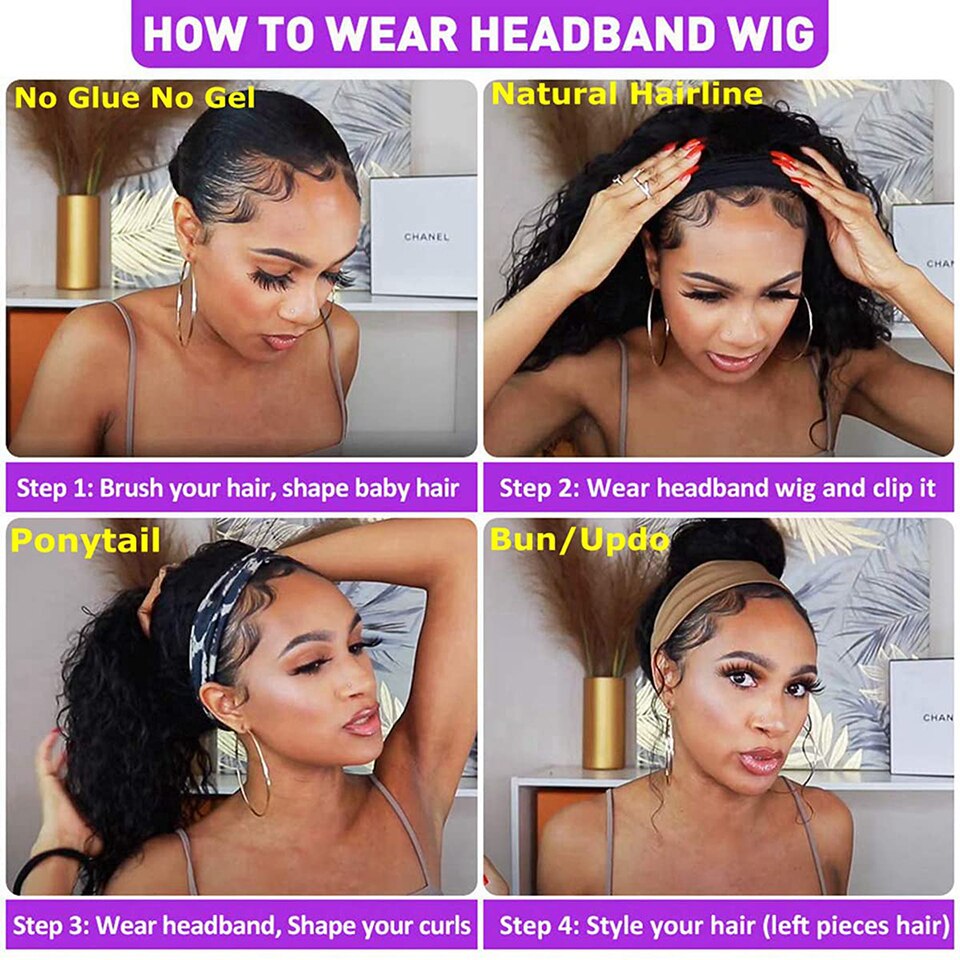 After knowing about what is a headband wig, let's learn how to wear a headband wig.
1. Prepare Your Hair
Comb all your hair from front to back. Comb the front hair smooth, which is convenient for wearing wigs. If you like, you can also apply some hair care essential oil. Unlike wearing a lace wig, you don't need to braid your hair. Of course, you can braid your hair if you like. If you do not braid your hair, it will not affect the wearing effect of the headband wig. Wear a wig cap after you comb your hair back. Wearing a wig cap can help you put on your wig more smoothly. After putting on the wig cap, get some baby hair near your hairline. Baby hair can make your wig look more natural.
2. Put On A Headband Wig
Put the headband wig on your head and pull the front comb to the top. Pick up the headband and fix the wig with Velcro to ensure that the comb at the bottom is also fixed. When you use Velcro to fix the headband, it will be firm, and you don't have to worry about it falling off. After the wig is worn, you can take it to anywhere and don't worry about the wig falling off.
3. Style Your Wig
After the wig is worn, you can wear your favorite style at the place where you wear the headband. You can choose different styles of headbands when you go to different occasions. In addition, you can tie a ponytail or a half-up and half-down bun. The headband wig can be tied into a variety of hairstyles, and it is versatile. You don't need to worry that he will show your original hair when changing your hairstyle. The headband wig will look very natural.
Write For Us
Questions & Answers
Q
How long do headband wigs last?
Q
How long do headband wigs last?