Do Glueless Wigs Damage Your Hair
May.17,2022
Absolutely not! In fact, contrary to that, glueless wigs can significantly protect your hair. So saying that a glueless wig can damage one's hair is far from being the truth. But what exactlyare glueless wigs? How do they protect your hair? Well, let's find out.
What are glueless wigs?
Glueless wigs are a type of cheap wigs that are hand-knotted to offer wearers a more natural look. What makes these wigs unique is that they don't require glue to install. This means that they will stay on your head firmly without the use of glue or adhesive. These types of wigs are ideal for ladies with sensitive scalp or who are allergic to glue.
In addition to that, glueless wigs are an ideal choice for you if you are not planning to stay with a particular wig on your head for quite some time. It is no secret that glue can significantly damage your hairline and scalp. But this isn't the case if you opt for a glueless wig. So you won't have to worry about damaged scalp or hairline.
We have mentioned that glueless wigs won't damage your hair, but instead, protect it. But how does it achieve this? Well, here is how glueless wigs can protect your hair.
How glueless wigs can protect your hair
We all want to protect our natural hair and do everything we can to achieve that. Thankfully, one of the most effective ways you can achieve it is by wearing glueless wigs. These types of wigs offer maximum protection to your natural hair. So you aren't worried about your hair getting damaged.
For starters, glueless wigs such as human hair headband wigs offer strong breathability, thus allowing your scalp to breathe. This, in the end, gives your hair room to grow healthy and stronger. In addition to that, your natural hair will be protected from dirt, dust, and sun rays.
Another way through which glueless wigs protect natural hair is that they are a safe option for ladies with sensitive scalps. Normally, there are women who have allergic reactions to the chemicals found in glues and adhesives. But with glueless wigs, such women do not have to worry about reacting to glue. Glueless wigs are generally safer for both the scalp and tresses. You can wear them as frequently as possible and they will not damage your hair.
Removing a wig requires a lot of care, especially if the wig is installed using glue. If you are not careful, you may end up damaging your scalp and hair. But wearing a glueless wig can save you from all these headaches. You don't have to worry about removing the wig anyhow so that you don't end up damaging your scalp or hair. What's more, it is so pretty easier to remove the wig because you don't have to use a wig remover. These wigs are usually held firmly using a wig grip or headband. The wearer can then use the strap in the back to keep it on the scalp.
Other reasons that make a glueless wig a perfect option
The wig offers a natural hairline and different hairstyles
Another reason that makes glueless v part wigs deal is the fact that they tend to blend well with natural hair, creating a natural hairline and real appearance. If you want to achieve that effortlessly elegant look, you should opt for a glueless wig. If it's a human hair glueless wig, you can style it and even change the color depending on your needs as well as your taste and preference. The best thing about glueless wigs is that they are quite flexible, meaning that you can achieve any style of your choice.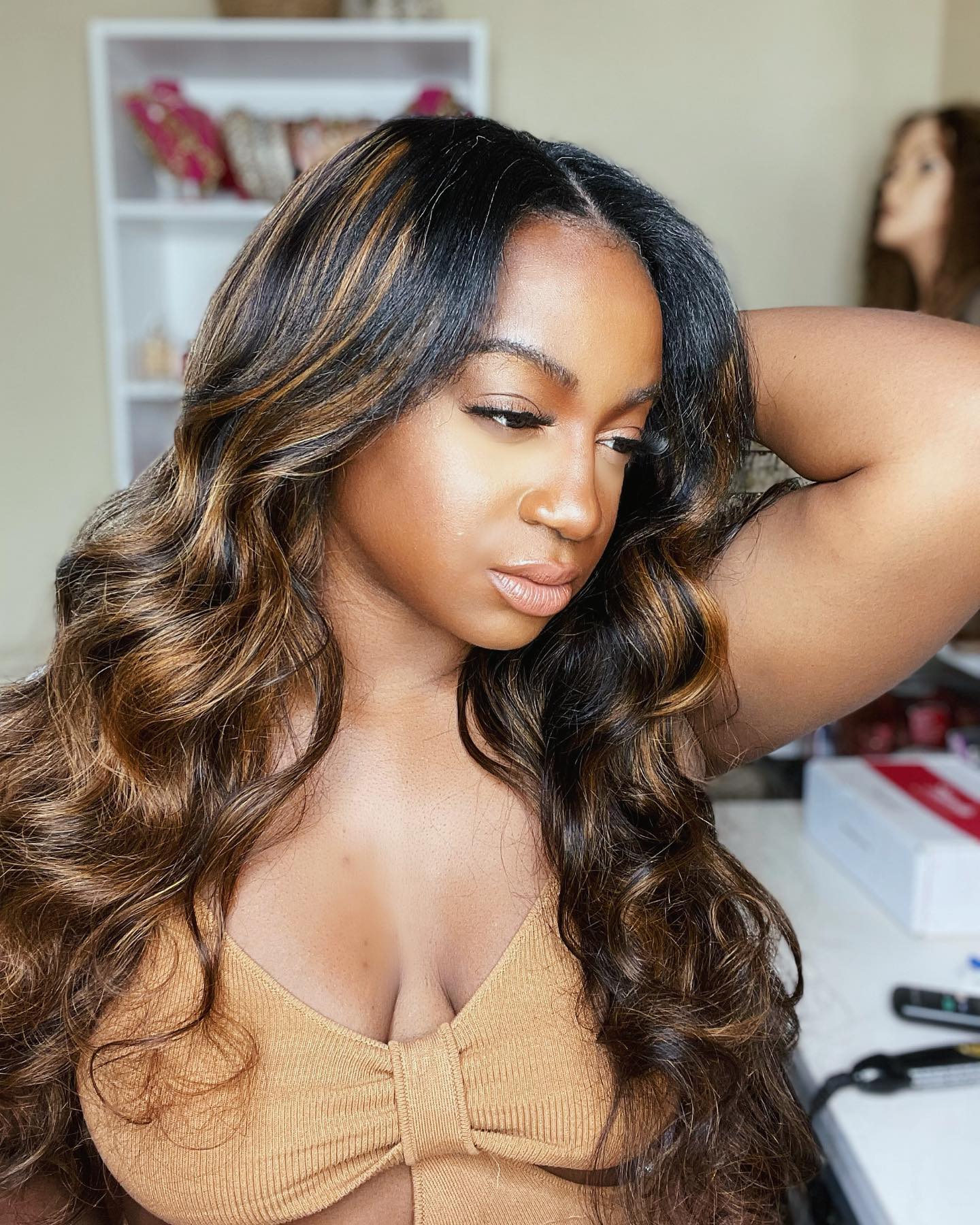 Glueless wigs can save you time
If you have a busy schedule, the last thing you want is to waste even a minute. For this reason, you need to look for an affordable human hair wig that doesn't require much time and effort to install and remove. A glueless wig is a perfect choice for this. As stated already, glueless wigs are easy to install and remove. So you don't have to worry about spending a considerable amount of time installing or removing them. In addition to that, these wigs can be styled easily; you can do it in the comfort of your home, saving you the time you would drive all the way to a salon to get the wig done.
Can glueless wigs fall off?
This is one of the most commonly asked questions about glueless wigs. Being that glueless wigs aren't installed using glue, many people tend to think that they can easily fall off. This isn't the case. These wigs Afterpay are secured with a wig grip and you can use the Velcro straps at the back to adjust it until it fits properly on your head.
In addition to that, there are also combs on the sides that keep the hair safe in place as well as keep it a safe attachment. When walking around, you want to be sure that your wig will not fall off and embarrass you. Fortunately, a glueless wig will offer you that security you are looking for. So you don't have to worry about your glueless wig falling off.
Remember that just like curly lace front wigs, glueless wigs are also made of different materials, including lace, mono silk, etc. This means that glueless wigs are pretty the same as any other type of wig in terms of material used to make them. The only difference is how they are installed. They don't require glue to install them, which is the case with most wigs. The most common examples of glueless include headband wigs, V part wigs, U part wigs, etc.
Write For Us