What Type Of Wig Is Most Comfortable
Jun.14,2022
Whenever you are buying a wig, one of the most important factors you need to consider is comfort. A comfortable wig will boost your confidence as well as enhance your beauty. Wearing an uncomfortable wig can make you have a bad experience with wigs, which is the last thing you want. That's why you must prioritize comfort when buying your favorite wig.
Usually, when ladies are purchasing their ideal v part wigs, they tend to pay attention to factors, such as how beautiful the wig is, its material, price, length, color, and density. They usually overlook comfort- when it is actually a vital factor because it determines what experience the wig will provide them with.
Thankfully, there are plenty of comfortable wigs on the market that these women can choose from. In this article, we explore the types of wigs that are most comfortable to wear, as well as how to make sure that your wig feels comfortable.
1.Full lace wigs
One of the most comfortable wigs on the market today is a full lace wig. The wig is usually hand-made. This basically means that the cap, front, back, sides, and crown are all tied manually using hands. Full lace wigs generally require more craftsmanship and a longer time to make, which is why they are the most expensive wigs. It must be done by a skilled individual as well to ensure the best quality design possible.

Additionally, full lace wigs give a more natural look compared to most types of wigs. Each hair strand is carefully sewn onto the wig cap through a hand-knitting process. This type of wig allows you to move your hair freely, just as you would do with your natural hair.
Full lace wigs are comfortable to wear, they look very beautiful, and very breathable, allowing your scalp to breathe. This type of wig is also soft and light, meaning that it will make your head feel cool the entire day. So a full lace wig is definitely one of the most comfortable wigs, and they are worth your money.
2.Lace front wigs
Lace frontal wigs are among the most popular types of wigs. That's because they give wearers a more realistic look because of the undetectable hairline, and they are also comfortable to wear. These types of wigs are half-handmade and half machine-made.
Lace front wigs come in different styles. So you can easily find a curly lace front wig. These types of wigs are suitable for women who are experiencing hair thinning or hair loss due to factors, such as alopecia, chemotherapy, medications, genes, etc. The wig provides an undetectable hairline, thus concealing thinning edges.
3.Traditional weft wigs
Traditional wigs are also popularly known as basic wig caps, open weft caps, or standard caps. The hair strands of the cap are sewed by a machine, making them machine-made. The strips are usually made of cotton or silk. These strips are woven together like a basket to create the base foundation.
An open weft cap is typically a traditional cap that provides fewer denser spaces. This makes the cap lighter and offers a good ventilation system. This is a fantastic feature that helps your head to stay cool after wearing the wig throughout the day. Women, especially those that are losing their hair as a result of chemotherapy, will find this wig perfect because of the proper air circulation.
These wigs are among affordable human hair wigs, but their downside is that you cannot style them as you wish like the full lace wigs. So if you decide to buy this type of wig, make sure that you select the premade style of your choice.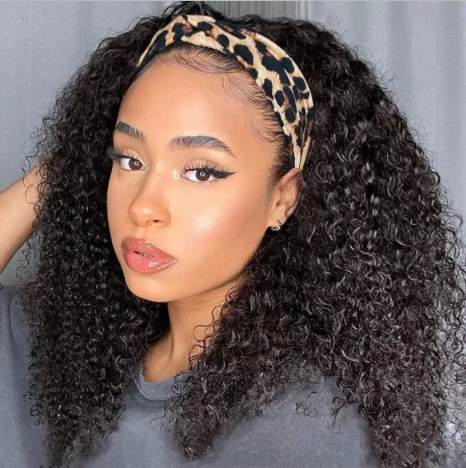 4.360 Lace wigs
If you are looking for a more comfortable wig to wear, you can also choose 360 lace wigs. These types of wigs are hand-made and half machine-made too. The wigs are designed with sheer lace that covers the entire hairline. So it will appear as if the wig's hair strands are actually coming from your scalp. Thus, the 360 lace wig guarantees wearers a more natural-looking hairline that look like natural hair. So it will be pretty much difficult to tell that it is actually a wig, especially if you choose a color that complements your skin tone and the correct length.
Besides, these wigs are very easy to wear, and they cover the whole scalp. Additionally, the quality of the material is high-quality and durable.
Tips to make your wig feel comfortable to wear
While the above-mentioned wigs offer comfort, how you wear them can also play a crucial role in how comfortable the wig will feel. Here are tips to help you feel comfortable in your wig.
1.Choose the right wig cap size
The size of the wig cap really matters when you are purchasing your favorite wig. It should neither be too tight nor too loose. It should fit you perfectly. You can only achieve that by knowing your head's size in advance. You need to measure the circumference of your head, and then compare it against the measurements of the wig cap you intend to buy. A too tight wig cap can make you feel uncomfortable and even cause you a headache. On the other hand, a loose u part wig will keep on sliding on your head, thereby making you feel uncomfortable. But a well-fitting wig will feel very comfortable.
2.Wash your wig regularly
Another tip to help you feel comfortable in your wig afterpay is by washing it regularly. Washing a wig is critical. Over time, your wig will accumulate dirt, dust, and oil. This can make the wig dirty and very itchy. If you don't wash the wig, it will stall producing a foul smell. It is no secret that a smelly wig feels not comfortable to wear. So you need to wash your wig more often with the right shampoo and conditioner to get rid of oil and dirt buildup. Make sure that you rinse the wig thoroughly with lukewarm water. That will leave your human hair headband wig smelling fresh and looking great, thereby boosting your confidence and enhancing your appearance.
Write For Us
Questions & Answers
Q
How To Choose A Wig As A College Student?
A
Before you buy a wig, you need to start by considering your needs. You may already have the perfect wig in mind, but slow down! Think about the type of wig material you should have. There are many options. Now comes the fun part: choosing the style of your wig! It's easy to find some cheap wig … but that won't make your hair look better. When it comes to buying a wig that makes you look and feel great, go for quality. Choose a wig retailer that you can trust. They will offer high-quality wigs in styles that let your personality shine. As a college student, money is probably tight. When buying a wig, you'll need to calculate your budget. Since a wig is something you'll often wear, you may want to splurge a bit.