What should you know before buying a wig?
Aug.08,2022
It is certain that buying a wig for the first time would be dizzy. There are cheaper synthetic and more expensive human hair wigs, a spectrum of color choices, lengths, styles, and cap sizes. Classifying through these details is easy to make you get cold feet, but your dream hair is still there. So I am here to help you find it.
Ready to go? Read on as we cover every aspect of buying a great wig online to get you closer to finding your best hair.

1. Select your favorite length
Depending on comfort, lifestyle, and your hairstyles, you can decide your preferred length by your heart.
From 8 to 30 inches (0.76 m) length wigs are all available on hurela. Short wigs give you fresh feeling, medium wigs are convenient for hot summer day or chilly winter. Long straight wigs are perfect for black women to highlight their temperament.
Whatever the length you select, wigs could be dyed, styled and ironed. But different types of curly hair show variously. Please look at this picture and make sure you understand it.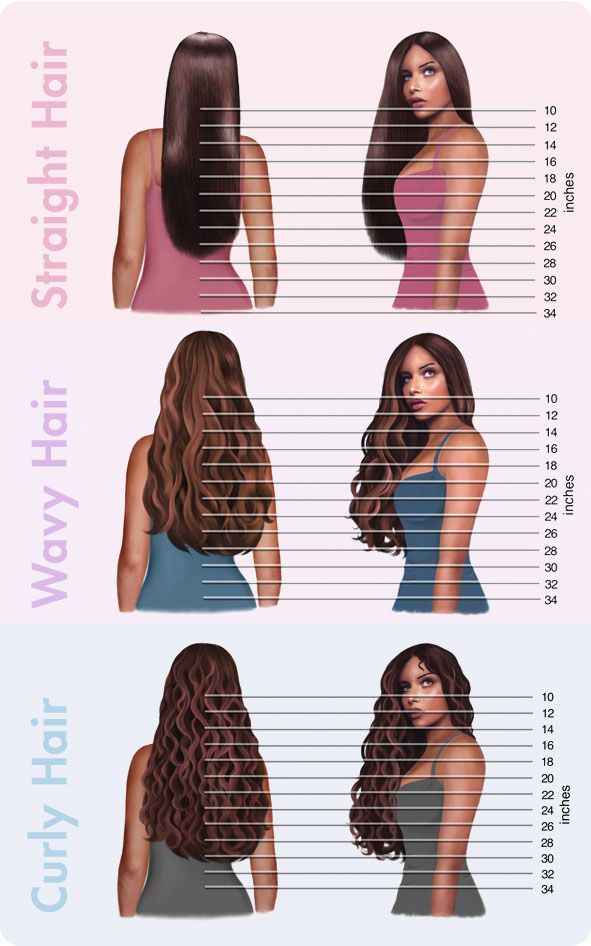 2. Find the right cap size for you
The first thing confused lots of people is what size of my head? Cap size has influence on your comfort, styling preferences, and how you prefer your hairline and part to look. So, grasp the method of measuring your head size is meaningful and helpful for you to get a comfortable wig.
Your own hair also plays a big role in selecting the right cap. For example, if you have hair loss, such as alopecia, you'll most likely want to select a lace frontal wig for safe keeping.
To choose the proper wig for your head, you need to know a few accurate figures:
1. circumference of your head;
2. the length from forehead to nape of neck;
3. ear to ear length across forehead;
4. ear to ear length over up;
5. the length from temple to temple around back;
6. nape of the neck length.
The more accurate these measurements are, the better your wig will fit. I will explain a little complicated steps so that you can learn them in detail.
Measure circumference
To get the measurement of your head circumference, follow these steps below:
Put the measuring tape at the center of your forehead. Then place the measuring tape above the brow, and make sure it lay flat on the forehead at the same time. Then pull the tape back until it reaches the nape of your neck. In this process, you need to notice the tape above the top of your ears. Don't pull the tape too tight. Pull the tape too tight may lead you to choose a small cap.
Bring the ends of the tape to the starting point of your forehead, pinch your finger at the connection, then remove the tape. Finally, record the measurement on a piece of paper.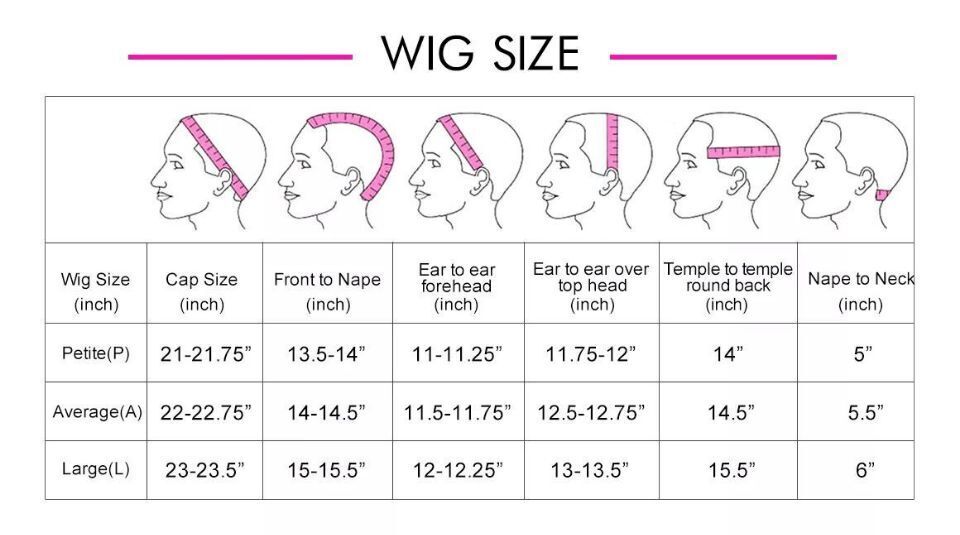 Measure from temple to temple around back
Firstly, place one end of the tape on one temple, next to your eyebrow. Then pull your hair back and swathe it around the back of your head until it reaches the other temple. Make sure the level of the tape and don't let it slide up or down. Last, record the measurement.
Measure nape of neck
Measure the back of your neck could follow these steps:
1. Put the end of the tape behind one of your ear that is the bottom of the earlobe;
2. Wrap the tape around the hairline or the back of your neck until it reaches the underneath of another ear;
3. Record the data.
3. Comprehend different wig styles
Different types of wigs preform multiple temperament. A suitable wig will elevate your appearance to the maximum extent. Know more about wig types can help you pick the right one. Okay, let us begin.
Lace wigs (full lace and lace front)
Lace wigs are one of the most common choices of all the different wig types. These wigs feature a mesh lace, which is sheer to help it adapt to the color of your scalp when you wear it.
The wig's hair fibers are tied individually to the sheer lace material for a more natural look that moves much like your natural hair. In lace wigs, you can choose from lace front wigs and full lace wigs.
Lace front wigs

feature a basic wig cap with sheer lace in the front section. Individual wig hair fibers are hand-tied to the lace section in front to create a natural, gradual hairline that does not look heavy or artificial. Lace front wigs are great for women who like to wear their hair down and experiment with center and side parts without showing the edges of the wig.

Full lace wigs cost more than lace front wigs, but have the most natural look and versatility for styling. A full lace wig features sheer lace material over the entire wig base. This means you can part your hair in any direction or pull it up into a high ponytail without revealing the base of the wig. Full lace wigs are best for women who like to wear a large variety of hairstyles and want the most natural appearance.
However, compared with wigs without lace, lace wigs are more expensive. Its fragile material requires careful handling and maintenance.

Human hair wig vs virgin human hair vs synthetic hair wig
Human hair wigs are made from 100% human hair and can be fully customized and styled daily. However, it's important to note that there are different types of human hair and there are primary three categories on hurela: Malaysian, Brazilians and Peruvian hair. Whatever categories the wig are, they will look more natural than synthetic hair fibers, especially with the cuticle kept intact and a single donor ponytail. Even human hair wigs are more expensive than synthetic wigs, it is good enough to their prices.
Virgin human hair is very high quality and is widely regarded as one of the best options for wigs. It is more costly than basic human hair because it has never been chemically processed – either while on the donor's head or during wig manufacturing. It's harder to get virgin hair donations and supply is always limited, so this type of human hair costs more.
Synthetic wigs have two obvious advantages that they can ready to wear out of the box, and they tend to be more affordable. However, they have limitations with styling and a shorter lifespan than human hair wigs. You'll also notice that synthetic wigs have a high gloss, which looks less natural than human hair, especially in the daylight.
Moreover, synthetic wigs contain a variety of fibers like polyester, acrylics, and PVC (polyvinyl chloride). The type of synthetic fibers used influences the wig's luster. Low-quality synthetic fibers will have the highest brightness and lack a natural-looking texture and fluidity. For those not wanting to draw attention to their coverage, synthetic wigs may pose a higher risk for weird looking.
4. Select your dream color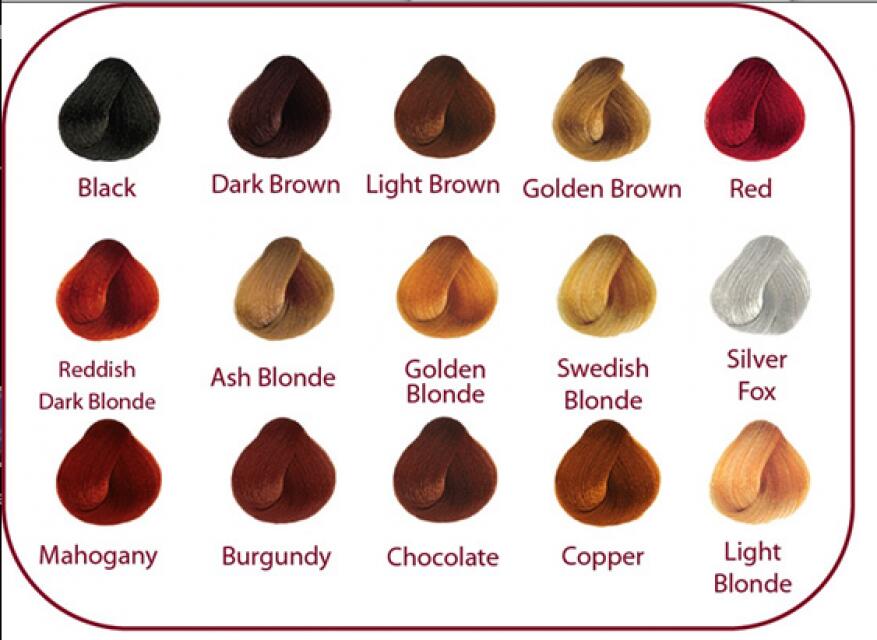 5. Pick the proper density
The other thing that confused fresh girl is how to choose wigs density.
Density determines the thick degree of your wig. Just like human hair has different hair densities, wigs are also characterized based on hair density. The standard hair density for wigs is 150% which is called natural density. And it gives a realistic appearance and is light on your head, making it very much comfortable to wear.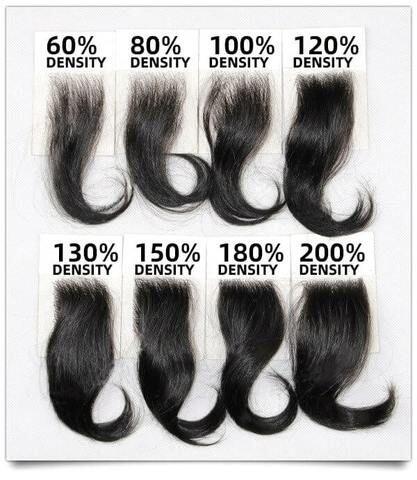 Click to enter hurela, a lot of fabulous hair are waiting for you.
Write For Us
Questions & Answers
Q
What does lace wigs mean?
A
Lace fronts are called various names, including lace wigs, front lace wigs, and lace frontal wigs. Designed to mimic a natural hairline, the lace at the front of these wigs provides added realism to your style and looks most natural when it blends with your skin tone. Keep in mind that this feature means that there is only lace at the front. So, you will only get the blending effect at your forehead and behind the hairline. Some lace front wigs have lace materials down the part, but we recommend monofilament wigs if you want the hair growth illusion throughout the top of the head.