What Is The Difference Between A U Part And A V Part Wig
Apr.22,2022
Because of the advancement in the hair industry, there are plenty of wigs that ladies can choose from. Whether you are looking for a short wig or a long wig, a curly or straight wig, or a wig of any color of your choice, you will easily find it.
U part and V part wigs are among the most popular wigs available you can choose. But since these wigs pretty the same, it is difficult to differentiate between the two. Thankfully, in this article, we help you differentiate between the two. We give you the difference between a U part wig and V part wig. Let's get started!
What is a U part wig?
A U part wig is a type of wig with a U-shaped opening at the top of the wig. This wig blends well with natural hair. This wig doesn't require glue to install it. It also has no lace, making it easy to install. The v-shaped opening allows you to pass your natural hair for a more natural look you desire.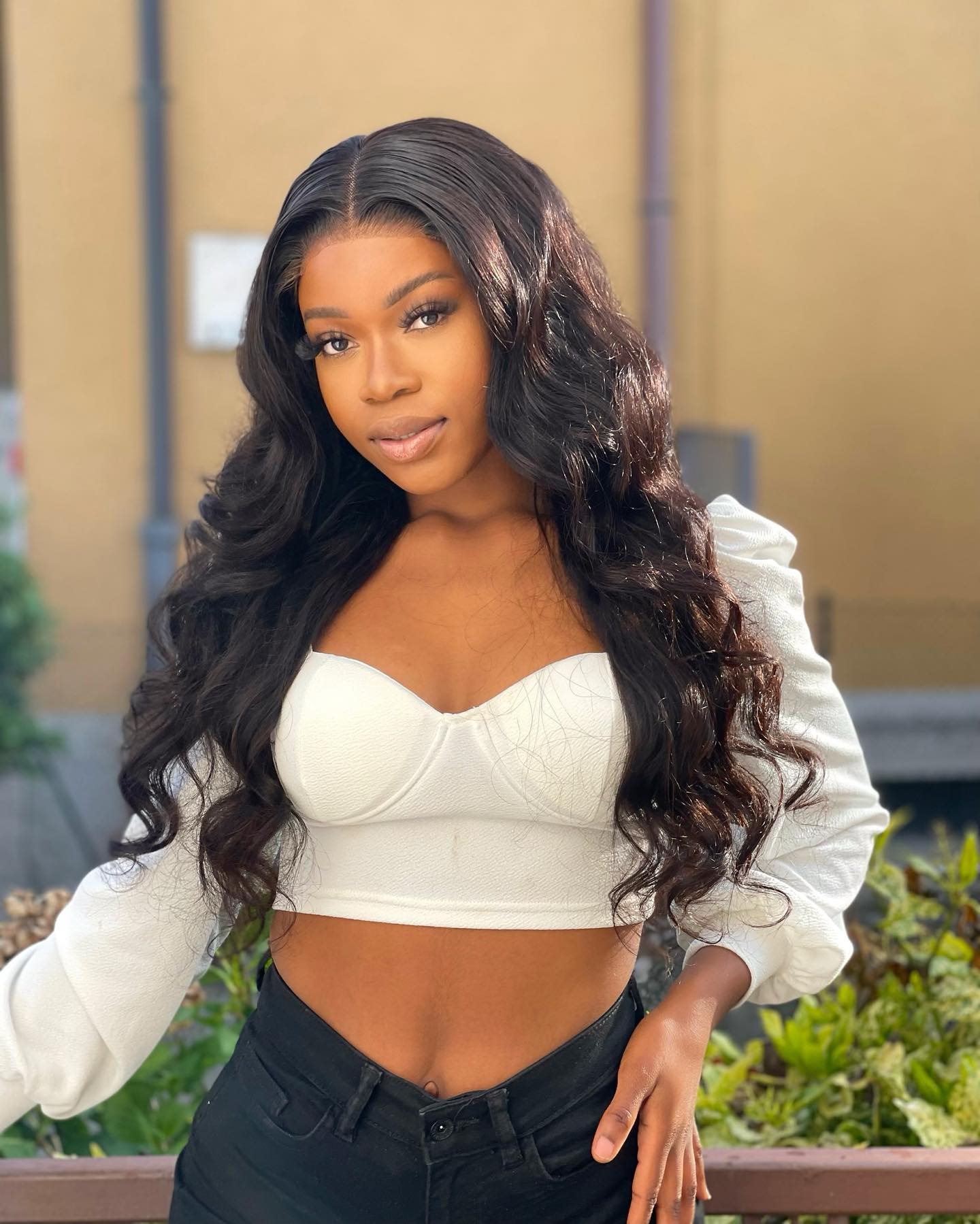 Characteristics of a U part wig
-No glue and lace
-Very secure
-Natural-looking
-Have adjustable straps and clips inside to help you adjust the wig to suit your head
-Blend perfectly with natural hair
-Very breathable and comfortable
Benefits of U part wig
1.They are glueless wigs
Glueless wigs are incredible wigs. If you are allergic to the chemicals in glue and adhesives or you have sensitive skin, a U part wig is a perfect option because it is a glueless wig. This is a feature that makes the wig more ideal.
2.They look more natural
Another incredible benefit of the U part is that they look more natural. This wig allows you to wear your own hairline. So you are guaranteed a more natural look. In addition to that, this wig blends with natural look. Besides, the wig is lightweight because of the opening, and it also has a thin and flat weft that is not that easy to notice.
3.Plenty of hairstyles
Another major advantage of U part wigs is that they allow wearers to style their hairstyles whichever way they want. You can also change the hairstyles as much as you want. This wig is perfect for ladies with a tight schedule.
4.More secure
When buying a wig, you need to buy a wig that fits and is more secure. A wig that keeps sliding or even falling can feel very uncomfortable. This is why you need a wig that stays firmly on your head. U part wigs usually come with clips, adjustable straps, and combs to help you secure the wig. When you wear a U part wig, you don't have to worry about it sliding down or coming off.
5.These wigs are easy to wear
U part wigs are also easy to install and remove because they don't have lace to be trimmed, which is difficult and time-consuming. What's more, these wigs do not have lace, making them pretty much easier to install.
What is a V part wig?
On the other hand, a V part wig is also just like a U part wig. The only difference between the two is that the V part wig has an opening that is V-shaped. It also allows the wearer to pass their natural hair through the opening.
Characteristics of V-part wigs
-No lace
-Breathable and comfortable
-No sew-in or leave out
-Blend well with natural hairline
-Easy to install and remove
Benefits of V part wigs
The benefits of V part wigs are much the same as those of U part wigs. Some of the benefits of V part wigs include:
1.They have strong breathability
V part wigs, just like U part wigs, also have an opening at the top of the wig, which allows the scalp to breathe. This, in the end, makes its comfortable to wear the wig throughout the day.
2.It is ideal for beginners
This wig is ideal for new wig wearers because they are pretty simple to install and remove. They don't have lace to cut and trim. In addition to that, they don't require the use of glue, making it faster to install the wig.
3.V part wigs are affordable
V part wigs are also more cost-effective compared to other types of wigs, especially lace wigs. So if you are on a tight budget, and looking for affordable human hair wigs, you can purchase the V part wig.
What is the difference between a U part wig and a V part wig?
Here are the differences between a U part and a V part:
1.The shape of the part
The major difference between the U part and a part V wig is the shape of the part. For a U part wig, the shape of the opening at the top of the wig is U-shaped. On the other hand, a V part wig opening is V-shaped.
2.Leave out
Another thing, the U part wig leave-out is more compared to that of a V part wig. Since the U part wig generally leaves more space, the wearer needs to also leave more natural hair to make the leave out.
3.Cutting the brand
When installing a U part wig, the wearer should cut the band first. On the other hand, this is not the case with a V part wig because the V part wig doesn't have a band.
Final thoughts
As you can see, the U part wig and the V part wig are almost the same. This makes many people confuse these two popular wigs. But they are somehow different. Now that you know their difference, you can easily choose one that suits your taste and preference. However, whichever one you choose between a U part wig and a V part wig, it will surely enhance your appearance and serve you longer because they are both human hair wigs.
Write For Us
Questions & Answers
Q
Why Should I Choose U Part Wigs?
A
The U part wig has many advantages and I would like to summarize it in four areas: First, creating a natural look. Unlike lace wigs that achieve a natural look through a transparent lace covering, this wig makes the wig appear very realistic and natural by blending the wig with your natural hair. Second, protects your hair and scalp. the U-shaped wig has U-shaped holes that allow your hair and scalp to breathe more because it is not subjected to the stress of a traditional sewn-in weave. Third, it promotes hair growth. A U-part wig is essential in your transition from wig to natural hair. You can remove it at night to give your hair a chance to grow and breathe. Finally, protect your skin. U-part wigs don't require glue and stitches, which is a lifesaver for girls with sensitive skin. Also, these clip-in wigs won't harm your real hair and prevent hair loss.