What Is The Best Hair Color For Skin?
Dec.29,2022
One of the most pervasive myths about hair colors is that only particular hair hues complement a dark skin tone. This is untrue, since people with dark complexion appear beautiful regardless of their hair color. So if you've been wearing a black v part wig for a while, it's time to experiment with some fresh hues. There are no restrictions on the colors and styles you can choose from, so you can go with any of them.
If you are unfamiliar with wigs and are looking for a lovely colored wig, you might not know where to begin. But we are here to assist you. In this article, we'll talk about some of the greatest colored wigs for women with dark skin. Let's look at them now.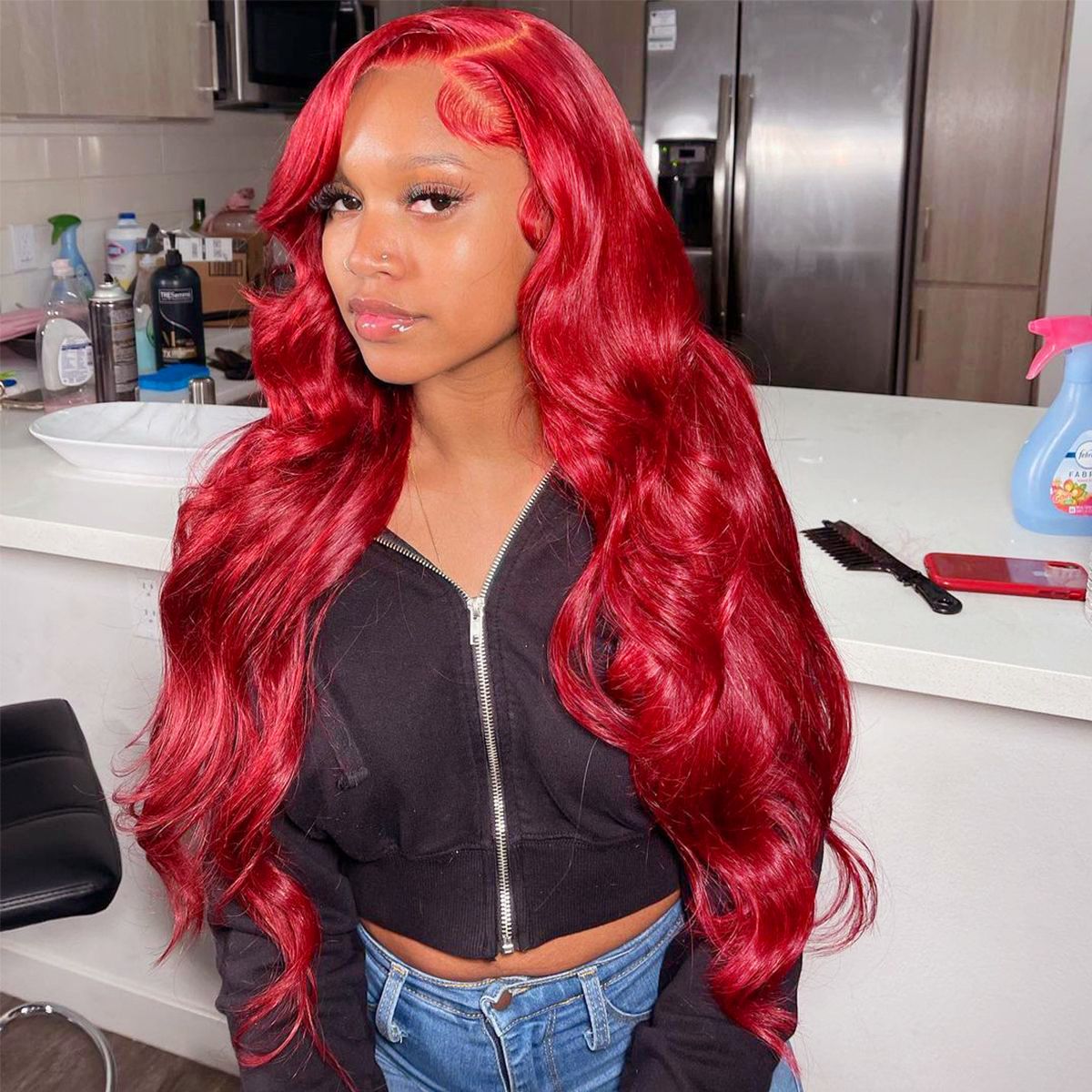 1. Orange wigs
Dark-skinned women have recently started wearing orange wigs in great numbers. This is due to the fact that the hue exudes eagerness in addition to having a youthful appearance. Because the orange look is vibrant, playful, and youthful, it will brighten your appearance and convey a go-getter mentality. This wig color might not be the best choice for you if you prefer to blend into the background. You will undoubtedly be the focus of attention if you wear this wig.
2. Brown and blonde ombre
One of the most preferred and best-colored wigs for ladies with dark skin is ombre. The roots of this wig are a darker color than the ends, which are lighter. The darker roots create a more genuine and natural appearance and facilitate blending. This brown and blonde wig would look great on you if you have a dark skin tone. And the best feature of this wig is how easily it can be styled because to the long, free waves.
3. Ombre burgundy wig
This burgundy shade can be perfect for you if you don't like wigs in vivid colors like red or orange. Burgundy wigs are a great choice since they work well with dark complexion tones, which is no secret. This ombre wig is the ideal approach to enter the world of colored wigs with ease. The black roots not only look very attractive, but they also look quite natural. You will attract attention for your stunning appearance in this ombre burgundy wig.
4. Dark burgundy with black roots
A highly realistic-looking hair color that is also relatively simple to obtain is deep burgundy with black roots. This colored affordable human hair wig is the ideal first wig for someone with a dark complexion because the color and style are both daring enough to stand out and timeless enough for any situation, including the office, a date for dinner, or a wedding.
5. Dark purple wigs
Dark purple wigs are the most widely used hue of purple. There is a cause behind this, too. It will boost your appearance because it is very rich and colorful. It goes well with dark complexion and looks great with dark roots that look natural. The wig's color will offer you the timeless, refined appearance you desire.
6. A medium purple wig
This medium purple shade is ideal and will not only look good on you but also be entertaining. This shade is a great place to start if you're considering purchasing a colored wig that's ideal for everyday use because of the polished, businesslike appearance it provides.
7. Golden blonde
This golden blonde can help you accomplish your dream of going blonde, if you've always wanted to. This color has a fresh, fashionable, and lovely appearance. If you have a warm skin tone, it will make you look more beautiful. One of the colors that you must try at least once in your life is this.
8. Red wigs
Red lace frontal wigs are a must-have on any list of the best colored wigs for dark complexion, of course. Red is a powerful, energizing, and passionate color. If you want to be the center of attention, it is also the ideal strategy. Naturally, this hue will draw attention, and because it is a natural color, depending on how you style it, it is ideal for any type of occasion. So feel free to rock it at the office, a wedding, a church service, or a dinner gathering. Red is the ideal wig color for you if you are brave and daring enough.
9. Pink wigs
Pink is a great choice if you want to experiment with a more feminine color. Additionally, there are countless variations of pink. For instance, you can opt for a pink root to top or just a bit of pink. Whatever choice you make, pink will unquestionably highlight your feminine, imaginative, and daring side. Pink is a hue that suits brave and independent ladies the best. It can also draw attention. However, if you want something more subdued or don't want the attention, this hue might not be the best choice for you.
10. Chocolate brown with ash brown highlights
It goes without saying that affordable wigs in a variety of colors always catch the eye better. In addition, when you view the hair color from various angles and lights, something new will always be happening. Aside from being interesting to look at, this brown hair with ash blonde highlights is also sophisticated enough to fit in anywhere while also being distinctive enough to exhibit some individuality and flair. The rich, cocoa hue contrasts beautifully with dark skin.
11. Multicolored wigs
You may now readily find a multicolored wig because of the development in the hair industry. Therefore, if you think one color isn't enough, feel free to try two or three more. Finding a multicolored wig that matches your taste and preferences is simple because they are available in a variety of colors and styles. To create a crisp, clean appearance rather than a chaotic, cluttered one, keep in mind that your outfit should be able to balance all the colors in the wig.
Write For Us