Wear a Hat Wig to Gym
Oct.08,2020
Recently wear&go wigs are going more and more popular in the wig world, because of its great convenience. You have to spend plenty of time on normal lace wigs or hair bundles to make it natural, especially when you have a plan to the gym, wear&go wigs such as a hat wig or headband wig will seem to be your priority because the only thing you do is just wear and go, it should absolutely be a must-have for working out.
Most of us have realized exercises should become our routine because improving our immunity is of vital importance to beat the virus in case of being infected unfortunately. There are many ways to work out, but for the current moment gym can be a best option because you can have more choices of exercises.
When you are doing plenty of exercises, you may sweat a lot in the gym, it's bad to have the feeling of wet hair, humid and sticky on head, but a wig with hat attached or a wig with headband attached will not bring you trouble like this, because the headband or hat could perfectly absorb sweat, you will not need to worry about the falling off, the adjustable headband and hat could fit your head well, and it keeps the hair away from face in case it covers sight.
1. Structure of Hat Wigs
Hat wig namely the combination of a hat and human hair weave, close stitches are used to connect the hair to a baseball cap, of course you can also make it by yourself if you have both ones, so baseball hat is not the only choice, if it's cold, beret or knit cap is also excellent match for making a wig with hat.
There is Velcro tape on the cap, so that the hat can be adjustable to suit your head circumference, hair weave is sewed along with the lines around the hat bottom, look from outside, there is no stitching marks at all. So it's quite natural, hat wig not only add glamour but also bring convenience.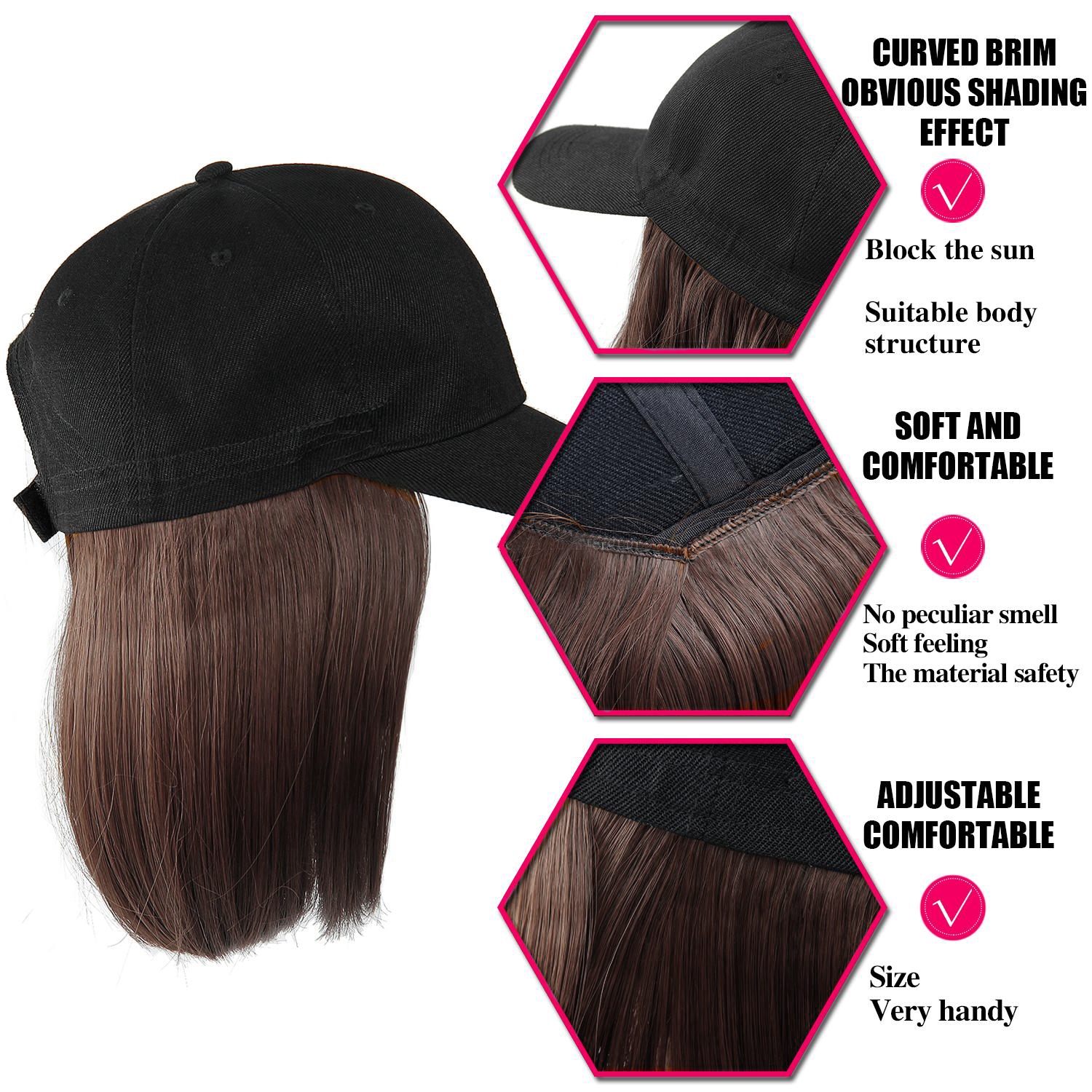 In near future, Hurela will launch upgraded hat wigs that the hair weave can be taken off flexibly, so that you can change the hairdos and hat type at same time as you like, really deserves a try, but before this, you need a normal one to see if you are really into it.
2. Occasions That Hat Wig Suit
● Jogging&Walking outsides
Jogging certainly isn't a cure for depression or anxiety, but there's growing evidence that it helps ease the symptoms and lift up mood, compared to running, jogging can be easier accepted by people who hate running, the best time for jogging is the early morning, in order to avoid direct sunshine, you can directly wear a hat wig, beautiful and cool.
● Wandering in the outside
Imagine that it's a sunny day and you're headed to the park with family and friends or you just need to wander around outside yourself. You have put everything ready but trapped by your messy hair, have to spend more time to comb and braid, but with a baseball cap wig, you can just wear and go, spend more time with your family, meanwhile protecting you from the ultraviolet rays. Never forget to take a selfie when meeting a nice scenery.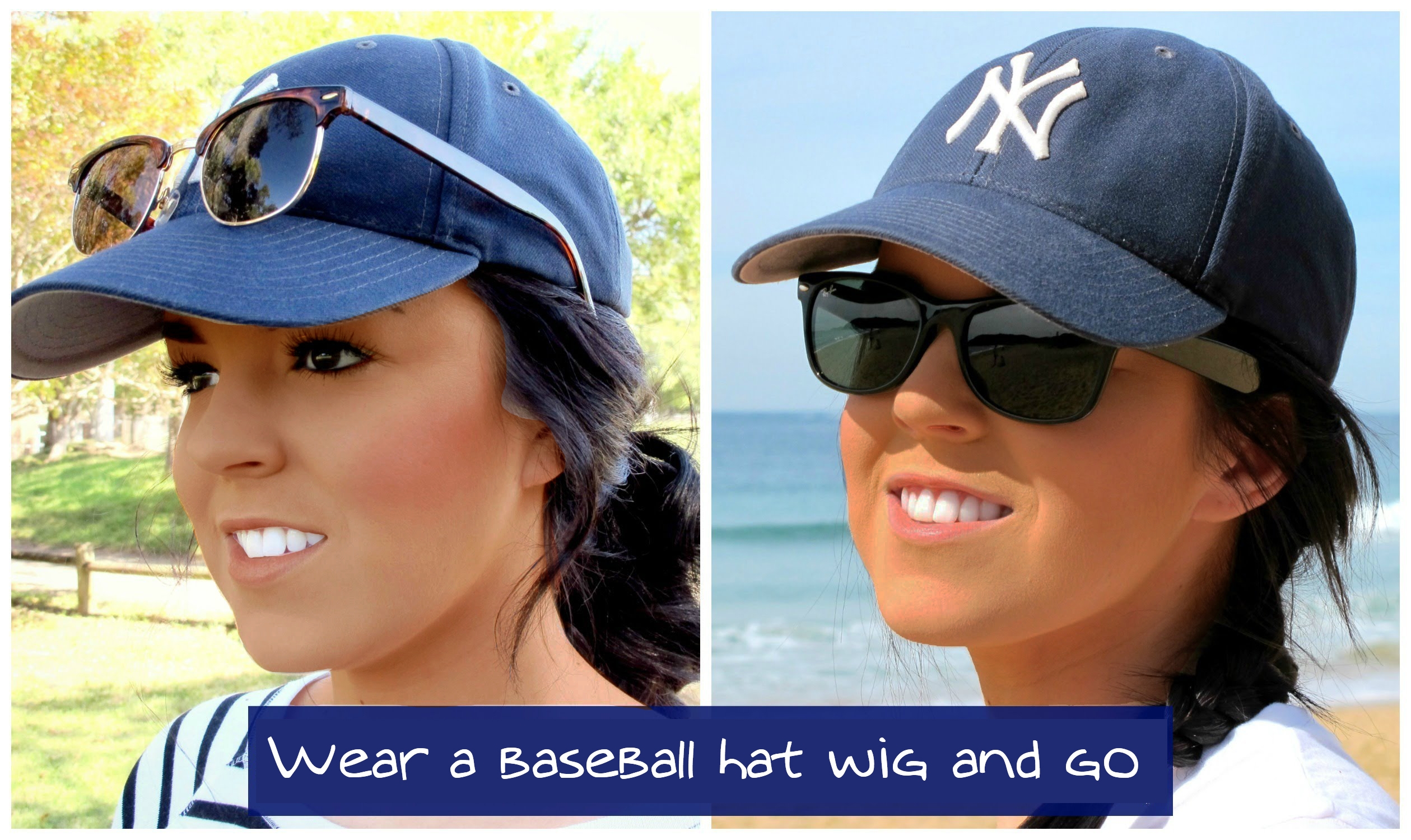 ● Go to gym
Girls tend to do yoga or jogging on the running machine in the gym instead of lifting the irons, hair can be troublesome factor during the exercise process, it's always out of control, but you may mind to tie the hair up because that's not the hair style you want, after all it's in the gym, right?
The most gorgeous image is that an elegant girl is doing exercise with a cool hat, mysterious and charming.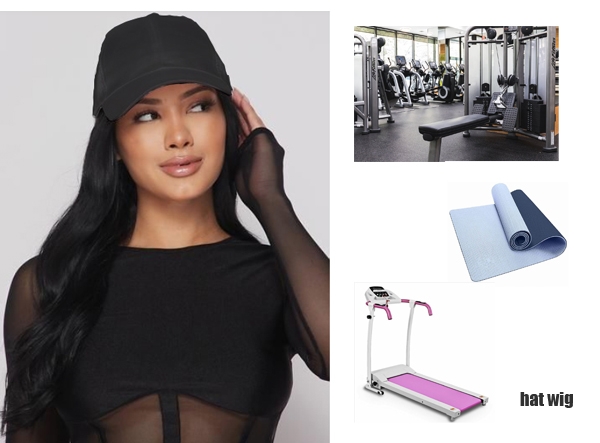 3. Why Choose a Hat Wig to Gym?
▶ A hat with hair is convenient. Busy ladies engaging in many daily activities may prefer to have their hair out of the way and easy to manage to avoid it flipping around their faces and becoming distracting. you can simply drag it on, instantly get the style you love, and spend more time enjoying your day instead of wasting time on doing hair styles. A hat wig is a perfect definition of 'Freedom Hair'.
▶ A fake hair hat is a two-in-one set. There's no need to worry about finding the right wig or hair piece to pair with a separate hat. In addition, this hat with hair attached is also a low maintenance alternative for easy hair-styling.
▶ A hat wig provides more probabilities to change the style. You can sew or stick some chic and unique patches onto the pure black hat to show off your personality. There won't be the same hat with yours.
▶ A hat wig is also an affordable option for changing up your outfits. Generally, they are much cheaper than human hair lace front wigs, so you can cost on a few styles without surpassing budget.
▶ Finally, baseball cap wigs with the sporty hat originally cheer up you to exercise more; they are also exceptionally comfortable and fashionable. You won't sweat a lot and get your hair wet, and can just throw it on after finishing the working out.
You can do benefit a lot from a hat wig or a headband wig, as life is going busier, few of us are willing to waste too much time on handling the messy hair or have to cut the hair frequently due to some health problems. In order to keep healthy and be egergetic, pick a hat wig and go to gym!
Write For Us