V Part Wigs VS Headband Wigs - Which Is Better?
Jul.13,2022
Wearing a wig is a shortcut when our hair is not the length we want or the style we want. With it, we can change our hairstyle as we wish without harming our hair. Nowadays, the wig market is getting bigger and bigger, and there are various kinds of wigs. Among them, V-part wigs and headband wigs are the most convenient wigs to wear. How to choose between these two has become a puzzlement for girls. Next, we are going to introduce these two wigs in detail.
About V Part Wigs
V part wig is a wig that is sewn onto a v-shaped hair cap and has a V-shaped hole at the top of the wig. This is an upgraded version of a u-part wig where you can cover your natural hair over the wig through the V-shaped hole and then create a natural hairline.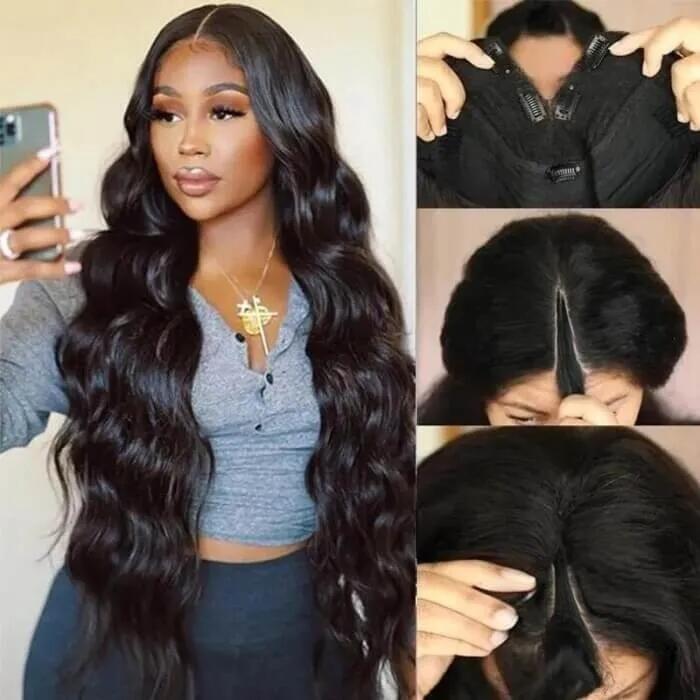 Advantages Of V Part Wigs
1. Affordable Price
V part wigs are made by machine, unlike lace wigs which are woven by hand and therefore consume less labor. Naturally, the price is lower.
2. Easy To Install And Remove
There are clips inside the v-shaped hole at the top of the head for fixing. When you wear it, just put your hair in order first, and then use the clips inside the V-hole and the other clips in the cap to fix it on your hair. It is also very convenient when you want to take it off when you go home at night. The whole process takes just a few short minutes.
3. Flexible Hairstyle
You can leave it without or leave a small strand of hair in the V-hole according to your needs. In addition, you can also choose a medium or partial parting according to your preference, which is an innovation for traditional wigs.
4. Prevent Allergies
Some girls have delicate skin and can be allergic to lace or glue. Now the good news is that V-part wigs do not have lace and do not require glue. This means you don't have to worry about allergies anymore.
5. Promote Hair Growth
For girls who are in the transition of hair growth, V-part wigs are undoubtedly the best wig for them. You may take it off at night when you go to bed and give your scalp a chance to breathe and grow your hair.
6. Natural Look
Wearing it, you don't need to deal with lace holes as well as baby hair anymore. Now you are leaking your own hairline, which will be the most natural and realistic. This is something that cannot be done with wigs other than the U part.
About Headband Wigs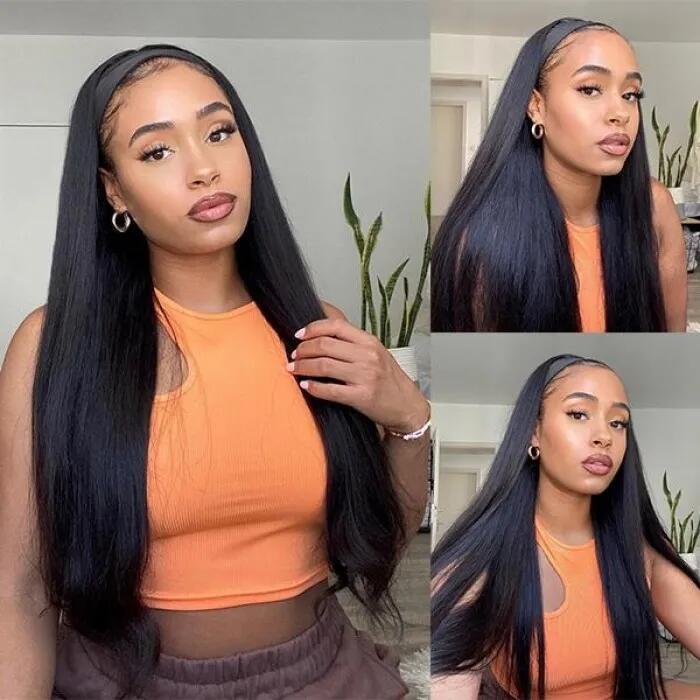 A head wig, also called a half wig, is a wig with a headband. The wig is sewn on top of a cap with clips and adjustable straps. The special feature of the headband wig is that it can only be worn on the back of the head, and the sector near the front of the head is not covered with a wig, but with a headband. The straps are made of soft material that will not make you physically uncomfortable.
Advantages Of Headband Wigs
1. Economical
Headband wig is also formed by machine in one piece, without manual hand-weaving, so it is more affordable.
2. Easy To Wear
When you wear it, you comb your hair and wear it directly. Then you fasten the clips and adjust the adjustable bandage. It takes very little time and effort as there is no need to subtract lace or use glue in the whole process. It only takes three minutes and you will have long beautiful hair.
3. Suitable For Almost All Head Sizes
The head cap is made up of an elastic net with many stretchable pleats, so they are suitable for almost all head sizes.
4. Lightweight And Comfortable
Although the headband wig covers your entire head, the headgear is comfortable and breathable. You can also tie the wig up on hot summer days. This will not only make you cooler but also make you more dazzling.
The Differences Between V Part Wigs And Headband Wigs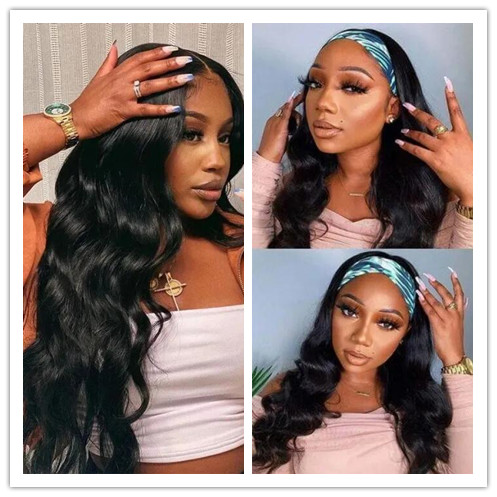 1. Different Prices
Although they are both cheaper than lace wigs, V part wigs of the same material, density, and length are slightly more expensive than head wigs.
2. Different Structure
V part wig is a wig sewn on a V-shaped hair cover, consisting of a V-shaped hair cover and some hair bundles attached. The headband wig is composed of a wig cap, some hair bundles, and a headband.
3. Different Ways Of Wearing
Before wearing a V-part wig, you need to braid all your hair and set aside some hair needed for the V-shaped opening at the top, then insert the clips and adjustable bands into the gaps of the braided hair, and then cover your natural hair with the wig. Before putting on the headband wig, braid all the hair, then put the wig cap on your head and finally cover the front of the cap with the headband.
How To Choose
Each coin has two sides. Both wigs have their pros and cons, and you can choose the one that suits your needs. If you are still not sure which one to choose, I hope the following suggestions can help you.
1. If your head is thinning, then the headband wig is more suitable for you because the V-part wig will reveal part of your head. On the contrary, the wide hair band of the headband wig will make your wig look more natural.
2. If you have a limited budget, then a headband wig is your best choice.
3. If you want to look more natural, it is recommended to choose a V-part wig. The natural look and feel of the hairline are incomparable to any other.
Today, we have detailed the respective advantages of V part wigs and headband wigs and compared them. If you want to choose a headband wig, Hurela's headband wigs are your best choice. Here we offer you a variety of styles, lengths, and colors of headband wigs. if you are a little short on cash, hurala offers you buy now pay later hair. please feel free to contact us if you have any questions. Hurela is always here for you.
Write For Us