The Quick And Easy Ponytail Hairstyles You Need To Know
Jun.10,2022
Ponytail hairstyles are classic hairstyles that not only look beautiful but elegant too. They are also very versatile and perfect for any occasion, including work, wedding, church, dinner date, etc. One of the best things that make the ponytail a very popular hairstyle is that it is pretty much easier to make. You can make it with your natural hair or with an affordable human hair wig of your choice.
If you love ponytail hairstyles and looking for one that is quick and easy to make, you may not be able to know. Fortunately, in this article, we give you some of the quickest and easiest to make ponytails. These ponytails will save you a lot of time, especially if you are a busy woman. They include:
1.Simple low ponytail
If you are looking for a simple ponytail to create and style and still give you that chic look you desire, a simple low ponytail is a perfect option. Whether you are heading to work or a dinner party, this ponytail hairstyle will add instant sophistication to your look.
This hairstyle is pretty easier to do. You can eve make it with your curly lace front wig. To make this ponytail hairstyle, start with straightening your hair or wig. You can use a flat iron to straighten your hair. Don't forget to use a heat protectant before you start straightening your hair or wig. Once you are done, it is time to create your part using a comb wherever you like. Then pull the hair into a ponytail. The ponytail should fall at the nape of your neck. You can then secure it with elastic, and you are done. It's as simple as that.
2.Rope ponytail
If you like adding dimensions to your braids, this is the perfect hairstyle for you. With so many braided hairstyles available, it can be pretty confusing to choose the one that suits your style. A rope ponytail is a type of ponytail hairstyle that's being reintroduced in the market. To make this type of ponytail, you need a hair tie and mini clear elastic.
To create a rope ponytail, start by pulling your hair into a high ponytail. Make sure to pull tighter but gently, of course. Then divide your ponytail into two equal parts and twist each in opposite directions from the base of your pony down to the ends. Once you have done that, you can weave your rope, which is pretty simple and quick. Once you have built your rope, seal it off with your clear mini elastic and you are good to go.
3.Single knot ponytail
This is also another quick and easy ponytail hairstyle that is worth trying. It also looks absolutely beautiful. To make this ponytail, you need a hair tie and bobby pins. To create this ponytail, start by dividing your hair or cheap human hair wig into two sections. Part your hair horizontally from ear to ear, leaving the front section free and tying the rest of the hair into a simple low pony. You can then part the loose front section you had left earlier down the middle and smooth it back towards the low ponytail you have made. Rather than adding them to the ponytail, you should tie them in a knot around it. To keep the knot tied perfectly, take a few bobby pins and secure them into place.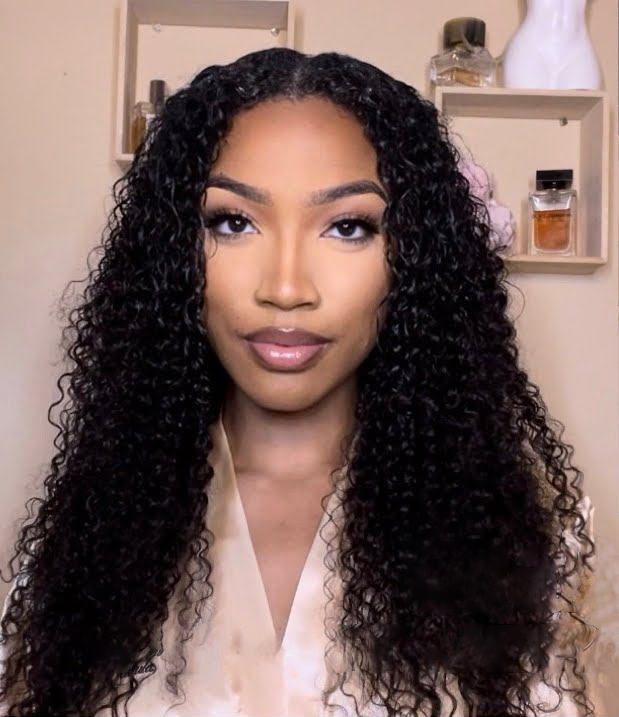 4.Unicorn braid ponytail
Of course, almost all of us love all things unicorns and mermaids. Thankfully, there is a ponytail out there dedicated to these lovely mythical creatures- a unicorn braid ponytail. This ponytail is also pretty easy to maintain. All you need are a rat tail comb, hair tie, lobster clips, mini clear elastic, curling wand, and bobby pin.
To make this beautiful ponytail, start by separating out a section of hair. You can use a rat tail comb to section off a 1-2 inch middle section from your hairline to the nape of your neck, and then clip the remaining hair out of the way with one or two lobster clips. You can then weave a Dutch braid from your hairline to the nape of your neck using your middle section hair and then tie it with mini clear elastic. Once you have done that, smoothen all of your hair into a ponytail. Untie your two loose sections and brush them back into a low ponytail, including your unicorn braid, and then tie all of the hair using a hair tie. The hair tie shouldn't be visible. Take a small amount of hair from your ponytail and use it to conceal the hair tie. You can then secure your ponytail by placing a bobby pin on its underside.
5.Wet ponytail
Finally, on our list of quick and easy to make ponytails is the wet ponytail. Wet hair has been trending now for some time. With its popularity, it was bound to become a huge hairstyle trend. And the best thing is that this hairstyle will give you that elegant look you are yearning for.
To make a wet ponytail, you need to start with freshly washed hair. Then once your hair stops dripping water, use a wide tooth comb to brush through any knots and tangles before you add a high-quality gel. You can then use your comb to distribute the gel evenly on your hair. Using your hands, smoothen over any comb lines that may be visible. Once you are done, gently pull your hair into a ponytail. Then finish the look with a shine-boosting hairspray of your choice.
Final thoughts
Whichever ponytail you choose to wear, one thing is certain- it will definitely enhance your appearance and give you that chic and sophisticated look you desire. That's because ponytail hairstyles are the most beautiful hairstyles out there. What's more, it is pretty much easier to make, making it a better hairstyle for ladies with a tight schedule who are looking for something that's quick and easy to make.
Write For Us
Questions & Answers
Q
Is Ponytail Good For Hair?
A
High ponytails are the worst offenders for causing hair breakage and stress, especially if they're pulled tightly. If you need to have your hair up regularly and can't get away with a few 'down days', try to switch between high ponytails and low, loose style.
Q
Are Ponytail Hairstyles Attractive?
A
Having the hair up makes a woman appear more dominant, and is therefore usually less appealing. Ponytails and buns are typically functional or formal and represent control over oneself.