Super Easy Wear Headband Wigs By Hurela
Apr.12,2021
Give yourself a perfect style with different Headband Wigs
Many women choose to wear wigs because they want to give their natural hair a break from styling. Maybe their hair is damaged from different hair tools for stylings like heat, coloring, bleaching, or just too much stress on the hair in general. Women will also wear wigs to protect their hair from harsh weather conditions as well. As a woman, the natural hair needs to be able to keep up. Hurela's Headband Wig Collection brings convenience, confidence, and versatility to the user.
To fulfill the demands of every woman who loves styling and wants to give herself a different look every day, Hurela offers a different range of headband wigs. The beauty of headband wigs is that you don't have to be a professional stylist to know how to style this product or how to fix it perfectly on your natural hair. When it comes to wearing this wig, its design allows for simple self-styling that literally takes seconds. This line of wigs is crafted with adjustable straps and 4 combs, promising the most secure fit for your look's on and off the transformation.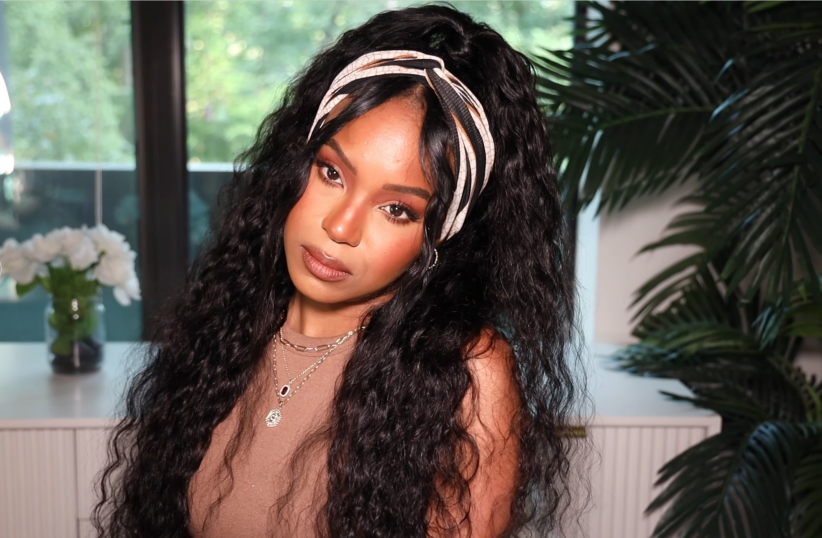 Since this is a headband wig, this look offers complete protection of your natural curls underneath. Because the headband wigs provide complete coverage, it gives you the freedom to control how much leave out you want and how much hair you want to tuck away. Hurela Headband wigs are designed for security, so there is no need to apply glue or adhesive to your edges or hairline. It's an easy and safe way to style your hair.
Hurela Headband wigs are real human hair wigs that are fashioned with a piece of cloth and resemble a headband at the hairline. The hair is sewn on the cloth and features a back and front comb for a secure fit. The cap material is very soft and stretchable which allows it to fit the head properly. The headbands with the wig come in a variety of designs and prints. Not only these hair accessories are eye-catching, but they are also great as a fashion statement. No matter the style or designs you choose elevate any look. The Hurela headbands a great way to change up your style and make your human hair wigs look different each time you wear them.
Hurela Headband wigs allow flexibility and feasibility in styling which regular wigs do not offer. These wigs are more natural and smooth while regular wigs are not. Headband wigs are more comfortable and that's why everyone considers that headband wigs are better and their procedure of wearing them is precise too. Regular Wigs are considerably cheaper as compared to Headband wigs but what is the point of money when it is not soothing you or making you feel satisfied? Regular wigs can get you to catch and someone will probably notice that you are wearing a wig because it seems unreal.
You can comb a Hurela headband wig but you cannot comb a regular wig. Hurela Headband wigs are more like natural hair. With the headband wig, you can do various styles anywhere without even going to a salon and also avoid having regular wigs with the same styles as always. Regular wigs do not allow the diversity of style and color.
Easy to put on and take off is another great thing about the Hurela headband. For those days where you are short on time and need a fast and easy morning hairstyle, the Hurela headband wig is extremely important. Getting a Hurela headband wig is just the ideal choice for a woman who is always on the go.
With Hurela headband wigs, enjoy a fancy hairstyle which means no more bad hair. One thing is true that Hurela knows that an interesting headband can make onlookers forget you even have hair. Hairbands with the wig are attention grabbers. Having one on has the potential of redressing the balance and ensuring you lost minimum beauty points on bad hair days? Another thing that is great to avoid a nasty hair day and mix your headband with is brief styling and a spread of choices are often found here at Hurela.
Wigs with a headband attached are easy and easy to wear and would are available handy for you during those days once you are late for work or once you got to run urgent errands. If you recognize you're getting to need to conceal messy hair within the foreseeable future, then stuffing your closet with a couple of headbands natural hair wigs may be a wise step to require.
One thing that may come as a surprise is that headband wigs offer style versatility you can wear your everyday look or rock a glammed-up style all with the same headband wig. These headband wigs come with adjustable straps and clips; you can wear the wig half up half down, in a top knot, or even in a high ponytail. From workouts to work calls or date nights, this will easily be your go-to wig.
Whether you're traveling for a quick weekend trip or if you are social calendar gets hectic and you've double booked. You can switch up your look to fit your last-minute style needs because installation and take-down are so simple you don't have to commit to this look. Once you throw it on for as long as you want during the day and decide to keep it on taking it off before bed, the choice is all yours.
Because of this headband wigs complete protective design, you can experiment with any texture. Texture matching is not a problem so you can choose the curl pattern you most desire and also switch up your look in virtually no time. You can also use the product finder tool, to help you make the best product selection.
Looking to try out Hurela Headband Wigs? Explore their collection to find the best match for you and have the best appearance according to your need or desire.
Write For Us