Some Tips On Wig Storage
Jul.14,2022
Do you throw your wig on the table or shelf when you're not using it? Do you feel annoyed when you pick up your wig again and it becomes a mess? Are you sad about the shortening lifespan of your wig? All this is because you didn't store your wig properly in the beginning. Storing your wig in the right way will not only help extend the life of your wig, but it will also make your wig look new again. This blog will offer you the steps and methods of wig storage.
Pre-storage Preparation
1. Clean And Condition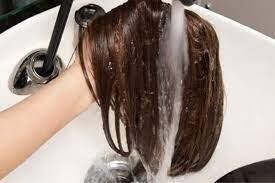 Before storing your wig, you need to make sure that your wig is clean. When you have worn a wig, sweat and other bacteria will easily collect on the hair and wig cap. So when you wear it for about a month or 15 times, you need to wash and care for your wig once. But don't wash your wig too often, as this will also reduce its lifespan. When cleaning and caring for your wig, you need to follow the wig's cleaning instructions and use a wash and care product designed for wigs. Also, you need to take special care to use only mild water for cleaning, as hot water will damage hair fibers and cold water will not remove dirt.
2. Air Drying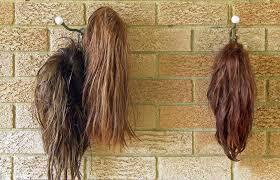 It is impossible to store your hair while it is still wet, which can cause your wig to become moldy. After cleaning and caring for your wig, you need to first use a towel to absorb most of the water from your wig, and then place it in a ventilated area to dry naturally. If your wig is a synthetic wig, do not use a hair dryer, because the heat will melt it.
3. Combing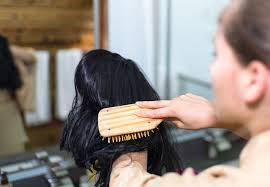 After the wig is completely air-dried, the next step is to comb it completely. You need to use a wig-specific wide-tooth comb and comb it from the tips up to the roots, which will stop the wig from falling out. Once you've untangled all the knots you're done. Don't skip this step or you'll find it tangled the next time you wear it.
How To Store Wigs Without A Wig Head?
1. Use Original Packaging
This is the most economical and effortless method of wig storage. And, the boxes and bags of these packages are specially designed to protect your wig. It can stop your wig from damage caused by bumps in transit. And these wig boxes are the perfect size for storing your wigs, what a great design!
2. Use Shoeboxes
A clean shoebox is also a perfect way to store your wig. It will keep your wig free from dust and also keep your wig dry. First, you need to clean the shoebox with alcohol wipes to remove bacteria and dirt. Then you can lay a soft paper towel in the box, which will ensure that your wig does not generate static electricity. Finally, gently place your wig into the box and then label the box in a dry place.
3. Use Ziplock Bags
Ziploc bags are also a good option to stop moisture from attacking your wig. Moisture can weaken the fibers and cause your wig to fade. Another benefit of an airtight bag is that it will save you space. After all, when you have multiple wigs, the area occupied by using only the box is very large.
4. Use Hair Nets
Hair nets can also be your partner in wig storage. Whether you have a human hair wig or a synthetic wig, you can keep it perfectly styled in a hair net. When you use a hairnet to store your wig, remember to keep it in a box or in your cabinet to avoid dust accumulation on it.
How To Store Wigs With A Wig Head Or Wig Stand?
There is no denying that placing your wig on a wig stand or wig head is the best way to store your wig. Other than keeping your wig in perfect shape, it is also easy to get to your wig. There are many types of wig heads, such as cork, canvas, and styrofoam models. Of course, these materials don't matter, they just need to match your preferences. Wig stands also differ in size, and different sizes help you store wigs of different lengths. For example, a wig stand with a longer neck is designed to hold long hair wigs, while a wig stand with a shorter neck is designed to hold short hair wigs. After the wig has been air dried and combed, you can place it on the wig head. It is important to note that you need to place the wig head in a dry, cool area. We all know that sunlight and heat can fade the color of a wig and make it brittle. One of the best places to store your wigs is in a closet. The dark, cool air will keep the wigs from getting moldy or fading.
When it comes to wig storage, the most important thing is to pay attention to the details. We would be very happy if the above wig storage tips would be helpful to you. For wig knowledge and wig tips, you can browse our other blog posts. Hurela now offers summer affordable wigs and buy now pay later wigs. So, if you want to buy Hurela's human hair wigs, please feel free to contact our team members and we will provide you with the most enthusiastic service.
Write For Us