Should I Wear A U Part Wig Or V Part Wig?
Jul.19,2022
Even now lace wigs are considered to be the most realistic wigs. However, some wig lovers are put off by the hassle of wearing them or by glue allergies. Instead, they prefer non-lace wigs, headband wigs, U part wigs, or V part wigs. U part wigs and V part wigs sound different with just one letter, what is the difference between them? Let's go on to see.
What is a U part wig?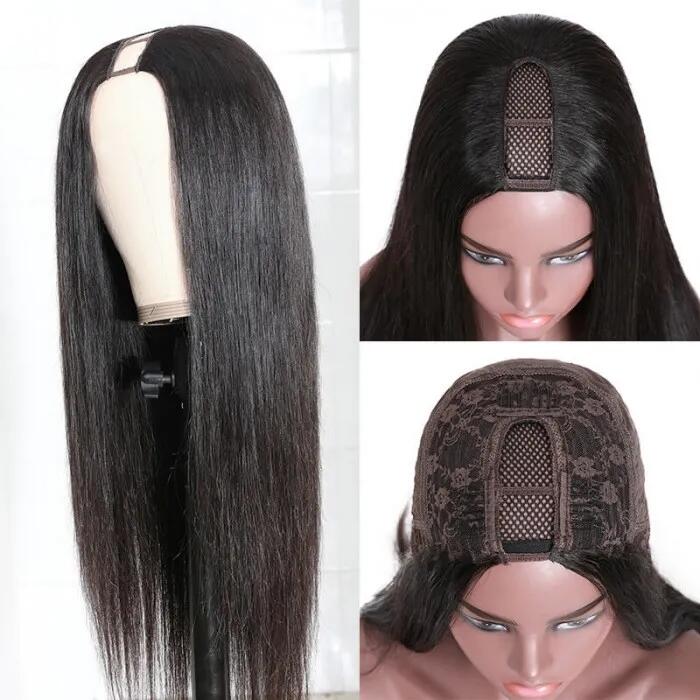 A U part wig is a wig where a U-shaped hole exists at the top of the wig. This U-shaped hole allows you to leak out your own hair, thus mixing your hair and wig together. There is no glue or lace needed in the process, so there is no damage to your scalp. U part wig caps have internal clips for fastening and adjustable straps to hold the wig securely on your head.
Advantages Of U Part Wig
1. Natural And Undetectable
Hurela's U part wigs are made with 100% real hair to give you the most realistic wig look and feel. In addition, the leave-out of the U part wig allows the wig to blend well with your natural hair, giving you the most natural look.
2. Breathable And Comfortable
The U-shaped holes of the U part wig allow your hair and scalp to be free from the stitching of traditional wigs, thus making it more breathable and comfortable.
3. Easy To Wear
The U part wig is very easy to install. Even novice friends can put it on in a few minutes.
4. No Glue
For girls with sensitive skin, the glue used to glue lace wigs may make them feel itchy. However, U part wigs are certainly their savior.
5. Beneficial For Hair Growth
If you want to transition to natural hair, you can wear this wig, as it can protect your hair. On the one hand, the part natural hair can breathe freely so you can clean it regularly. On the other hand, when you wear a U-part wig, you don't need stitches, which helps prevent hair loss. Also, it comes off easily and you can take good care of your natural hair at night.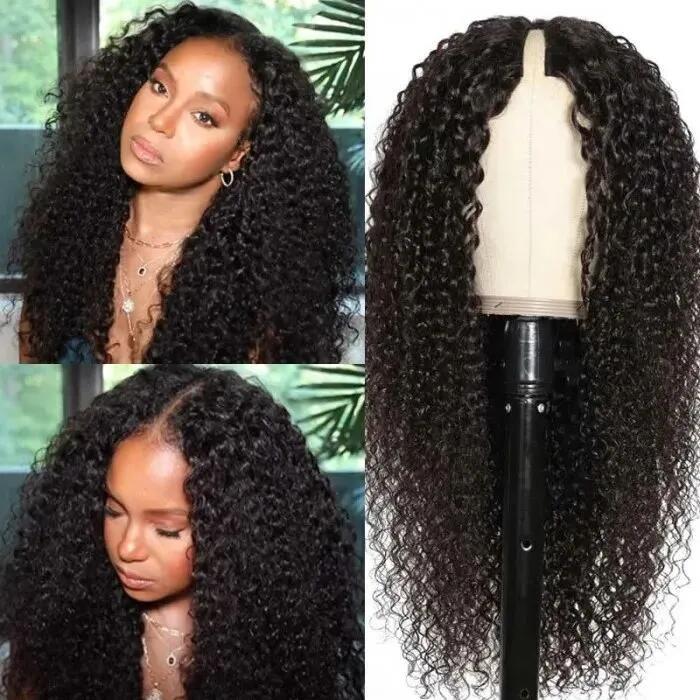 V part wigs are the new trend this year and the first thin wig. As the name implies, a V part wig is a wig with a V-shaped opening at the top, which shows off your natural hairline without leaving a trace. Not only is it an easy-to-install glueless wig, but it is also ideal for those with thinning hair because it does not require hair to be left out. Also, since it does not require a stocking cap, the V-shaped wig is the perfect choice for everyday wear.
Advantages Of V Part Wigs
1. Flexible Hairstyle
You can leave out or leave in small strands of hair depending on your needs. In addition, you are free to make a middle or partial parting by adjusting the position of the opening.
2. Affordable Price
Because the V part wig is all sewn by machine, it is not as expensive as a lace wig. You could even say that it is one of the cheapest wigs on the market.
3. Easy To Wear
Wearing a V part wig is just as easy as a U part wig, or even easier. This is very friendly for people who want to go out quickly.
4. No Glue
V part wigs are often an ideal choice for ladies who are allergic to glue or have sensitive skin. This is because they do not require glue to adhere. Therefore, there is no more irritation of the scalp due to chemicals and no straining of the skin due to glue.
5. Helpful For Hair Growth
For those who want to give their scalp a break but want to transition to another hairstyle, a V-head wig is a great option. You can take it off at night while you rest and let your hair and scalp relax.
6. Natural Look
Because the V part wig leaves directly out of your scalp, this is a real effect that no lace hole can achieve.
What are the differences between U part wig and V part wig?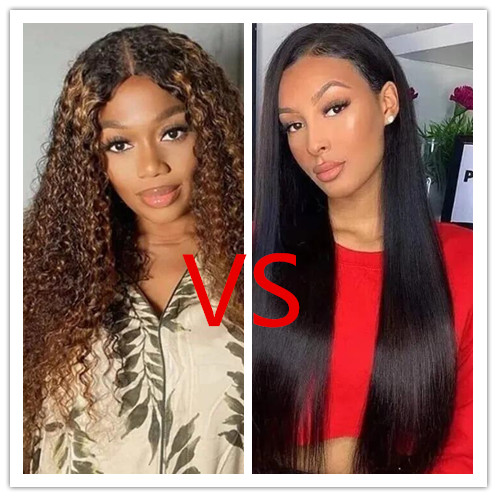 U part wigs and V part wigs are very similar, but there are also subtle differences.
1. Different shapes
Their wig cap opening shape is different, one is V-shaped, and the other is U-shaped.
2. Leave out
U part wigs must leave a portion of real hair to cover the top of the wig. However, V part wigs can choose not to leave their own hair in the V-shaped hole.
3. Cut The Band
When wearing a U part wig, you first need to cut the band that connects the two ends in the U-shaped hole. But V part wigs do not have straps.
How To Choose?
V part wigs and U part wigs are both highly natural protective wigs. It is certainly difficult to choose the right wig from them. We can offer you little advice. If your hair is thin or fine, V part wig will be more suitable for you. Otherwise, the bald top of your head that leaks out will not go well with your wig. If you have fuller hair, you can wear a U part wig and pull out more of your natural hair to create a perfect hair look.
Have you decided whether to buy a U part or V part wig? You can come to Hurela to choose the most natural wig. Hurela wigs are made of 100% real wigs, and now they also offer summer affordable wigs. For any questions about our products, feel free to contact us.
Write For Us
Questions & Answers
Q
Why Should I Choose U Part Wigs?
A
The U part wig has many advantages and I would like to summarize it in four areas: First, creating a natural look. Unlike lace wigs that achieve a natural look through a transparent lace covering, this wig makes the wig appear very realistic and natural by blending the wig with your natural hair. Second, protects your hair and scalp. the U-shaped wig has U-shaped holes that allow your hair and scalp to breathe more because it is not subjected to the stress of a traditional sewn-in weave. Third, it promotes hair growth. A U-part wig is essential in your transition from wig to natural hair. You can remove it at night to give your hair a chance to grow and breathe. Finally, protect your skin. U-part wigs don't require glue and stitches, which is a lifesaver for girls with sensitive skin. Also, these clip-in wigs won't harm your real hair and prevent hair loss.