Ombre VS. Balayage Hair Wig: What Is The Difference?
Jul.19,2022
One of the best things about affordable human hair wigs is that they normally come in various colors to choose from. This makes it pretty much easier to choose a color that complements your skin tone to give you a more enhanced and natural look.
The most common colors to choose from include ombre and balayage. But before we even delve into these two common wig colors, we need to discuss why you should invest in a high-quality colored wig.
Reasons to choose a colored wig
There is a wide range of colors to choose from
One of the top reasons you should invest in a colored lace frontal wig is that there are plenty of colors to choose from. So you don't have to limit yourself to one particular color. This way, you are able to choose a color that suits your skin tone.
1. They are perfect for summer
Colored wigs are generally more suitable for summer compared to black wigs. That's because black tends to absorb more heat, making you sweat a lot in your wig. But with light-colored wigs, they reflect heat, making them an ideal choice for summer.
2. The difference between ombre and balayage
If you are a newbie, you may not know the difference between these two types of hair colors and determine which one is right for you. Thankfully, we are here to help you. We are going to discuss the differences between these two hair colors as well as help you choose the one that is right for you. Let's get started!
What is ombre?
Ombre is a French word that means "shade" or "shadow." In hair color world, ombre is a two-toned hair color effect that tends to be darker at the top and pretty much lighter at the ends. If it is for human hair wigs, the dark, top section is often the natural color of the hair, while the bottom section which is lighter is usually lightened with hair lightener.
If you are new to wigs, and you are looking for one of the best colored wigs, ombre wigs should be on your bucket list. That's because this hair color is neither too shouting nor too dull. It is a great balance. One of the incredible things about ombre wigs is that they are very versatile, and they can be easily customized.
What's more, ombre wigs look good on any skin tone, meaning that you don't have to worry about the wig not complementing your skin tone.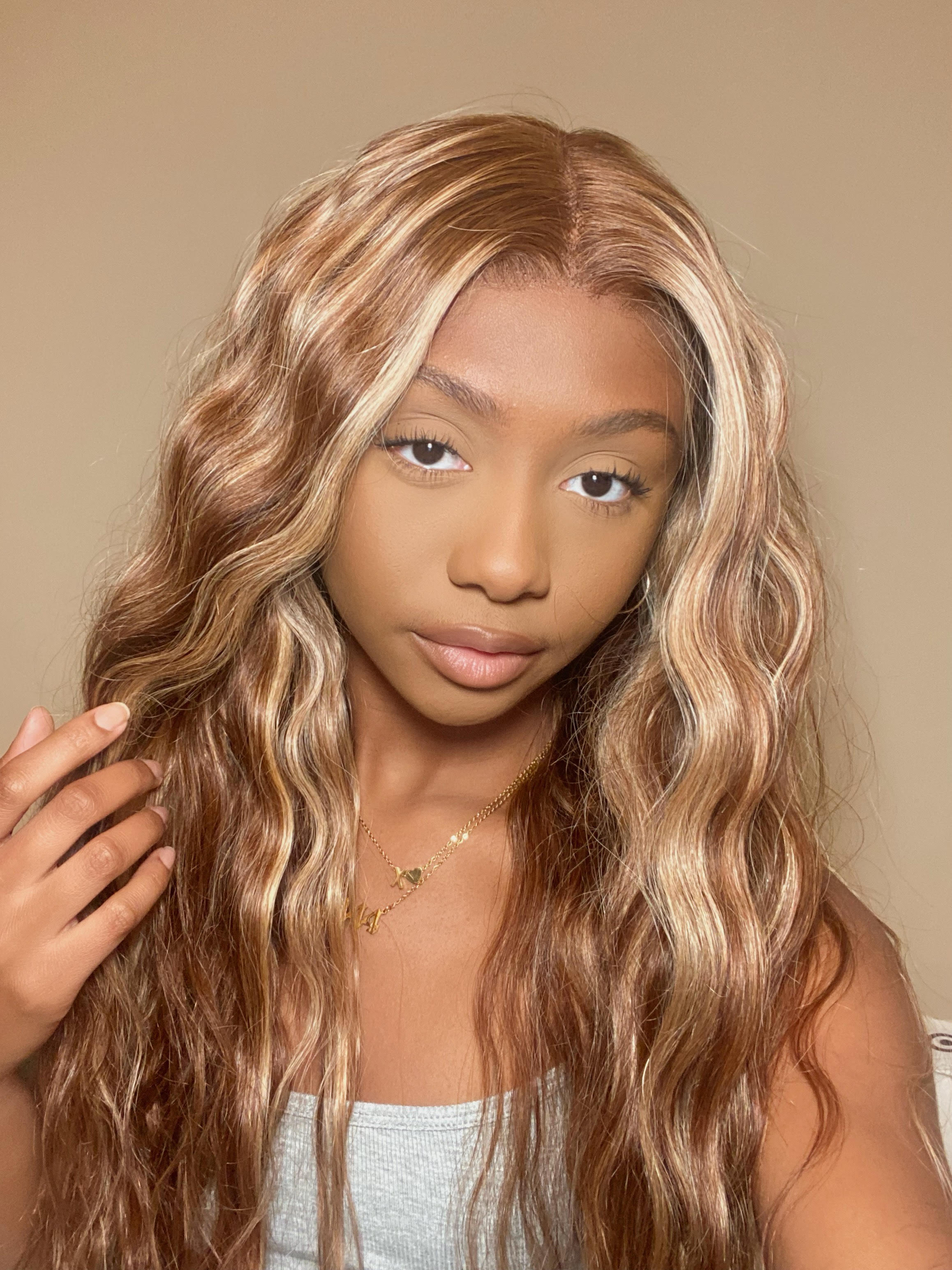 What is Balayage?
Balayage is also a French word that means "to sweep." It is a technique that can be used to create various effects. With this technique, the color is hand-painted or "swept" on the surface of random sections of hair or wig, creating a graduated and natural effect.
The best thing about Balayage wigs is that they are suitable for all skin tones.
What are the differences between ombre and balayage hair wigs?
A lot of people usually cannot differentiate between balayage and ombre hair wigs because they tend to have many similarities. But they also have their differences. The most notable differences between ombre and balayage include:
1. Color technique
One of the most obvious differences between ombre and balayage is the color technique. Ombre is more of a style or effect, while balayage refers to a technique of applying color. Ombre is often done with sections of hairs taken horizontally and the lightener applied to all the hair and then blended upward to diffuse the line.
On the other hand, balayage is a highlighting technique that doesn't use foils. The color is "swept" on the surface of random sections of hair or wig to create highlights with a sun-kissed effect. In addition to that, the color placement in balayage is vertical, while for ombre, it is horizontal.
2. Price
Another major difference between these two types of wigs is their price. Balayage hair wigs tend to cost more than ombre hair wigs. That could be because balayage, it is so time-consuming to create and also requires more work. So, you will need to pay more for balayage than you would pay for ombre hair wigs.
3. Maintenance
Thankfully, you don't have to worry about maintaining these two hair wigs because both of them require minimal maintenance. But balayage is easier to maintain because the color placement is not that strict and is done gradually or with sweeping placement. You will only need to wash the curly lace front wig at least once or twice a week. Use lukewarm water to wash your balayage or ombre hair wig.
Which one is better for you, Ombre or Balayage?
There is no doubt that both balayage and ombre are suitable for all women with various skin tones and will complement their natural complexion. So when it comes to choosing either of the two, it will depend on one's personal choice, taste, and preference as well as budget.
However, if you are looking forward to making a bold testament, you should go for ombre hair wigs. The fabulous two-toned effect looks more awesome on medium to long hair. On the other hand, if you prefer a natural and sun-kissed highlight effect, you can opt for a balayage hair wig because it will offer you that. But as already mentioned, your choice between ombre and balayage is your personal choice and what you find more appealing, or what suits your needs.
Final words
One thing you need to remember is that ombre is a hair coloring effect, while balayage is a technique. Both balayage and ombre are perfect hairstyles for various reasons. They are not only versatile, but they complement all hairstyles and will enhance the appearance of the wearer no matter what. If you have never tried an ombre human hair headband wig or balayage hair wig, this is the perfect time to do so. Get yourself any of them and give your hair a new look.
Write For Us