Hurela Hair Christmas 2020 Wig Sale
Dec.10,2020
Good news!Hello everyone On the occasion of the annual Christmas,Hurela mall will bring you huge discounts.Shop our best deals on hair wigs,human hair wigs,lace part wigs&headband wigs at hurela.com.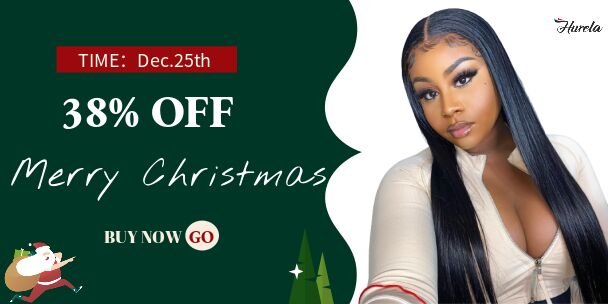 Hurela Hair Company's promotional activities are huge.The company provides:
时间:12.15-12.25
12.15-12.24 all products 38% off
12.16-12.24 all products 38% off
12.25 all products 38% off
Extra 4% discount for all orders:OSHURELAMALL
Just seize this chance to save more money for yourself.
Customers can also check other hot-selling human hair products from below:
Human hair wigs are made out of real human hair so they look and feel real,but they also have to be re-styled after washing just like real hair.Human Hair and Synthetic Hair have advantages and limitations which make them the right choice at different timesHuman hair wigs offer the most natural look and feel. And while they can be the more expensive pick,with the proper care,they are also more durable. Human hair wigs can last between 1 and 3 years. They are remarkably soft with a shine and movement that is not easily duplicated in synthetic hair. human hair wig have lace part wig,headband wig,3/4 half wig,4*4 lace closure wig, none-lace human hair wigs,u part wig,pu wig,hat wig.
A hair weave is human or artificial hair utilized for the integration with one's natural hair.Weaves can alter one's appearance for long or short periods of time by adding further hair to one's natural hair or by covering the natural hair all together with human or synthetic hairpieces.
A headband wig is a type of wig that is made with a piece of material resembling a headband. The wig can be slid around the head and put into place using the headband rather than clips or other fasteners.A headband wig is a wig made of a material similar to a headband. The wig can be slid around the head and fixed in place using a headband instead of clips or glue or other fixing methods. There are as many styles of headband wigs as human hair wigs.
This kind of wig is made of part of lace.Lace wig or front lace wig is a special wig made on transparent lace bottom.The front lace wig is hand-woven with real human hair on a transparent lace bottom.The bottom of the full lace wig is entirely lace,while the front lace wig only has transparent lace where the hairline is obvious. The rest of the parts are made of materials that are not easily damaged.This material is comparable to lace,and does not have the ability to withstand tearing.
Where can I buy the best human hair?
After learning about human hair wigs,you will find that there are many online suppliers of human hair knitting on the market,so which supplier should you choose and where to buy the best human hair knitting? In this blog,we would like to introduce you to hurela shopping mall.Hurela has been a 100% professional human hair supplier in the market for many years. All of Hurela's human wigs are of high quality and cheap.All orders will be sent out with fast free shipping and free extra gifts. You can ask our customer service to refund all orders within 15 days. More importantly,the factory will always improve its advanced technology to produce high-quality human hair strands.
Make Every Girl Afford Beautiful Hair
HURELA mall will provide you with 24-hour online service,our customer service staff will concerned about your order during before-sale,selling,after-sale.If you still want some information regarding any of the wig styling or hair care please feel free to visit at hurela.com.We promise you will never go disappointed.
Hurela will do its best to serve you.
please visit: https //www.hurela.com/
This entry was posted in
wig
By Hurela
Write For Us