Hurela Black Friday 2022 Wig Sale
Dec.02,2022
Black Friday is here with us, and various products are now being sold at discounted prices. If you are into wigs, chances are that you are searching for dealers with amazing prices. Fortunately, Hurela, which is one of the leading hair brands worldwide, is offering a mega Black Friday sale.
During this Black Friday, Hurela is selling its various hair products at discounted prices. Whether you are looking for wigs, hair bundles, or bundles with closure, you will surely get them at reduced prices. And the best part is that Hurela is known for high-quality hair products, so you don't have to worry about purchasing a low-quality wig that will not serve you longer.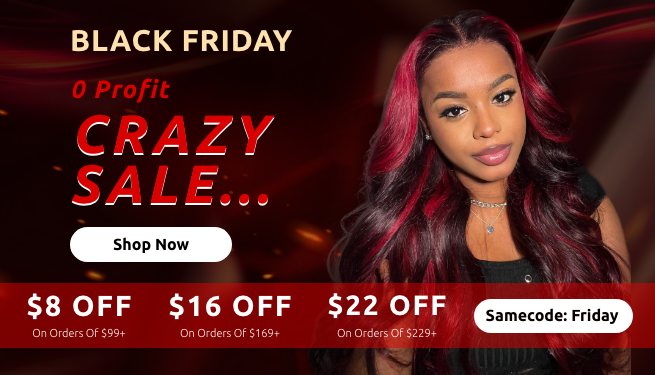 Event details
Activity time: 11.24- 11.30
Activity content
All products are 50% off
$8% off on orders above $90
$16% off on orders above 169
$22% off on orders above $229
80% off on affordable wigs
As you can see, Hurela is having a crazy sale that you cannot afford not to be part of. You will access various affordable human hair wigs. But which are some of the top wigs you can grab this Hurela Black Friday Sale? Let's explore them.
Hurela Black Friday wig recommendations
Human headband wigs
Human hair headband wigs have skyrocketed in popularity in recent years. The only difference between these wigs and regular wigs is that they come with a piece of fabric that looks like a headband that you tie over the wig on the front part of your head. The piece of fabric also aids in holding the wig in place so that it doesn't come off.
The installation of headband wigs does not require glue or other adhesives because they are glueless. For women who are allergic to glue, headband wigs are the perfect solution. The fact that headband wigs seem more natural, are incredibly breathable, and are quite durable are additional benefits that make them worth your money. Take advantage of the crazy sale during this year's Hurela Black Friday if you've always wanted to get a headband wig or if you're looking forward to adding another one to your collection.
Lace front wigs
The curly lace front wig is another extremely popular wig. This wig's ability to look more natural is one of its many selling points. One of the best wigs for a more natural appearance is definitely this one. Additionally, this wig is ideal for women experiencing hair loss. This is due to the fact that it gives the edges' hairs the appearance of being your own. These wigs not only provide users with a more authentic appearance, but they are also simple to install and quite secure. So be sure to purchase the lace front wig of your choice from Hurela this Black Friday.
Hair bundles
The best choice will be to get hair bundles if you're looking for the ideal solution to give your natural hair length and volume. Because they are more secure and won't fall off your head, hair bundles are a favorite among many women. Additionally, they provide you with superior value for your money and are incredibly durable. You can also grab your hair bundles at discounted prices during this Hurela Black Friday Sale.
Colored wigs
If you are into colored wigs, or you want to try them for the first time, Hurela has got you covered because they are offering a wide range of colored wigs this Black Friday. Colored wigs not only look fabulous, but they can also make you stand out from the crowd.
Some of the colored wigs that Hurela is offering during this massive sale include Hurela dark 99J lace front wig, Burgundy body wave, balayage body wave, and human hair blonde wigs.
Why choose the Hurela Hair brand
With many hair brands offering Mega Black Friday sale, you are probably wondering if you should really get your hair from Hurela. The truth is that purchasing your wigs from Hurela is the best decision you can make when it comes to purchasing a wig. Here are reasons that justify that:
High-quality wigs.
The quality of wigs is important. You will get more use out of high-quality wigs and a higher value for your money if you purchase high-quality wigs. On the other hand, if you purchase cheap wigs, which are freely accessible on the market, they will quickly become damaged and be discarded. You will have wasted your hard-earned money as a result.
But if you decide to purchase your wigs from Hurela, you can be sure that the hair will be of a high standard and last a long time. This is because Hurela wigs are completely unprocessed and do not have any artificial shine added to them. Their donors for their human hair wigs have thick, healthy hair. So, if you're searching for the best wigs this Black Friday, Hurela has you covered.
They have various types of wigs.
When it comes to wigs, people have a variety of tastes. While some people prefer long wigs, others prefer short wigs. While some people prefer curly wigs, others prefer straight wigs. Whatever wig type you like, Hurela Hair has it in stock. This is because they stock a wide variety of wig styles, lengths, densities, and colors to make it simple for consumers to choose a wig that matches their individual preferences. Therefore, Hurela is the place to go if you want to buy a straight, curly, or colored wig this Black Friday.
They deliver their products faster.
It can be very annoying to order the perfect wig of your choice only to have to wait an eternity to receive it. Typically, when you place an order for a wig, you want it to arrive as quickly as possible. Fortunately, you can achieve this if you get a wig from Hurela.
The fact that Hurela doesn't delay shipments sets them apart from other hair brands. They provide "flash delivery," which means you will get your wig in two to four business days, just in time to rock it at your forthcoming event.
Write For Us