How To Wear The Headband Wig
Oct.23,2020
Are you ready to have the new fashion hairstyle? Do you know what is headband wig and how to wear the headband human hair wig to achieve your natural look and unique beauty? Now, let's go for the new hair trend Headband Human Hair Wig!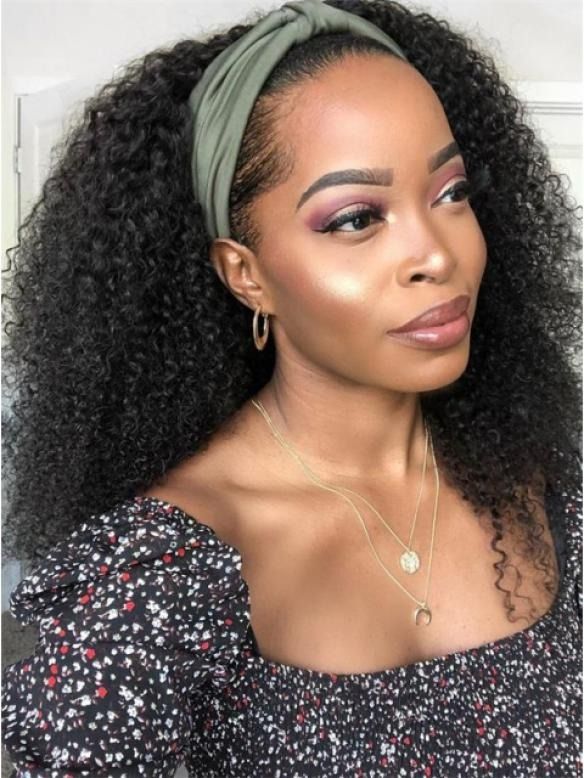 CONTENT
1. What is a headband wig?
2. Why headband wigs are highly required?
3. How to wear the headband wig?
1. What Is A Headband Wig?
A headband wig is a type of wig that is made with a piece of material resembling a headband. The wig can be slid around the head and put into place using the headband rather than clips or other fasteners.A headband wig is a wig made of a material similar to a headband. The wig can be slid around the head and fixed in place using a headband instead of clips or glue or other fixing methods. There are as many styles of headband wigs as human hair wigs.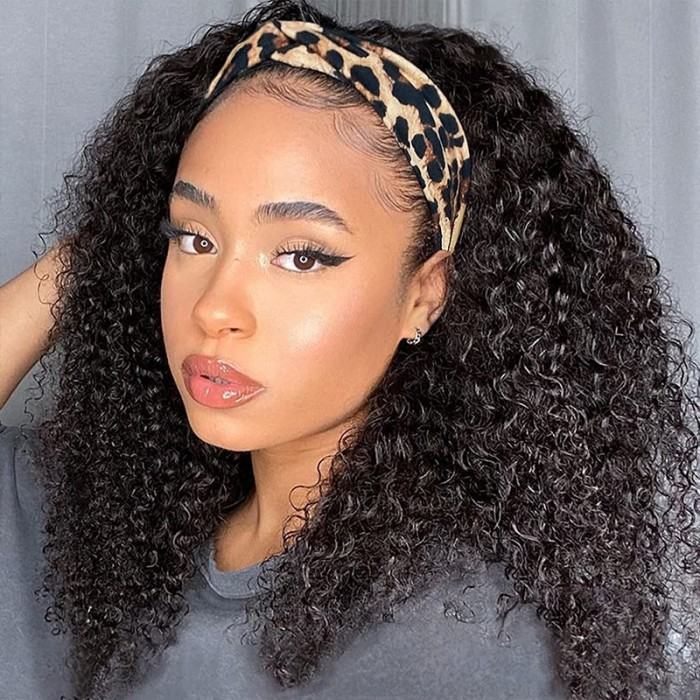 2. Why Headband Wigs Are Highly Required?
● Very convenient to wear as well as remove.
Complicated steps for lace wig installation like bleaching, plucking, glue down or sew in are not needed any more. For headband wig, what you need to do is to throw in and go. So it's simple and easy for people who usually could not handle with lace wigs well to wear headband by themselves without seeking the help of hairstylist.
● Time-saving.
No need of a series of fussy preparing work or installation process. Working-class girls lack of sleep could benefit a lot from it. And when urgent errand comes to them , they will not be like a duck in the thunderstorm any more for thinking how to conceal the messy hair in a very limited time. Just catch the headband wig and go out.
● Cost-effective.
Headband wig is less cost than equivalent lace frontal wig. As headband wig is completely machine-made, while the latter one is labor-intensive, the price of headband wig is more affordable. Moreover, as what mentioned before, the charge from hairstylist for both of wig installation and removal could be saved as well. It's actually the implicit consumption for lace wigs.
● Most realistic hairline.
Lace wig the frontal of wig had to be positioned rightly along your hairline, but which will also cover your real hairline, and the finished look of edge is determined by many factors like lace quality, and skills you melt lace and so on. If one of step goes wrong, then the whole look will be like wearing a "helmet"But headband wigs could be worn hide your hairline or put backward a little bit to expose your own natural hairline and use edge control to achieve the edge shape as will.
● Variable styles.
As headscarf is a separated from elastic cloth, it's changeable. Different headbands could be used to suit diverse occasions , match various types of make up and your clothes to show your distinct temperament. And with the it cover whole circumstance of the head, it allows you to do ponytail or buns for special occasion like fitness room, yoga gym etc. especially in hot summer.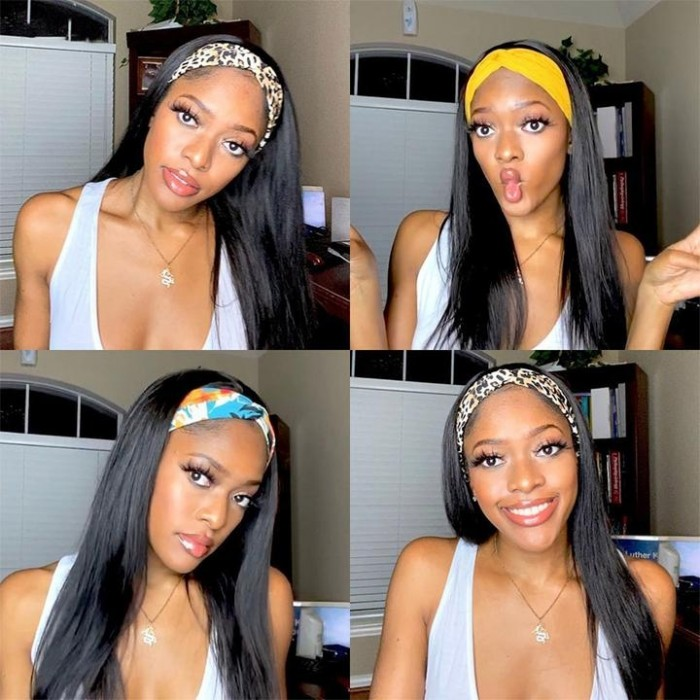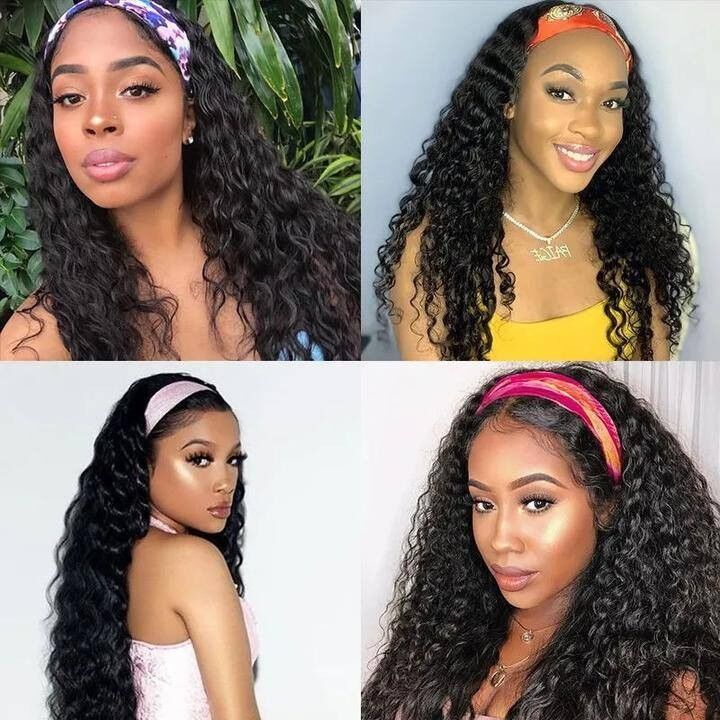 3. How To Wear The Headband Wig?
Headband wigs are friendly for wig beginners, no lace no glue. You can throw it on your head and go in seconds.
Here are few steps to install the Human hair headband wig.
Step 1 Brush hair back and lay baby hair
Brush all your hair back and not to part your hair will look better, You can use a small brush to put some of your real hair to lay baby hair will make it looks more natural.
Step 2 Put on wig and use Velcro tight the wig
Throw a headband wig on your head directly and take the front comb up top. Take the headband and use Velcro to tight the wig, also make sure the bottom comb is attached. Once you use Velcro latch the headband part, it feels not going anywhere or you don't worry about it fall down.
Step 3 Put the headband on the top and do stylish
You can choose the headband you like, in summer, put it into a ponytail and choose the colorful headband.If you want to keep your wig stable, choose the wide headband to make it more secure,also can help you hide the black headband.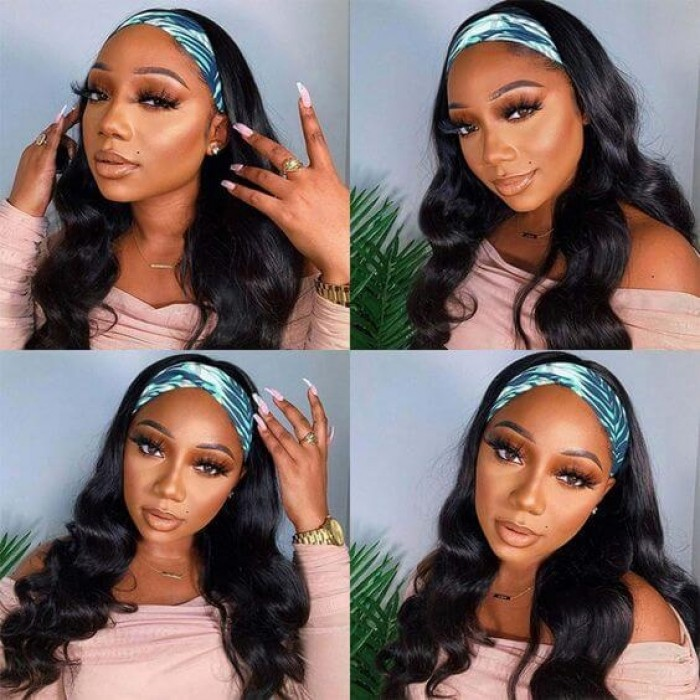 Reasons For Recommendation:
1. We provide a full set of services from production to delivery to customers.
2. We will provide customers with the lowest price and cost price to ensure that the most satisfactory wig can be bought at the lowest price.
3. Provide the highest quality customer service one-to-one service to meet the needs of each customer.
4. The products in stock are shipped quickly, and the return requirements are met within 30 days to ensure the interests of customers.
5. There are unexpected discounts for activities every month and every week, and the alliance platform settles in and deals with commissions.
We provide the best human hair wig service.
Hurela Mall have many kind of human hair wigs.No matter what kind of wigs you want,Hurela Mall will supply you the best and cheap human hair wigs.We provide 100% pure human hair wigs,We provide best quality lace wigs and non lace wigs human hair at affordable price.Highly recommend headband wigs and lace part wigs for full head look.Shop hurela hair to add your beauty!
This entry was posted in
wig
By Hurela
Write For Us