How to Wear a Lace Front Wig Using Glue?
Sep.29,2022
The discussion about wig glue is complex and varies from person to person. Everyone has their own experience with different wig glues. There are many types of wig glue available in the market. The installation is always required by using lace front wig glue. Many wig wearers ask about the pros and cons of wig glue and want to know how to wear a lace front wig correctly. Today, we will help you learn all these information.
Pros of Wig Glue
● Natural Look
If you don't want people to notice that you are wearing a wig, that is the time you need a wig gel. The wig gel gives you the most natural wig edge. The wig gel helps you magically hide the lace part of the wig at your hairline.
● Easy Removal
Many people have some problems removing wigs - sometimes it really hurts and can lead to some skin problems. Fortunately, a majority of glues are formulated to be easy to wash off and remove and lace wig adhesive also can be removed with many things, such as stain remover, alcohol, and even water. This is safe.
● Strong Hold
Adhesives can provide a stronghold, especially for those with complete hair loss.
Cons of Wig Glue
● Longevity
Longevity is an important factor to account for, so how long glue stays sticky is a matter worth discussing. I think the worst part of gluing your forehead is when it starts to slide! No matter how cool your hairstyle is, you will become uncomfortable and awkward when the wig starts to move freely.
● Clog up hair follicles
It can clog up your hair follicles and slow or even stop hair growth, which is the last thing you want if you want strong, healthy hair.
● Allergic reactions
It can cause allergic reactions. If you notice redness, itching, or any other type of reaction, stop using wig gel immediately.
How to Wear a Lace Front Wig Using Glue
Now we will share some steps to install human hair lace wigs with glue.
Step 1: Start with a clean wig and oil-free scalp. You need to wash your natural hair and your human hair lace wig first to make them clean and make good preparations for the next step.
Step 2: You'll need to braid your hair into cornrows, then pin and flatten all of your hair under the wig cap to prevent damaging the edges of your hair when applying the glue.
Step 3: Please put on the wig first and check that it fits and aligns with your natural hairline.
Step 4: Remove the wig, apply the first layer of glue evenly around the hairline with a brush, and blow dry. Then apply a second layer of glue and blow dry it until it's tacky and has a clear color. Don't wear a wig while the glue is still white.
Step 5: Then apply a freeze spray to help your wig stay in place.
Step 6: Once dry, put the wig on gently. Adjust the edges of the wig so that the hairline matches. Also, adjust the back of the wig so that it hangs naturally over the hair.
Step 7: When you press the lace to the glue, it can be difficult to remove, so you have to make sure that the lace part of the wig is perfectly aligned with the hairline, and also check that the ears are aligned.
Step 8: Then trim out the lace with a pair of scissors.
Step 9: Use a foundation brush to apply some concealer and apply it to your hairline for a more natural finish.
Step 10: Use a rat tail comb to remove some hair from your hairline, trim with scissors, and style it to your liking for a natural hairline. Secure baby hairs with mousse. Then tie a scarf around the edges and let it sit for a few minutes.
How to Style Your Baby Hairs?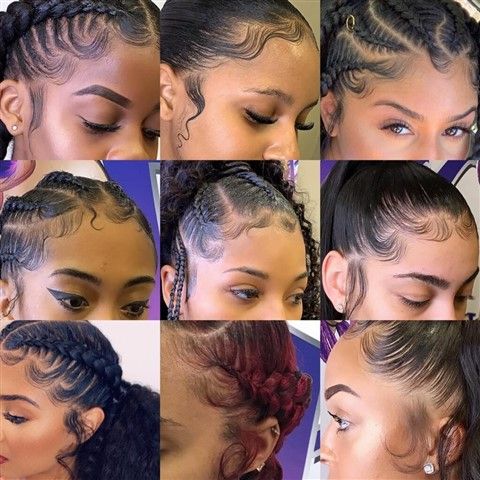 ▶ Using your styling tool, separate your baby hairs. Then, use a little bit of water to brush them down. This will you style your baby hair easily.
▶ Dip your edge control brush in a bit of gel and slowly glide your tool over each section according to your favorite hairstyle. This way, it becomes more synonymous with yourself, helping you accentuate your natural beauty.
▶ Tie them down. Use your scarf to tie them down and keep your scarf for as little as five minutes. A satin silk edges scarf is recommended because it can be a good helper to keep your hair moisturized as they dry.
Step 11: When you are taking off your lace front wig, use an adhesive remover to soften the glue before taking off the wig from your scalp. If you do not have an adhesive remover, try to use water or alcohol. Remember to do not take it off directly from your scalp
While adhesives aren't the safest option, they tend to give the most natural results. If you need to, we recommend using the adhesive only for special occasions such as weddings, graduations, festivals, and as little as possible. Before using a new adhesive, be sure to do a test to check for allergic reactions.
Now that you have learned the pros and cons of wig glue and the steps to wear a wig, hoping you can enjoy your lace front wig!
Write For Us