How To Tell If A Wig Is A High Quality?
Sep.02,2022
As human hair wigs become more and more popular, there are more and more types of wigs. The variety of wigs may dazzle you. Wigs are available in various lengths, colors and sizes. Many women choose wig styles and colors similar to their hair, while others prefer to try new styles. Choosing a wig is not a difficult thing. How to distinguish the quality of a wig is a difficult thing. When buying wigs, you should also consider their quality. The quality of wigs is very important, because the quality of wigs will affect the effect of wearing wigs and the duration of wigs. The better the quality of the wig is, the more natural it will look. But there is a very serious problem that we do not know whether the wigs we buy are of high quality. So if you don't know how to tell if a wig is a high quality, read on. There are some tips to help you identify high-quality wigs.


1. Look Very Natural
Human hair wigs are made of 100% human hair. Women from India, Malaysia, Peru and other places sell their hair to wig manufacturers in exchange for extra money. The manufacturer then makes the purchased hair into wigs of different shapes. High quality human wigs remove hair scales, and the order of hair is the same as the root and tip. So the wig made of such hair will also be very natural, which looks like your own hair. In terms of styling, if you choose curly hair, such as body wave wigs, the curl of a high-quality curly wig will also be very natural and not stiff at all. It's hard to tell with naked eyes whether it's a wig or your own hair when you wear it.

2. Comfortable To Wear
Comfort is the key factor to measure whether a wig is a high-quality wig. High quality wigs should be comfortable to wear. High quality wigs should be made of breathable fabrics so that heat is not trapped between the wig and your scalp, and your scalp can breathe. High quality wigs should also be made of soft materials, so that users will not feel obvious discomfort when wearing them. The wig will not rub against your skin. In general, a high-quality wig will not make your skin sensitive and red, unless your skin is particularly sensitive. Nothing is more uncomfortable than a muggy and itchy wig. So when you buy a suitable size of human hair wig and wear it in the right way, your wig is still uncomfortable, so consider whether your wig is of poor quality.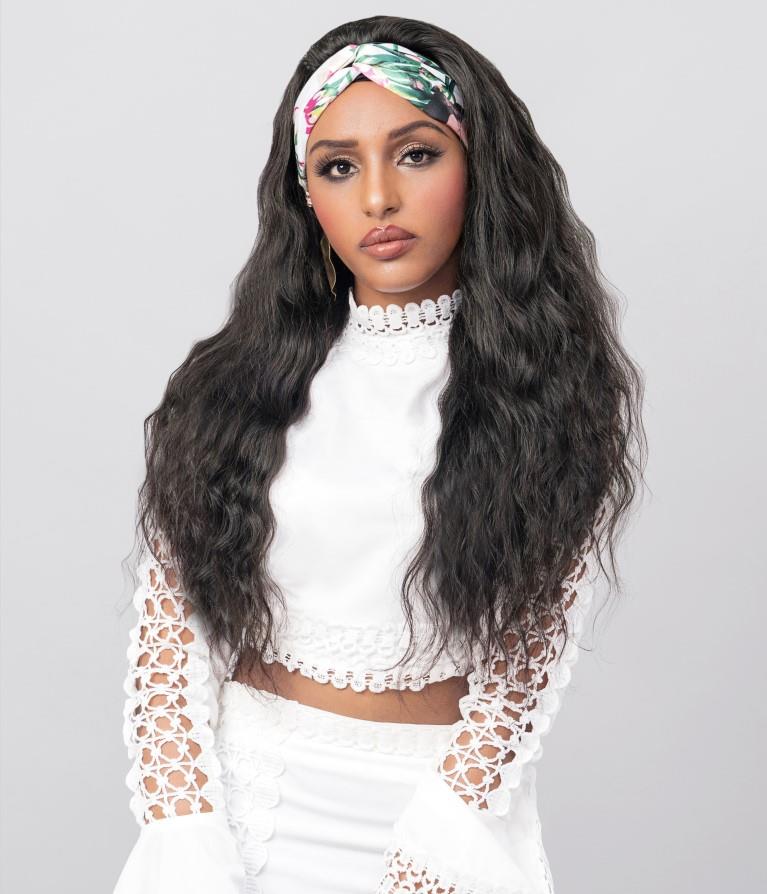 3. Touch And Vision
Human hair wigs are made of human hair. When we describe a person whose hair is pretty, we will say that her hair is as smooth as silk. Therefore, when checking whether the wig is of high quality, touch and vision are also very important factors. As for color, if chemical fibers are composed of chemical fibers under light, then chemical fibers will have unnatural brightness. It looks like plastic. And high-quality human wigs look very natural. Secondly, high-quality human wigs feel smooth, and chemical fibers will feel rough, unlike human hair. Because there is no nutritional support, low-quality human hair wigs can even have split ends. So if you want to tell a high quality wig, you can see if it has split ends. Especially when you want to buy a long wig, you should pay attention to whether the wig have split ends.

4. Easy To Be Restyled
In terms of modeling, high-quality human wigs will be more versatile. Because high-quality human wigs can be reshaped. When you have a human hair wig, you can straighten it, curl it, and even dye it. You can modify your wig according to your own preferences. But we must remember that when we dye our hair, we must ensure that we use high-quality dyes that match our wigs. Before heating the wig, it is also necessary to spray thermal protectant on the wig to protect the wig better and extend the life of the wig. As long as your protective measures are in place, high-quality wigs will not be seriously worn.

5. Longer Lifespan
A notable sign of high-quality wigs is their high price. However, don't be fooled just by looking at the price. The most expensive wig is related to a longer service life, which is the quality we pursue. However, this does not mean that the quality of wigs with low prices is not good. Some wigs have low prices but good quality and high cost performance. Therefore, the price of wigs is not the only standard to distinguish whether it is a high-quality wig or not. Usually, wigs made of human hair are the most durable. Wigs made of human hair should last for 1 to 3 years, and maintenance services are provided to give you value for money. Wig manufacturers carefully collect and classify hair samples to ensure that the hair is not tangled. There will be no entanglement in subsequent wig wearing. Therefore, the service life of high-quality wigs tends to be longer.
Write For Us
Questions & Answers
Q
How long is a wig supposed to stay on?
A
Six Weeks. Don't Wear Your Wig for More Than Six Weeks at a Time. While experts generally agree that you should take a break after six weeks, don't hesitate to remove it sooner.
Q
How long will a wig last if worn everyday?
A
For many, a human hair wig is an investment that the wearer hopes to use for a long time. Luckily with the proper care, human hair wigs tend to last more than a year when worn daily and up to three years when worn occasionally.
Q
How can you tell if a hair wig is pure?
A
Try burning a few strands. Fake hair melts, while real human hair burns. Human hair will curl up into a ball and catch fire immediately and, it will smell like hair burning. Fake hair will melt and smell like rubber when touched with fire.