How To Store A wig
Nov.23,2021
Proper wig storage is one of the many challenges that many wig wearers tend to face. Storing your wigs properly is crucial if you want your wig to last longer. Buying a human hair headband wig is an investment in itself; that's why you need to ensure that it gives you a higher value for your money. You can achieve that by storing your wigs correctly.
Cheap wigs are typically made from two main materials: human hair or synthetic hair. Each of these materials may require different storage requirements. So, make sure you know the material your wig is made of so that you can understand its storage requirements.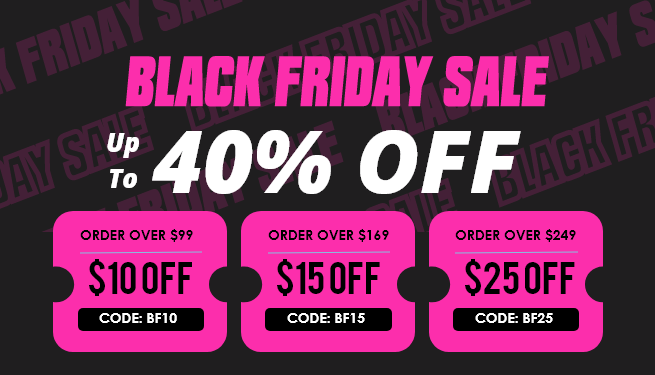 Event details include:
Activity time: 11.24-11.30
Active content:
1.All products are 40% off
2.$10 off for orders over $99 code: BF10
$15 off for orders over $169 code:BF15
$25 off for orders over $249 code:BF25
3.0.01$ spike/free wig (range)/small gifts/Giveaway
(0.01$ seckill: The product requires shipping fee + new product)
4. Free Wig:
Free 10-inch hair weave with any purchase over $349
Free pixie wig for any purchase over $399
Free bouncy curly wig for any purchase over $489
Small gifts: normal gifts outside the package + hair tinsel
5.Black Friday thematic page: https://www.hurela.com/blackfriday.html
If you are a new wig wearing and you are probably not sure how to store your wig, you are in the right place. In this article, we discuss how you can properly store your wig. There are plenty of ways one can store their wigs. That's why you don't really have to limit yourself to one method. Additionally, your storage method will depend on whether you are storing your wig for the short-term or long term.
Here are some of the most effective ways you can store your wigs to extend their lifespan.
1.Store your wig on a mannequin head or wig stand
Storing wigs on a mannequin head or wig stand is the most popular way of storing a wig. A wig stand or mannequin head is perfect for you, especially if you don't have enough shelf space to store your wigs. This is also a short-term method for storing wigs.
A mannequin head or wig stand will keep your wig's hair structure, style, and curls [if they have] in place. They are also ideal for those who wear their wigs daily and remove them at night. You can buy a mannequin head or wig stand at a beauty supply store near you or online. What's more, these wigs stands and mannequin heads are very lightweight, they take less space, and you can place them anywhere.
2.Use wig hangers
You can also store your colored wigs using a hanger. This is also another popular way to store a wig. These wig hangers are also ideal, especially if you have limited space or no space for wig stands or mannequin heads. A wig hanger can help you maintain your wig's structure and curls if your wig is curly. Wig hangers have a cap-like base where you place your wig on as well as a long hook to help you hang the wig hanger in your closet. It is advisable to find adequate space in your closet to hang them so that they aren't crushed by your clothes. The best spot is at the back of your closet.
3.Store your wig in its box
Another incredible way to store your wig, especially if you are looking for a long-term storage option is storing your wig in its box. Wig boxes are typically designed to keep a wig in perfect shape, making them ideal for storing your wigs. If you have limited space, using a wig box is an ideal option because you can easily stack these boxes, making them take little space. However, before you store your wig on a wig box, make sure that it is thoroughly washed and dried, combed, and sprayed with a conditioning spray. This will keep the wig clean and the wig fibers strong. You can then stack these boxes in your closet.
4.Store your wig in a bag
Using a bag to store your curly lace front wig is also perfect. A bag will ensure that your wig retains moisture while it is being stored. However, remember that it should not be any kind of bag; the bag should be a satin or silk bag. This will help keep the wig soft and hydrated. It will also prevent the wig from tangling in the long run.
But remember to practice precaution when storing your wig in a bag. If you are not careful, you may interfere with the structure of the wig. To perfectly store your wig in a bag, fold the wig in half from ear to ear and slip it into the bag for compact storage. These bags are available online or in beauty shops. The best thing about these bags is that you can actually travel with them wherever you are going, and they also take less space.
5.Storing your wig on a shoe rack
Surprisingly, you can also store your bob wigs on shoe racks. It is not any typical shoe rack, but the shoe rack you hang on the inside of your closet door. They are ideal for keeping your wigs in. To safely store your wig on these shoe racks, fold the wig gently and place the wig into the pocket. Label the pockets according to which hairpieces you have placed on them. This type of shoe rack will ensure that your wig is safely kept and ready to use. What's more, your wigs won't get crushed or get dusty. You can use this method to store your wig for both short-term and long-term.
6.How to store your wig when traveling
If you are planning on going on a trip or holiday, you need to pack your wig properly, if you are planning to carry your wig. Of course, you wouldn't want to reach your destination with a bent and out-of-shape wig because it is crushed by the contents of your suitcase. That's why it is advisable to invest in a good wig box and ensure that you place it in a Ziploc bag or cover the wig with a tissue to keep it protected. And if you are traveling with lots of wigs, it is advisable to invest in a cost-effective wig stand. You will simply put up the wig stand once you reach your destination and place the wig on it. This is pretty simple to do.
7.Wrapping up
If you thought that proper storage of wigs is not important, you are wrong. Proper storage of wig is as important as washing and combing it. So even if you wash your wig and condition it regularly, if you don't store it properly, all your efforts will go to waste. So, make sure you prioritize proper storage of your wigs if you want them to last long.
Write For Us