How to Put On A Wig With Long Hair
Oct.28,2022
One of wigs' best features is that everyone can wear one, regardless of hair volume or length. So, even if your natural hair is lengthier, you can still wear a wig and achieve a natural look and improved beauty.
With long hair, it can be very challenging to properly wear a lace front wig and cover long hair. Thankfully, there are methods you may employ to wear a wig with long hair and hide it. In this post, we give you detailed instructions on how to wear a wig if you have long hair so that it looks as natural as possible. In order to successfully wear a wig with long hair, it is important to maximize hair concealment.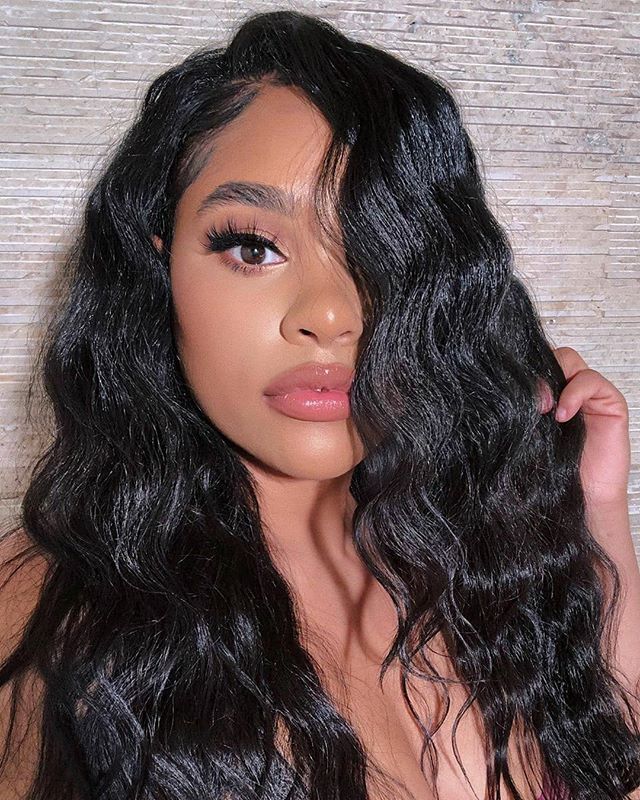 How to put on a wig with long hair
The two basic techniques for hiding long hair beneath a wig are the plait method and the ponytail technique. Let's discuss these two strategies.
First approach: The Plaiting Method
1.Brush your wig
Brushing your wig should be the first step. This helps to untangle any knots or tangles in the wig. Use a wide-tooth comb to brush your wig. You should start at the bottom as you progressively work your way up.
2.Wash your wig thoroughly.
After you have combed your wig and eliminated any knots and tangles, your wig needs to be thoroughly washed. You need to understand the material your wig is made of in order to choose the appropriate accessories. This is because synthetic wigs are very delicate and require specific hair products. On the other hand, because they are made of human hair, human hair wigs are exactly as your natural hair. This means that you are free to use the products you usually use on your natural hair on your human hair wigs too. After giving your v part wig a thorough wash, allow it to dry. Use a blow dryer on a low setting to dry your wig. Excessive heat might seriously destroy your wig.
3.Put your hair in a bun.
After your hair has dry, it is time to braid it. Braiding your hair is one of the best ways to hide it behind a wig. It could also give you a more natural appearance. French braids and traditional braids are both perfect options. You can separate your hair into two or four sections depending on its thickness when you want to braid it. You must start braiding your hair at the nape of your neck and work your way to the opposite side since you will wrap the braids under your head at the finish.
4.Wrap the braids.
Once you are done with braiding your hair, wrap your hair around your head and secure it at the crown. When wearing your affordable human hair wig, the braids may show through if they are lashed too closely to your hairline. Once the braids are perfect, you can fasten them with a bobby pin.
5.Wear the wig cap
It's essential to purchase a wig cap that precisely fits your head. Take off your wig cap and replace it. Wearing a wig cap to make your hair appear flat will help you get the natural appearance you desire. Additionally, it can help protect your natural hair from any kind of damage.
Make sure your hairline is perpendicular to the edge of the wig cap. Be careful not to leave any hair strands outside as well. However, you can experiment by leaving some hair strands out and blending them in with the wig's hair to achieve that flawless and natural effect.
6.Put on the wig.
Once you are pleased with how the wig cap feels on your head, it is time to don your wonderful lace front wig. Then adjust it so that your head fits comfortably on it. After that, you can fix it with bobby pins or the wig's back straps that are adjustable. Just make sure the color of the bobby pins matches the color of the wig. Wig tape is another option if you want extra security.
Second Approach: The Ponytail Style
7.Brush and wash your wig.
You must make sure your wig is clean, well-kept, and free of knots and tangles before you think of putting it on your head, as already stated in the above approach. And you can achieve that by thoroughly combing and washing your wig. This is especially important if you intend to wear the wig for an extended period of time.
8.Tie your natural hair in a ponytail
You will need to pull your natural hair back into a ponytail rather than braiding it in this method. Try to make the ponytail as smooth as you can. You can then use bobby pins to secure the ponytail
9.Wear the wig cap
Understanding how to put the wig cap over your ponytail is essential. Remember that your hair is long and that you want to keep it smooth. To hide your ponytail, stretch your wig cap over it. Usually, the base of the ponytail should act as the anchor as you droop it towards your face. The remaining hair can then be hidden by sliding up the front half of the cap. To prevent it from looking heavy, you can massage your hair until it is evenly tucked under the wig.
10.Put on your wig.
It is time to wear your beautiful wig. Grab it, turn it upside down slowly, and then put your face inside first. The remainder of the wig can then be taken off. Pull the flap to the base while you wear the wig. You may find it easier to secure the wig to the back of your forehead if you do this.
11.Adjust your wig
The final step is to adjust the wig. Make sure your natural hair cannot be seen through the wig. Only a small portion of your natural hair should be visible. You can then use bobby pins to fasten your wig.
Write For Us