How To Pluck Your Wig
Aug.29,2022
As girls pursue beauty, more and more girls begin to wear wigs. The market for wigs is growing, and the types of wigs are also increasing. Many people can't wait to wear wigs as soon as they buy them. However, they do not know that they need to pluck their wigs before putting them on. It takes some extra time to make the wig fit you perfectly. If you wear it as soon as you receive it, it will look very unnatural. Plucking your wig will help make your wig look more natural. Pluck your wig and make it tailor-made for your hairline. This is the best way to make your wig look as natural as possible. Once you take your wig home, one of the most important things is to pluck it. Plucking a wig is an art that needs practice, but anyone can do it. In this article, we will tell you how to pluck your wig.
Why Do You Pluck A Wig?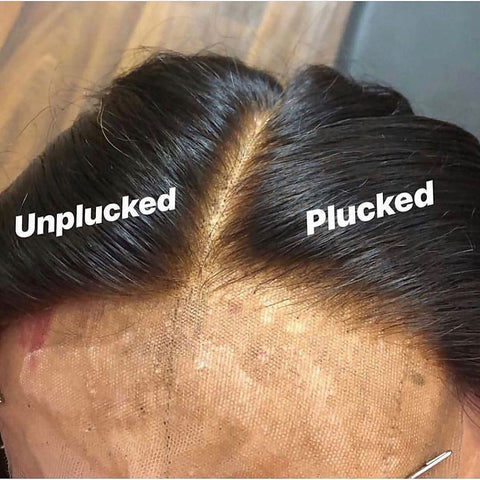 Plucking wig is the process of using tweezers to remove excess hair around the hairline of lace wigs. The hairline of a wig that has not been plucked is usually very straight, which basically implies that it is a wig rather than real hair. If you pay attention to your hairline, you will find that the length and density of your hair are different. This is because new hair is growing all the time. The growth cycle of each hair is different, so you will find that the length of hair is different near the hairline. Plucking the wig is one of the key steps to follow when wearing a human hair wig. With the development of wig industry, many wig manufacturers will produce pre-plucked wigs. These wigs have a fine hairline, giving people a real feeling and providing a natural appearance. It may look unnatural for a wig that has not been plucked beforehand. You have to take a little time to manually pluck the wig to get the perfect wig. It's not difficult to pluck your wig. Here are some simple steps to pluck your wig.
Steps To Pluck A Wig:

1. Prepare The Tools

The tools you need to pluck a wig:
A mannequin head
Hairpin
Tweezers
Rat Tail comb
Hair-cutting scissor
wide-tooth comb

The first step in preparing to pluck your wig is to prepare some tools you need. These things are common at home. You can get them without any trouble. The only unusual thing is the head of a mannequin. If you don't have, you can also use a wig stand instead, or you can buy one online. Their prices are very cheap.

2. Fix The Lace Wig On The Mannequin Head
When placing the wig on the mannequin head, make sure it is firmly installed on it. In order to provide higher safety, you can fix the wig on the head of the mannequin with a hairpin. Imagine that the mannequin head is your head. The front of the wig should be placed at the beginning of the hairline on your head, and the back of the wig should be placed at the back of your neck. Make sure the wig doesn't slide when you pluck your wig, otherwise it may cause the hairline to deform.
3. Prepare Your Wig for Plucking
First comb your wig with a wide tooth comb, which will reduce the tangle of the wig and allow you to pluck your hair more smoothly. Then use the rat tail comb to pluck the hair of the hairline part you want on the wig. In this step, you can divide the hairline into small parts. The hair you pluck should hang down naturally, and the other hair should be clipped in the back to prevent them from running around.

4. Start to Pluck The Hairline
Start from the part of the hairline that you just separated and prepare to pluck your hair. Hold the tweezers with your dominant hand and turn them so that the shorter side of the tweezers is facing down. This side will not remove as much hair as the longer side. Grasp the hair near the root, do not grasp and tear the lace part. You can clip your hair with tweezers in any direction you like, but be gentle. The lace must not be damaged. Be sure to pluck all the hairs on the hanging part at one time. You do not finish plucking until there is no hair on this part. If you don't know how to design a natural hairline, you can take a picture of your original hairline and then shape the hairline of your wig according to your own hairline.

5. Creating Baby Hair
After you pluck the wig, you can create some baby hair. Baby hair not only adds interest and style to your wig, but also helps to hide lace during the modeling process, making your wig look more natural.
Write For Us
Questions & Answers
Q
How can I pluck my wig without tweezers?
A
You can pluck a wig without using a tweezer and a mannequin. When you don't have a tweezer, use your long nails to pluck the hair. It may be hard for some people, but it is not. Pluck your wig directly on your head when you don't have a mannequin.
Q
Should I bleach my wig before plucking?
A
If the knots are obvious, you need to bleach them before plucking. Bleaching your knots first will reveal some bleach-resistant knots that you'll need to pluck in a later step. If you wait until after plucking your wig, you'll have to take time to go back and pluck those bleach-resistant hairs.
Q
What can replace tweezers?
A
One genius tip from Reddit only requires a supply you'll find in any public bathroom: a paper towel. Simply wet the paper towel, place it over your fingers, and pull out that stray hair. The extra grip from the paper towel really does the job, according to commenters.