How To Make Your Wig Edges Look More Natural?
Sep.05,2022
Wearing a wig is a good way to show yourself with confidence and change up your hairstyles according to your preferences and modern fashion trends. Unless you are dressing up for some special occasions, like cos playing, or Masquerade, most people want their wigs to look as natural and beautiful as possible. For existing wig-wearers or newbies, wig edges play an important role in your natural looking. To help you learn how to make your wig edges as close a match as possible to your natural hair, we will provide some useful tips in this post.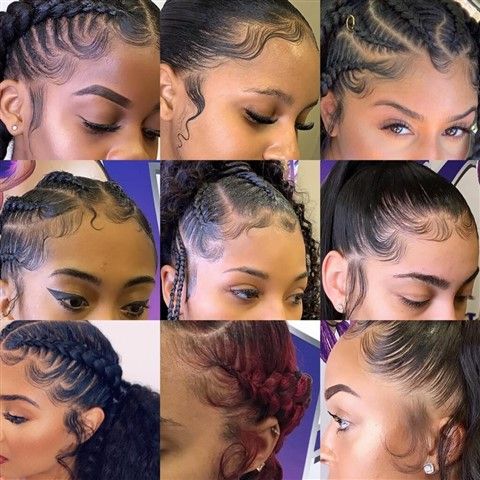 Lace front wigs are steadily growing in popularity, with more and more people embracing the natural-looking wig. A lace front wig is a type of wig that has a lace panel in the front, which allows you to part your wig freely across the front. You can do a side part, middle part, or whatever hairstyles you like. If you are new to wigs, lace front wigs are worth the investment as they give the illusion of a natural hairline and various hairstyles. The hair of your wig will always appear to be growing directly out of your scalp, owing to its nearly invisible lace material. If you happened to buy a lace front wig made of human hair, you can rest assured it will be an incredibly natural look on you. So if you want to make your wig edges look less "wiggy", the perfect choice is lace front wigs. What's more, lace front wigs are more lightweight than other wigs, and they provide a breathable lace material for your scalp. You can wear a lace front wig all day long without worrying about feeling uncomfortable.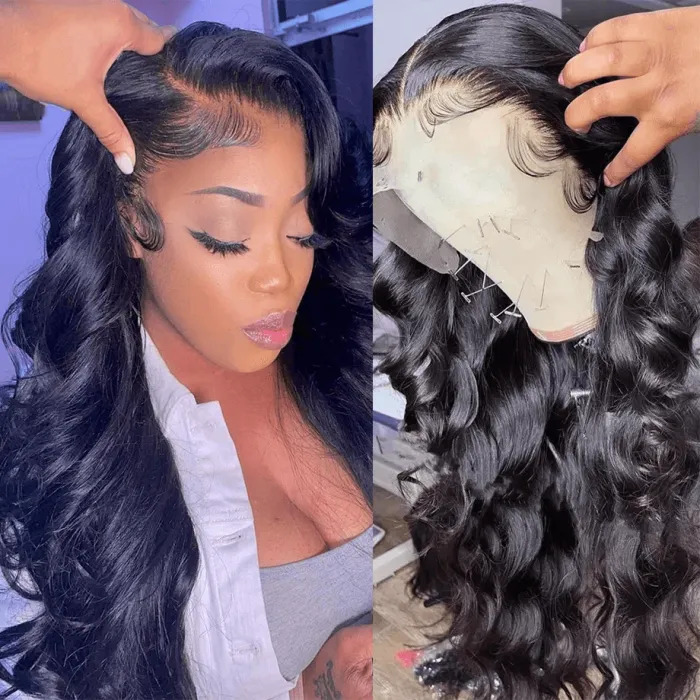 2. HD Lace is the best.
There are many different types of lace materials used in wigs on the market. They are changing with the market requirements and fashion trends. Swiss Lace, transparent lace, and HD lace are commonly used by the best wigmakers to create wigs. HD stands for "high definition". HD lace is a royal lace material that is thinner and more transparent than Swiss lace and transparent lace. HD lace is steadily growing in popularity among wigmakers and wearers owing to its thinness. They are so soft and realistic and match all complexions. HD lace can help you have an exposed hairline when it applied to your scalp. You can wear an HD lace wig for any occasion without people noticing the wig.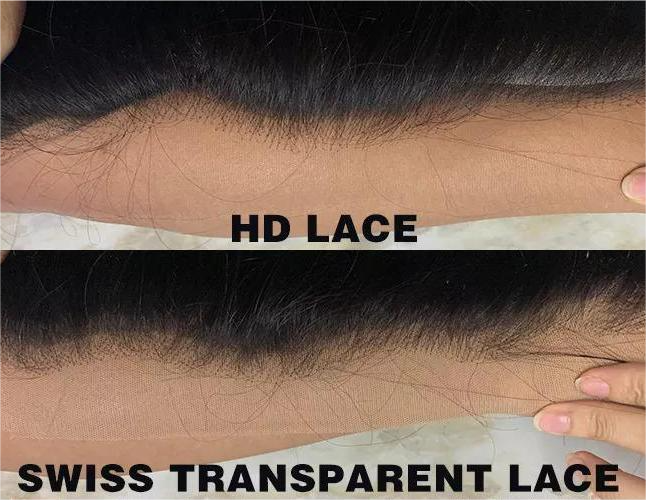 3. Best Tools for your perfect wig edges.
Preparing the essential tools is the first step for you to make natural edges on a lace front wig. You probably have most of them already, but if not, these are great tools to have on hand.
● Sharp scissors
● Edge control brush
● Styling gel
● Rat tail comb
● Satin silk edges scarf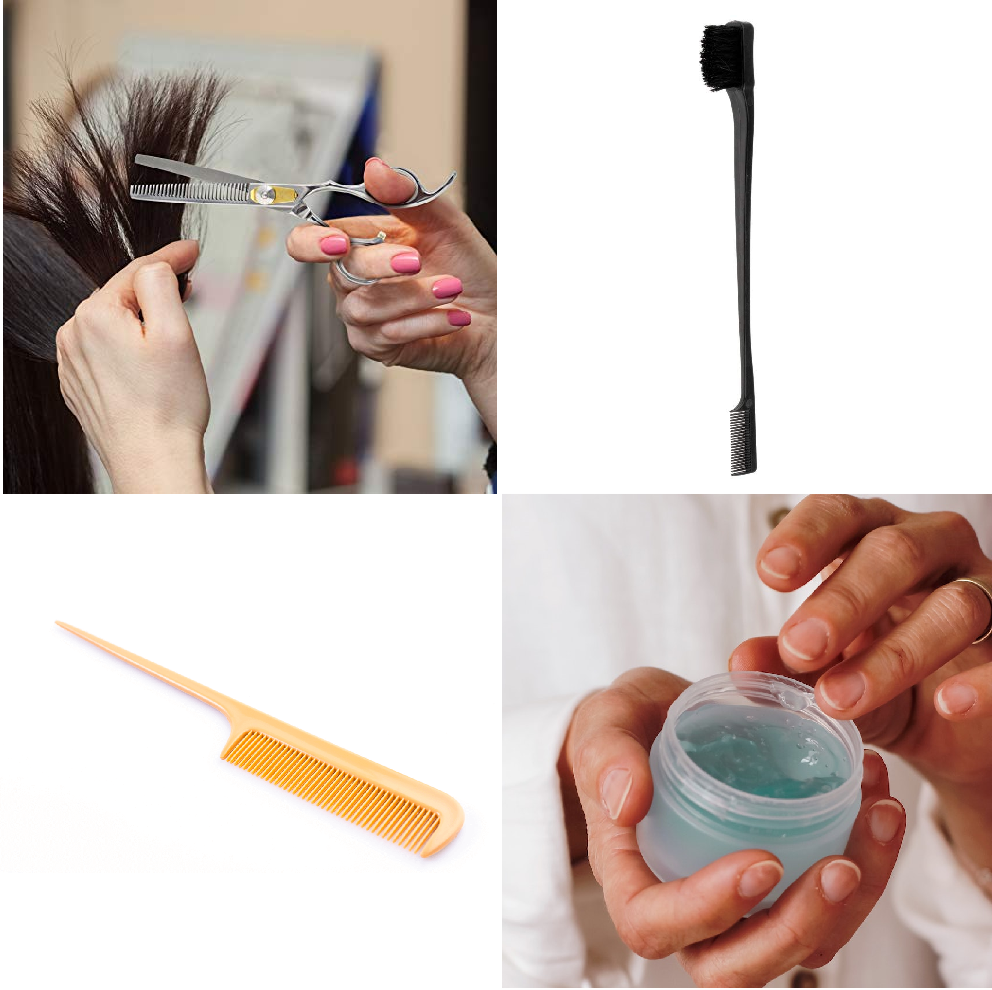 Now, you've got everything you need to become your own wig stylist, so let's create natural wig edges together.
4. The right way to make wig edges look natural.
1) Put on a wig
Step 1: Title your head forward slightly. Hold your lace front wigs at the nape with both hands.
Step 2: Position your wig from front to back. Slowly push the front of the wig back until it rests comfortably just below your natural hairline. Try not to place the lace front wig far too low on your forehead, which causes your wig to look unnatural and wired.
2) Trim the lace
Put extra hairs behind your ears and then use sharp scissors to cut excess lace with a zigzag way, leaving a very small amount of lace exposed. Just make sure not to cut your baby hairs away.
3) Dye the lace
Use a concealer, eye shadow, or face powder which is perfectly matching your skin tone to brush your hairline and the middle of the wig. This step will help you get a more natural look.
4) Separate hairs on the wig edges
You need to use the pointed edge of your comb and pull a small section of your hair away from the rest of the wig. Be sure to do this along your entire hairline. Be careful when you use a rat tail comb which may hurt you.
5) Cut the baby hairs
Squeeze a section of your hair between your fingers and pull it taut. Then, using sharp scissors, trim the hair, leaving about one inch of hairs on the wig edges to style later.
6) Choose your favorite edges styles
There are various ways to style your baby hairs, from natural swoop to intricate spirals.
7) Style your wig edges
Step 1: Using your styling tool, separate your baby hairs. Then, use a little bit of water to brush them down. This will you style your wig edges easily.
Step 2: Dip your edge control brush in a bit of gel and slowly glide your tool over each section according to your favorite hairstyle. This way, it becomes more synonymous with yourself, helping you accentuate your natural beauty.
Step 3: Tie them down. Use your scarf to tie them down and keep your scarf for as little as five minutes. A satin silk edges scarf is recommended because it can be a good helper to keep your hair moisturized as they dry.
Of course, there is no right answer when it comes to wig edges. Beauty is subjective. So if you are feeling a natural look, just gently brush your baby hairs flat or into your hair. In this way, you can go out in just minutes.
Now that you have these tips by your side, you can confidently choose the right wig for yourself! Follow the useful steps and try it out and let us know how it turns out! Good luck!
Write For Us