How to install glue hair extensions?
Aug.23,2022
Hair extensions are wigs that add hair length and volume, help you cover the cut you do not love and give the chance to take very little risks to try new hairstyles. Types of hair extensions are various, and different types have different installation methods. Today, let talk about how to install glue hair extensions safely and properly in a short time.
In general, there are five kinds of hair extensions classified by set-up method: sew-in extensions, clip extensions, tape extensions, glue extensions and halo extensions. Compared with other extensions, glue hair extensions and sew in extensions always take more time to install. Grasp the right installation steps will save your time and keep the security of hair extensions.
Glue extensions installation
1. Preparation
Before starting your process, please make sure you are completely setting up with all the necessary tools: a heating tool, a crimping tool, glue, solvent removal, scissors, clips, sectioning clips, sectioning comb.
Then take out your dream glue hair extension and brush it until smooth. Smooth hair could reduce hair damage or hair loss when you remove hair extensions after weeks by using solvent removal. A long-handled tooth comb can help you manage any tangles.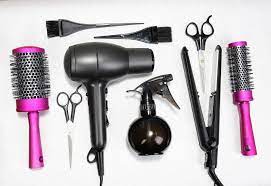 2. Section your hair
Firstly, section the top part of your hair by using a sectioning comb. Collect the hair together, from the hairline all the way back to your crown. Draw a clear U-shaped line on your crown, from ear to ear, bring all the hair above the line together and pin them up with clips, double pronged clips are better for keep hair not easy to remove. Then determine if this section site above the nape of your neck 2 or three inches or not. If it does, please make the part as clean as possible so that it will not stray hairs getting into your glue.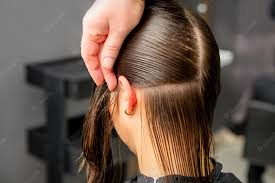 3. Apply the glue
How to apply the glue depends on how much area you would like to attach. You can choose to attach just a small strip of hair one by one, in this way the wig looks more natural and attaches tightly, but has to take more time to do. Lay the hair on the table and spread the glue on the head of the strand, both positive and negative. But please do not apply too much glue, which makes it difficult to dry and hard to fix with your own hair. And do not glue all the hair at one time, continue to the next after you finish the one on your hand.
And if you want to attach hair extension once a big piece, apply a line of glue in small increments until the entire interface is covered.
4. Attach hair extensions
Waiting for several seconds or blow dry the glue until it become tacky, so it will adhere to your hair. If the glue is too wet when you apply the extension, the hair will drip down.
For small strips, you can take a small section and measure it to make sure it's not too big. You always want to mirror what you are putting in, and the same size is best for hair application. And when you are holding your natural hair, you want your hair to have no over-direction or no cross-hair in the way because you want it to have nice looking.
Press the extension onto your hair, make sure you leave about half an inch from your hair roots, which could avoid your scalp allergy to glue. Next, roll the extension with your hair to help it adhere to your hair. If you want to use dry glue human hair extensions, it is okay. When you put the extension on your hair, heat it in a proper temperature, the glue will be tacky, and then you could attach the hair safely.
For big pieces, please remember that do not apply glue on your scalp, otherwise will hurt your follicles and finally cause hair loss. Press the extension for several seconds and dry it then. Gently drag it, if it moves, dry it again.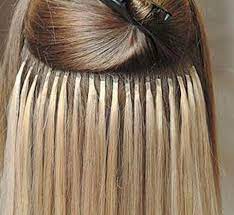 5. Continue adding hair extensions
Adding the extensions layer by layer at every two inches interval gives you more natural looking. Try to apply hair extensions tidily. Messy application increase the risks of the exposure of wigs.
It is recommended that all the extensions start around the right temple, reach back towards your crown and circle around towards your left temple, but do not under your ears. It is the crucial point in the process to insure safety.
6. Unleash the top section and brush your hair
Faced with a mirror, turn around your body, make sure all the hair extensions are concealed under your hair. Comb and untangle your hair, then, trim your hair to the length you want.
After finish reading all the steps, I believe you already understand how to install glue hair extensions properly. Remember, section the right parts, glue the extension patiently. Too much glue or too wet glue should be avoided.
Hope you enjoy your fresh hairstyle!
Write For Us