How To Hide Long Hair Under A Wig
Jun.21,2022
One of the best things about wigs is that they can be worn by anyone regardless of their hair length or volume. So even if you have longer natural hair, you can still wear a wig and achieve a natural look and enhanced beauty.
However, hiding long hair under a lace frontal wig can be quite challenging. Fortunately, there are ways you can hide your long hair under a wig. In this piece, we give you an ultimate guide on how to hide long hair under a wig so that you can make your wig look as natural as possible. Let's get started!
How To Hide Long Hair Under A Wig
There are basically two methods you can use to hide your long hair under a wig: the plait method and the ponytail method. Let's explore these methods.
Method 1: The plait method
1. Brush your wig
The first thing you need to do is to brush your V part wig. This helps to remove any tangles or knots that may be present on the wig. Use a wide-tooth comb to brush your wig. Start from the roots as you go your way up gently.
2. Clean your hair
Once you have brushed your wig, you now need to wash it thoroughly. You need to know the material that your wig is made of so that you can choose the right products to use. That's because synthetic wigs are very delicate and require certain hair products. On the other hand, human hair wigs are just like your natural hair because they are made of human hair. This means that you can use any products you normally use on your natural hair. Wash your wig thoroughly and then let it dry. You can use a blow-dryer at a low temperature to dry your wig. Too much heat can significantly damage your wig.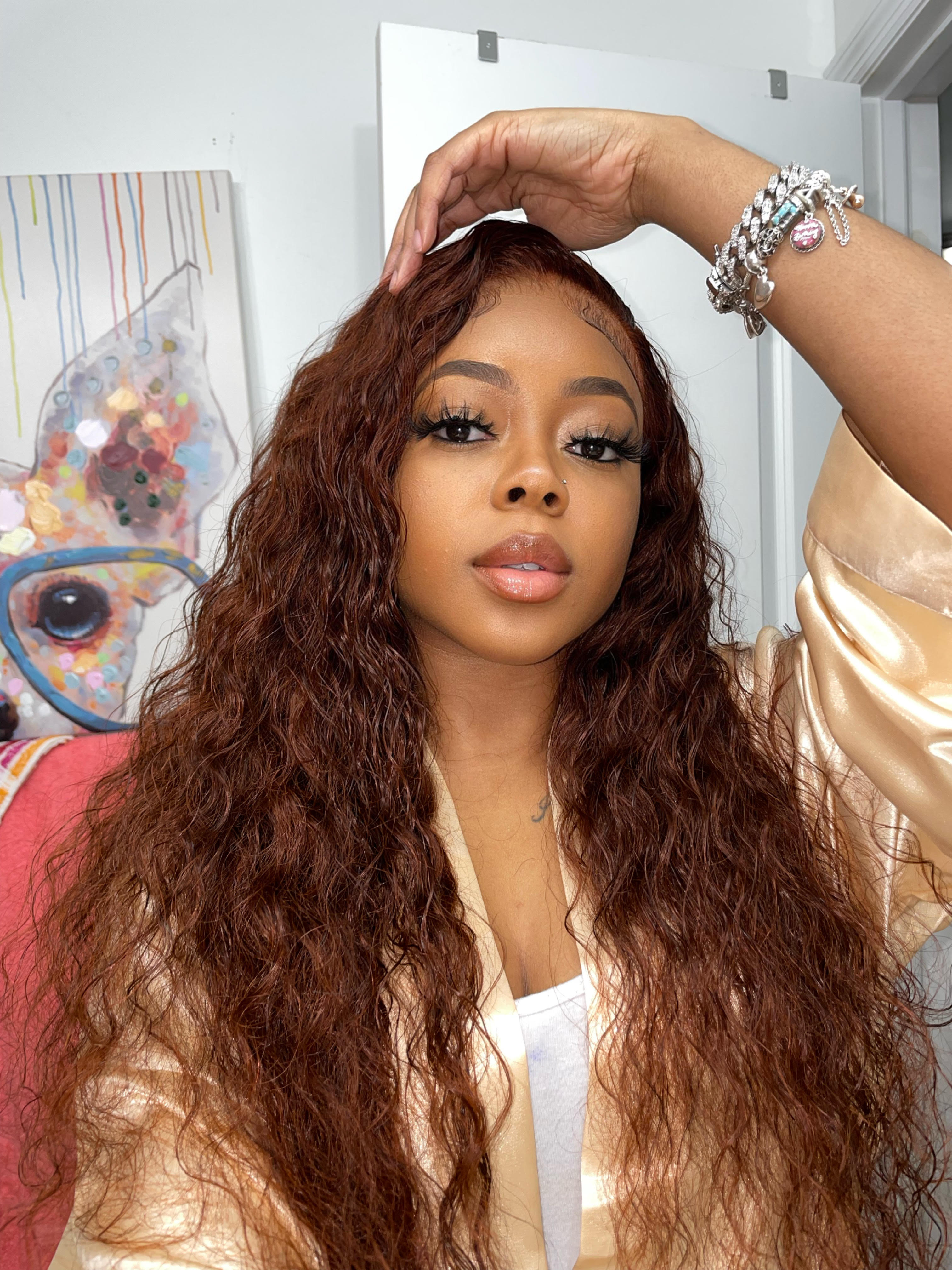 3. Braid your hair
Once your hair is dry, it is time to braid it. Braiding your hair is one of the best ways to hide it under the wig. It can also help in giving you a more natural look. You can opt for a French plait or classic braids. You can divide your hair into two sections or into four sections when braiding, depending on the thickness of your hair. When braiding your hair, you need to start at the nape of your neck and work your way to the other side because at the end, you will wrap the braids under your scalp.
4. Wrap the braids
Once you are done braiding your hair, it is time to wrap the braids around your head and secure them around the crown of your head. Make sure that you don't lace the braids too close to your hairline because they may become visible when you wear your wig. Once the braids are perfect, you can put them in position using a bobby pin.
5. Put on the wig cap
It's important to choose a wig cap that's ideal for your head. Take your wig cap and put it over your head. A wig cap can make your hair look flat, thus helping you achieve that natural look you are yearning for. It can also help protect your natural hair from any possible damage.
Make sure that the edge of the cap is aligned with your hairline. In addition to that, make sure that you don't leave out any loose hair strands. But if you want to be a bit experimental, you can leave some hair strands out and blend with the wig's hair to achieve that natural and flawless look.
6. Put on the wig
Once you are comfortable with how the wig cap is sitting on your head, it is time to take your beautiful human hair headband wig and put it on. Adjust it until it sits well on your head. You can then secure it by adjusting the adjustable straps at the back of the wig or bobby pins. Just make sure that the color of the bobby pins matches the color of the wig. You can also use a wig tape if you need additional security.
Method 2: The ponytail method
1. Brush and clean you're your wig
Just as mentioned up there, you must ensure that your wig is clean and fresh, and free from tangles and knots before you put it on. And you can achieve that by brushing and washing your wig thoroughly. This is particularly important if you intend to wear the wig for a very long time.
2. Tie your hair in a ponytail
In this method, instead of braiding your natural hair, you will need to tie it into a ponytail. Make sure that the ponytail is as sleek as possible. You can then secure the ponytail with bobby pins.
3. Put on the wig cap
Knowing how to put on the wig cap over your ponytail is very important. Remember that you have long hair, and you want to keep it as smooth as possible. Take your cap and stretch it over your ponytail to cover it. The base of your ponytail should typically act as the anchor as you pull it towards your face. Then you can slide the front side of the cap so that it covers the remaining parts of your hair. To prevent your hair from looking lumpy, you can massage it until it is evenly covered under the wig.
4. Put on your wig
It is time to put on your affordable human hair wig. Take it, turn it upside down gently and let your face go in first. Then you can pull back the remaining parts of the wig. Pull the flap to the base of the wig as you wear it. This can help you secure the wig easily at the back of the forehead.
5. Adjust your wig
Finally, the last step is to adjust the wig. Make sure that your natural hair is under the wig. Only a few strands of your natural hair should be visible. However, this is not a must. The final step is to use bobby pins to secure your curly lace front wig.
Write For Us
Questions & Answers
Q
How To Choose A Wig As A College Student?
A
Before you buy a wig, you need to start by considering your needs. You may already have the perfect wig in mind, but slow down! Think about the type of wig material you should have. There are many options. Now comes the fun part: choosing the style of your wig! It's easy to find some cheap wig … but that won't make your hair look better. When it comes to buying a wig that makes you look and feel great, go for quality. Choose a wig retailer that you can trust. They will offer high-quality wigs in styles that let your personality shine. As a college student, money is probably tight. When buying a wig, you'll need to calculate your budget. Since a wig is something you'll often wear, you may want to splurge a bit.