How to Figure Out Curly Hair Type For Your Wig
Sep.21,2022
Some people have naturally curly hair from birth. Some people like human hair wigs with curly hair. But there are many types of curly hair. Do you really know the type of curly hair? Whether you have curly hair or want to buy curly wigs, understanding the type of curly hair is the first step? In fact, figuring out your curl type can be a difficult task. For beginners, there are many types of curly hair, from 2a to 4c, each of which has its own unique characteristics. If you want to buy a curly wig, knowing the type of curly hair is the starting point for finding the right product and style for your wig. If you don't know the type of curly hair, read on. This article will explain the types of curly hair to help you choose curly wigs.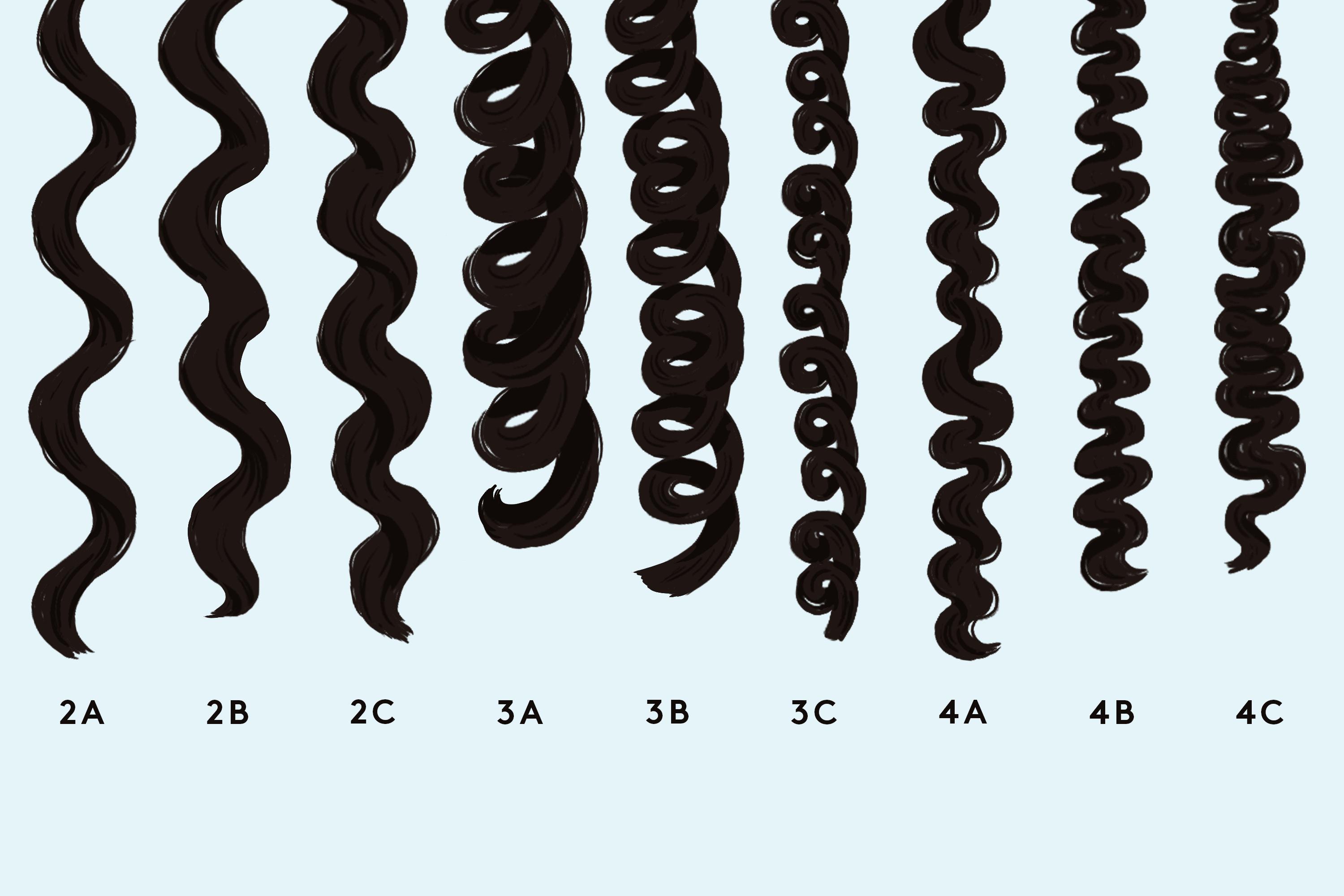 Curly Hair Types:
According to the pictures below, we can get the information that curly hair can be divided into three categories: wavy, curly and coiled. These three types are coded with numbers, the wavy form is 2, the curly form is 3, and the coiled form is 4. Among the three types, it is defined according to the curly degree of hair from A to C. The curly hair type of C is more curly than that of type A. Let's introduce the characteristics of these nine kinds of curls.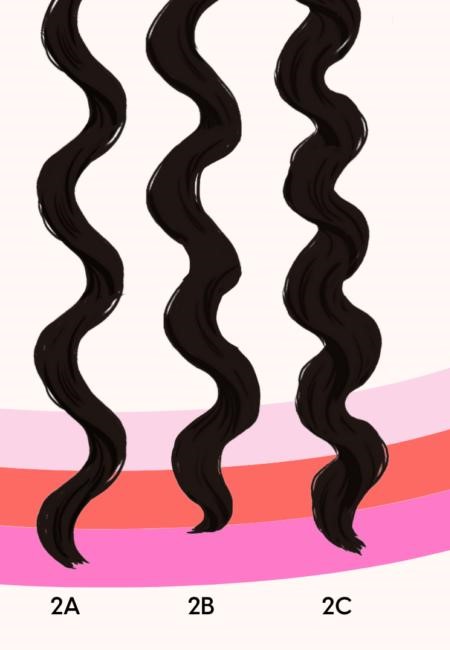 2A
Type 2A hair is fine and smooth, it doesn't look messy, and it is easy to be straightened. This type of hair is straight at the top and curved at the bottom. Type 2A hair looks natural, and you hardly notice its curl. 2A hairstyle is easy to comb, and the time spent on styling is also very little. Its volume is very small, and it doesn't look messy at all. It looks like your natural curly hair. You don't need to spend too much time to take care of this curly hair, so its maintenance cost is very low.

2B
Type 2B hair is also straight on the top of the head, with clear S-shaped waves starting from the middle of the hair. Wavy hair tends to look straight when it is wet, and will ripple when it is dry. The curl of this wave is slightly larger and clearer. The curl of Type 2B hair is loose and looks very natural.
2C
Type 2C curly hair is curly from the top of the head, and the letter S is displayed from the top to the end of the hair. This shape is between wavy and curly. Although 2C curly hair looks like a typical curly hair, its curl is not so curly that it looks like a spring. 2C is the most curly of type 2. Type 2C curly hair also known as beach curly hair, its curl is reminiscent of waves. This kind of curly wig is very suitable for playing at the seaside.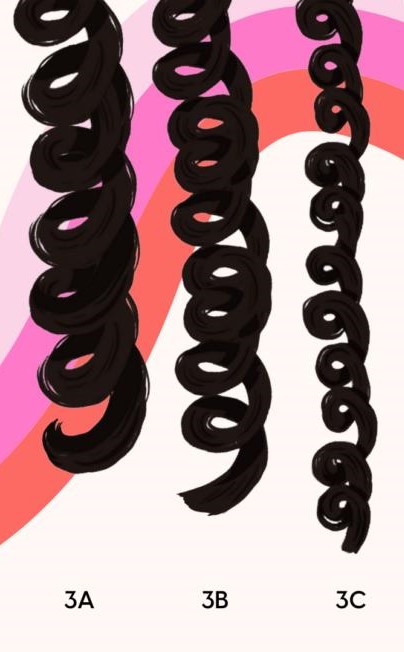 3A
Type 3A curls have stretched curly spirals, which are larger in diameter. This kind of curly hair extends from the top to the end. This kind of hair usually doesn't feel rough. Even if the hair is short, its hair is very elastic and looks energetic. When the hair is wet, curly hair looks like waves, but when it is dry, it will be more curly. 3A hairstyle is also easy to take care of. You don't need to spend too much time on styling.

3B
Type 3B curly hair looks like a spring or bottle opener. The curly hair is bunched together and twisted in a spiral shape to form a small ring. This curl can shape a full hairstyle without too much hair, because these curls can give people a full feeling. If you want to create a thick hair easily, this curly wig is very suitable.

3C
3C curly hair looks like a tight bottle opener. The hair is tightly packed together, which can also give a very full feeling. The curl is smaller and closer than that of Type 3B. This type of hair may be dry because it is difficult for the natural oil from the roots to flow down the helix. Less curl means hair breaks more easily, so you should spend much time on taking care of your hair.


4A
4A curly hair looks like tight S-shaped, and these strands are arranged in a circular shape. This kind of curly hair is very curly. The hair shrinks into a spiral, so it looks shorter than it really is. If you lengthen your hair, you will find that it looks much shorter than the actual length.

4B
The hair of type 4B is more like a filament winding around itself. This curly hair is very tightly coiled, like a spring in a pen, and bent at the angle of the letter z. Curling is tighter and less clear than 4a. It is very fragile, porous and easy to break, so you also need to take special care of this kind of curly hair.

4C
Similar to the type 4B texture, 4C hair is tightly coiled, so that if you do not stretch it, you may not see its zigzag pattern. The 4C coil is wound around itself, almost without curl. Compared with other textures, this hair type has the largest shrinkage. 4C is also the most fragile type of crimp, which is easier to shrink and break, especially when you try to blow it out or straighten it.
Write For Us
Questions & Answers
Q
How do I determine my curly hair type?
A
Identifying your curl shape and pattern(s) is best determined while your hair is sopping wet. A simple breakdown: Type 1s are straight, Type 2s are wavy, Type 3s are curly, and Type 4s are coil. Easy, right? The subclassifications of A to C are based on the width or diameter of your wave, curl, or coil.
Q
Do I have 3b or 3C hair?
A
If your curls easily wrap around the sidewalk chalk, then you have type 3A hair. If the permanent marker is the best fit, then your hair type is 3B. If your spiral curls are the size of a pencil, you have type 3C hair.