How To Deal With If You Have A Wig Density That Doesn't Fit You
Sep.09,2022
Sometimes, when you bring your human hair wig home, you may find that the density of the wig is not perfect for you. When this happens, you have several options.
1. Wig Density Chart Percentages
The wig density chart below is meant to be a visual guide to help you understand wig density.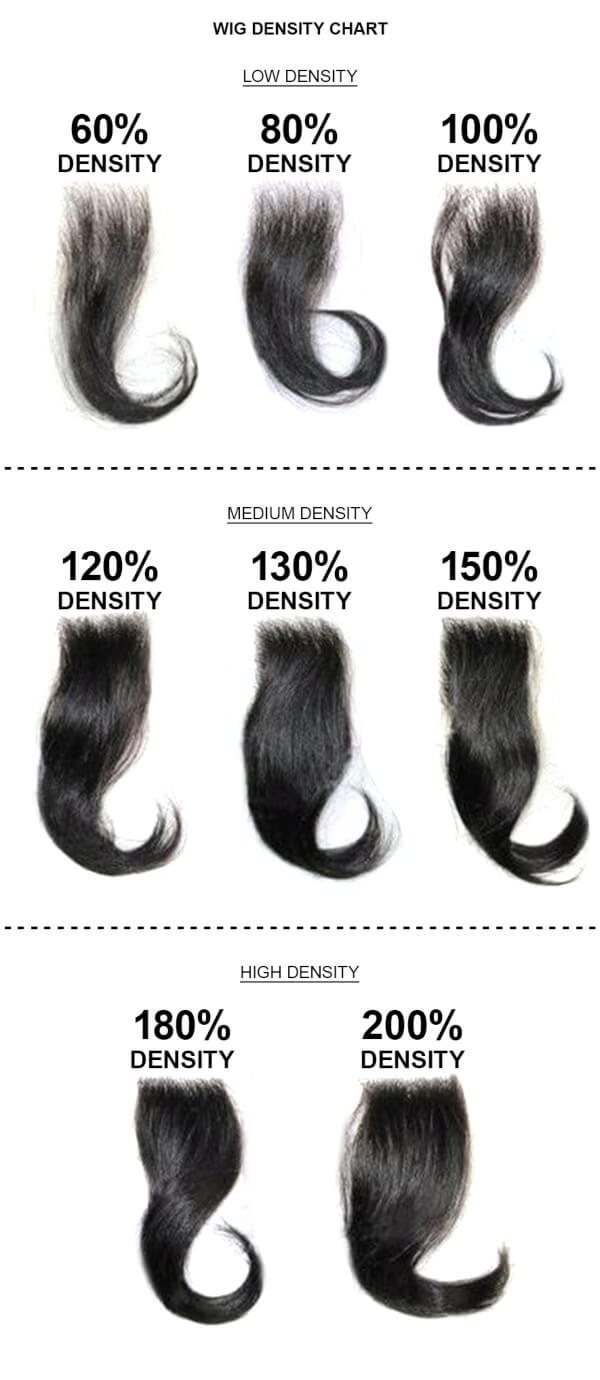 2. How to Deal with If You Have a Wig Density That Doesn't Fit You
2.1 How to Deal with Low Density
If you have a wig with a lower density, you should take the following steps to add more volume and fullness:
● Take small sections of the wig and backcomb them, so they build up at the base of the wig, propping up the hair from the bottom to create the illusion of more volume. To do this, you need to use a comb to brush the wig hair from the middle to the roots repeatedly. Then, spray a bit of dry shampoo on the roots after backcombing to help add instant volume and lock in the look.
● Use hair clippers to cut your hair into layers, the increased layering of your hair will give the illusion of added thickness.
● Use a curling iron, flat iron, or wand curler to add some curls or waves to your wig for more volume.
● Spray dry shampoo on the dry roots of your wig for extra volume. At the same time, the dry shampoo helps lock in the waves which, ultimately, gives your wig more body, bounce, and volume.
2.2 How to Deal with High Density
If you bought a wig with too much hair density, try any of the below tips:
● Take the trimming scissors at different lengths towards the ends of the hair and make several cuts. Keep in mind that always split your wig into several small sections and thin one section at a time.
● Plucking the perimeter of the wig creates a sort of baby hair on the hairline to give an impression of the natural hairline.
● Apply some mousse to the wig, cover it tightly with a scarf, and then remove the scarf to reduce volume at the crown.
● Use a straightener and gently glide through the wig, and remember to straighten one section at a time until it decreases the volume.
3. Wig Care for Different Densities
For all densities, you should take several steps to reduce damaging of it. Have a look at our guide to different wig types to better understand which tips will work best for your wig to keep you looking your best and feeling confident!
Tip1: Keep your human hair wig out of sunlight. Because sunlight fades the wig color. So when you have to be out in strong sunlight, please wear a hat to protect your wig.
Tip2: Comb or brush your wig gently. Use a wide-tooth comb or your fingers to gently detangle the wig. Always gentle with the lace and there is no scratching or pulling.
Tip3: Avoid storing your wigs in plastic bags, as this can cause them to become dry and brittle. Instead, store them in a cool, dry place on a wig stand or mannequin head.
Tip4: Wash your wig with a special shampoo and conditioner. Use lukewarm or cool water to protect your wig from damage. Then, use a towel and gently blot the water out of the wig.
4. How to Care for Wigs with Different Densities
4.1 Low-density Wigs
For low-density wigs, keeping the wig clean is extremely important. When you brush or wash your wig try your best to do it as gently as possible. Also, you should always use lighter hair care products to avoid damaging the strands of your wig. You can also use mousse and shampoos that are specially formulated to add volume.
4.2 Medium-density Wigs
For medium-density wigs, they are the easiest to care for because it mimics your natural hair. You can keep your wig moisturized and looking great with a myriad of hair care products. Don't forget to wash your wig regularly with a special shampoo and conditioner and wig comb.
4.3 High-density Wigs
For high-density wigs, when washing your high-density wig, you should be sure to cleanse your wig thoroughly and carefully - this is crucial for high-density wigs due to the vast amount of hair on the wig. Also, you need to apply a little bit more hair care products on your wig.
With proper care, human hair wigs can last for a long time. We hope you've found something useful here to help you deal with your wig hair and keep your wig looking amazing! Which density would you prefer? Share your personal experience when choosing your wig density.
Write For Us