Wig Density - Choose the Perfect Hair Density for Your Next Wig.
Sep.09,2022
When you are looking for a human hair wig, you probably have doubts about wig density. You may want to know what is the wig density. What density is perfect for you? Today we will talk about the above questions.
1. What Is Wig Density?
By definition, wig density is the amount of hair that is added to a wig cap to create different looks and hairstyles. It tells you how much human hair is on your wig. Wig density percentages range from low hair density (about 60%) to high hair density (about 200%). The higher the density percentage, the fuller it will look; the lower the density percentage, the thinner it will look. The most common hair density is around 120%, which is called Natural/Medium Density, close to the density of the average human head.
2. Density Chart Percentages
The wig density chart below is meant to be a visual guide to help you understand wig density and determine how much hair is used on a wig, and how full your wig will appear.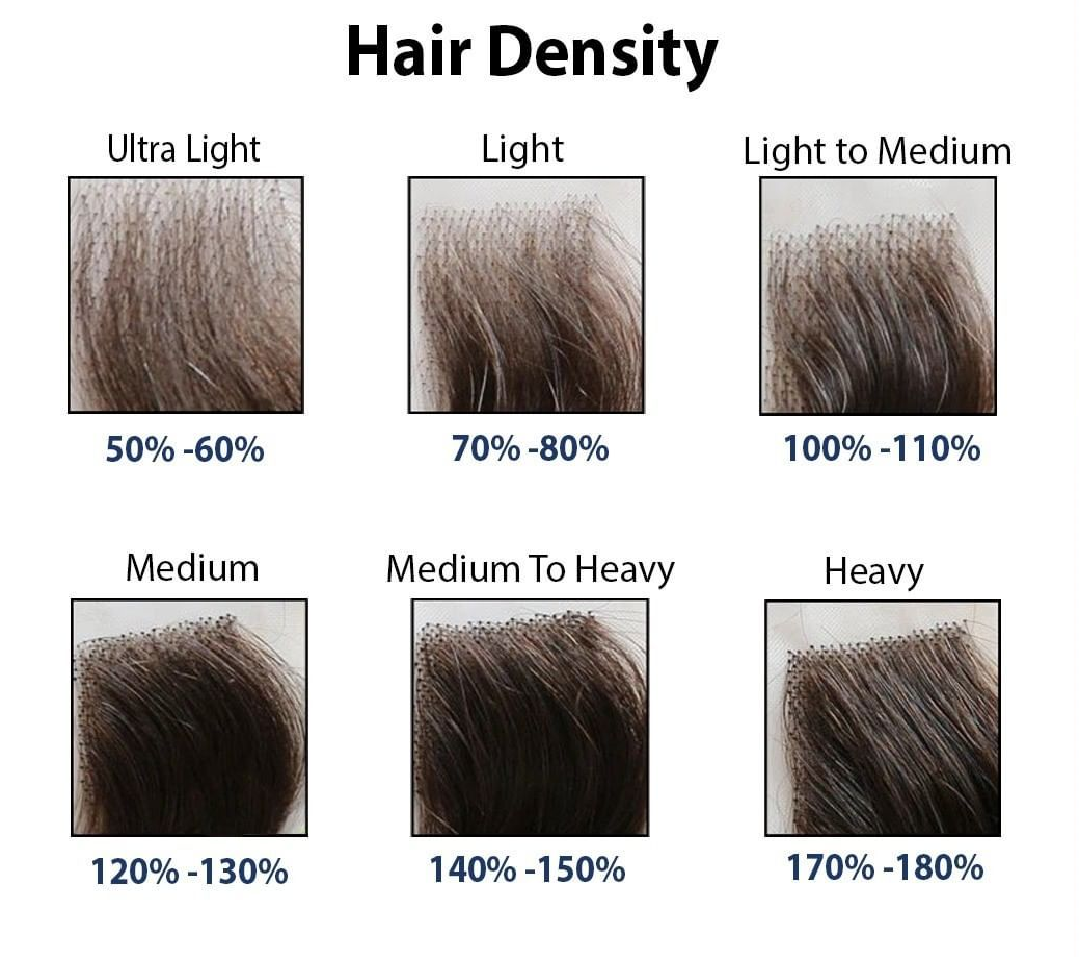 3. How Wig Density Is Classified
▶ 60%-90% (Extra Light Hair Density Wigs): The lowest density in existence, and it is often described as an extra light wig. They are usually used for the hairline.
▶ 100%-110% (Light Hair Density Wigs): This is another light wig and is hardly seen on the market. It is a great option if you have naturally thin, fine hair.
▶ 120%-130% (Natural/Medium Hair Density Wigs): Due to its average volume, this density is generally standard in the market, offering some volume but not too much for a very realistic look.
▶ 150% (Medium/Heavy Hair Density Wigs): These wigs are perfect for girls who desire a natural look with a little added fullness.
▶ 180% (Heavy Hair Density Wigs): They are prepared for girls who want their wigs to look voluminous, creating a full and glam look.
▶ 200-250% (Extra Heavy Hair Density Wigs): This density is ideal for anyone who wants their hair to look glamorous, offering a good bit of volume. And it is a perfect hair density for up-dos. They are great for big, celeb-inspired looks.
4. How Do I Choose The Best Wig Density?
When it comes to the best wig density, the choice of hair density is based on your personal preference and what look you want to be when you wear a wig. The most commonly chosen is around 120%-130%--Natural/Medium Hair Density Wigs. But in the end, it is up to your hair condition. If you search for the best human hair wig, you need to remember that 100% virgin human hair will give you the most natural look and the highest quality. Here are some things to consider when you are deciding on what wig density is the best for you.
▶ Hairstyle
First, wig density depends on what kind of hairstyle you want, long or short, curly or straight, up-do or down? Different hairstyles need different wig densities. Normally, if you want a long straight hairstyle, the best choice is a higher density wig, which will provide fullness. At the same time, if you want curly hair, medium wig density is enough. Also, if you are going to process or style the hair, the wig density you choose needs to be changed. For example, if you have a plan to curve your hair, lower density options would be a better option. Ob the other hand, if you have a plan to straighten your wig, heavy hair density wigs would be helpful.
▶ Your Age
Generally speaking, the older you get, the thinner the hair becomes on your head. If you want a more realistic look, heavy-density wigs maybe not be the best choice. Selecting a lighter-density wig will give you a natural look when you put on a fitted wig.
▶ Design of Wig Cap
You also need to consider the wig cap. Different wig caps with the same wig density will present different looks. 360 lace wigs and full lace wigs have hair hand-tied to the base, this gives them a natural and voluminous look.
▶ Personal Lifestyle
Lifestyle is also an important reference item. You need to consider the density that matches your events. If you are a person who likes to go to a party or need to attend a conference, a high-density wig will be a good choice. But if you usually like to run, swim or go to the gym, then a low-density wig will give you a more comfortable experience. Or, just choose whatever density you love!
▶ Your Natural Hair
If you want to present a natural look that is close to your natural hair, you should select a human hair wig with a similar density to your hair. Not sure what your hair density is? One way to measure your hair density is to measure your ponytail. Put your hair in a ponytail, measuring the circumference of your ponytail. If it is less than two inches, you probably have low-density hair. If it is between two and three inches, you have a medium hair density. And if it is four inches or more, you have high-density hair.
▶ Your budget
As we all know, higher density wigs are more expensive than the low density wigs. If you're on a low budget, opt for a low-density wig. If you're on a high budget, high-density wigs are a good option. You need to know the features of wigs with different densities and balance between budget and quality.
Now choose your wig density and enjoy!
Understanding the wig density is critical to choose a perfect wig. We help you learn everything you need to know about wig density. Different people have different hairstyles and hair densities, just consider the points mentioned in the post and choose the right human hair wig for yourself. What is your favorite density? What rules would you apply when you choose a wig? Please share below!
Write For Us