How To Choose The Perfect Hair Density For Your Wig?
Oct.27,2022
Wigs generally come in a wide range of densities, ranging from 60% to 200%. Therefore, the density you choose will depend on your goals. For instance, you must choose wigs with higher densities if you want a bigger, voluminous hairstyle.
We will define hair density, discuss the different densities that are available, and discuss how to select the ideal human hair wig density in this article. Let's get going!
What is hair wig density?
The thickness or thinness of the hair on a particular wig is what is actually referred to as wig density. Simply said, it refers to the quantity of hair on the wig cap. Wig density, which describes how much hair is on that hairpiece, is typically stated as a percentage. However, it is important to note that hair density and hair texture are two distinct concepts.
A deep wave hair wig will appear fuller if it has a higher density percentage. On the other side, the human hair wig will appear thinner if it has a lower density percentage. Wig density, as previously mentioned, ranges from 60% to 200%, with 200% being the thickest and fullest. 60% hair density is the thinnest of all. The densities of wigs that are most frequently used and are very popular include 130%, 150%, and 180%. Additionally, it is important to note that cost increases with density. So be prepared to dig deeper into your wallet if you want to attain a thicker, fuller look.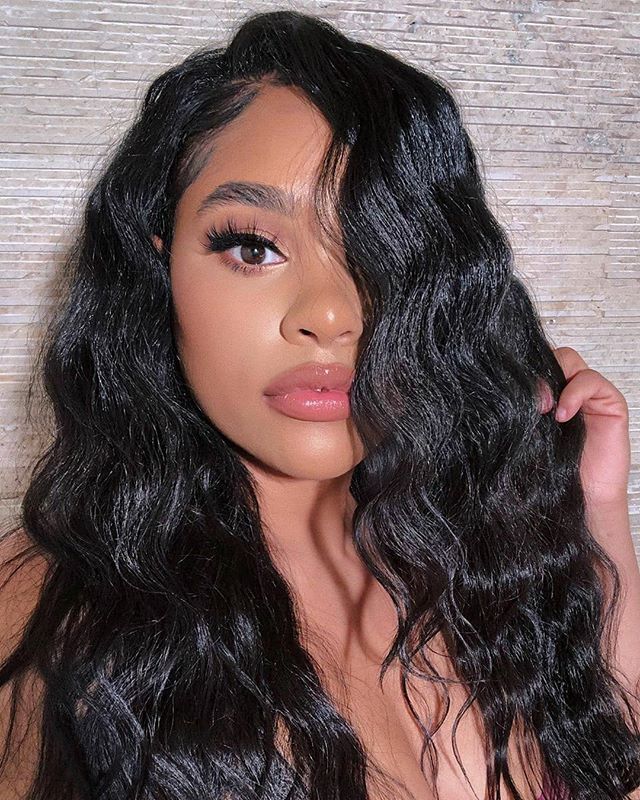 The wig density chart can be used as a guide to what to expect when looking at various types of cheap human hair wigs if you are unsure of which density is best for you. So let's examine the top three densities of human hair wigs that are frequently used: 130%, 150%, and 180%.
Various hair densities
130% wig density
130% wig density is typically the medium hair density. It is the closest density to natural hair, which makes black ladies favor it greatly. This wig density provides ample volume for a natural appearance. It is not excessively thick or thin. Women who want to give their hair more volume or fullness should choose a medium wig density. Therefore, the 130% hair density is still beneficial for wigs because it can help them look more natural.
150% wig density?
The 150% density is also a popular option for hair density. This density is fuller than 130% density but neither overly thick nor thin. 150% is the ideal choice if you want to get a full look with lots of volume. You will feel full but not overwhelmed with this density. Wigs with a 150% density have several wonderful advantages, like being simple to wear, cozy, and exceptionally breathable.
The 150% density wig is the best choice for you if you have a receding hairline or are experiencing hair thinning. In conclusion, 150% density is still the ideal density for wigs since it creates a more beautiful and natural appearance.
180% wig density
180% wig density is pretty heavy. It appears to be thicker and fuller than 150% density. The voluminous appearance that this hair density offers its users is why many ladies adore it. If you appreciate having fuller hairstyles, 180% density is the best choice for you. This substantial density enables the wearer to sport luxurious hairstyles. You should be aware that 180% density is more expensive than 130% and 150%. But the elegant appearance it offers its wearers makes it worth every penny.
How to choose the perfect hair density for your wig
Choosing the density that is right for you might be challenging given the variety of densities available. However, take into account the following factors to assist you in making your decision:
Is it straight, curly, or long? You may want more or less density depending on the look you want. In general, you should choose a higher density if you have long, straight hair to make it look fuller. Additionally, you should think about whether or not you intend to use heated styling products because they may have an impact on the kind of hair density you select.
The wig density you select will greatly depend on your lifestyle. It is not advised to choose a higher density if you are an active person who frequently visits the gym because they may come into contact with your sweat and become smelly or tangle quickly. Choose a lace front wig that is lighter in density and can be pulled back into a ponytail for exercise. Additionally, if you are in the hospitality industry, especially a chef or waitress, you should also opt for a lighter wig density. If you are a sociable person who enjoys going out on dates with friends frequently, you can choose a higher density for a fuller appearance.
Choose a density that closely looks like your real hair if you want to create a more natural appearance. If you are unsure of the density of your natural hair, smooth it out and pull it into a ponytail. After that, wrap the ponytail with a flexible tape measure. You have lighter hair density if it is less than 3 inches, and denser hair density if it is more than 3 inches.
Your own preferences are a crucial element that can aid you in selecting the ideal hair density for you. While some women want thinner hair, others favor fuller hair. Everything is dependent on your unique demands. Choose a higher density human hair headband wigs if you like thicker hair. On the other hand, choose medium hair density if you enjoy having hair that is medium in thickness.
Write For Us