How To Choose The Best Wig Length?
Sep.03,2022
There are various reasons for choosing to wear a wig. Maybe you wear a wig because of hair loss to cover your bald head, or maybe you want to pursue beauty and wear a wig to seek different styles. Whatever the reason, wigs are a good way to make you feel more confident and look more beautiful. Nowadays, there are many kinds of wigs in the wig market. These wigs come in a variety of lengths, making it easier for you to choose the hairstyle that suits you and your preferred hair length. But the variety of wig types may also confuse you and make choosing the right hair length very challenging. Different kinds of hair lengths have different effects when worn, so it is important to choose the length of your favorite human hair wig. This article will introduce how to measure the length of wigs with different hairstyles to help you choose the length of hair you like.
How to measure a wig?
Before measuring the wig, you can put it on the head of the mannequin, because the value measured after the wig is installed is the most accurate. If you don't have a mannequin head, you can place the wig on a relatively flat table for measurement. Here are some steps to measure wigs for your reference:


Step 1: put the wig on the head of the mannequin or on a flat table.

Step 2: measure the longest hair bundle on the wig with a soft tape measure. If it is straight hair, directly measure the longest bundle; if it is curly hair, such as body wave wigs, gently straighten it with your hand and then measure the longest bundle.

Step 3: write down this value. If the length of your wig is uneven, you can measure other parts of your wig according to the above steps, so that you can accurately understand the hair length of each part of your wig.
Wig Length Of Different Wig Texture: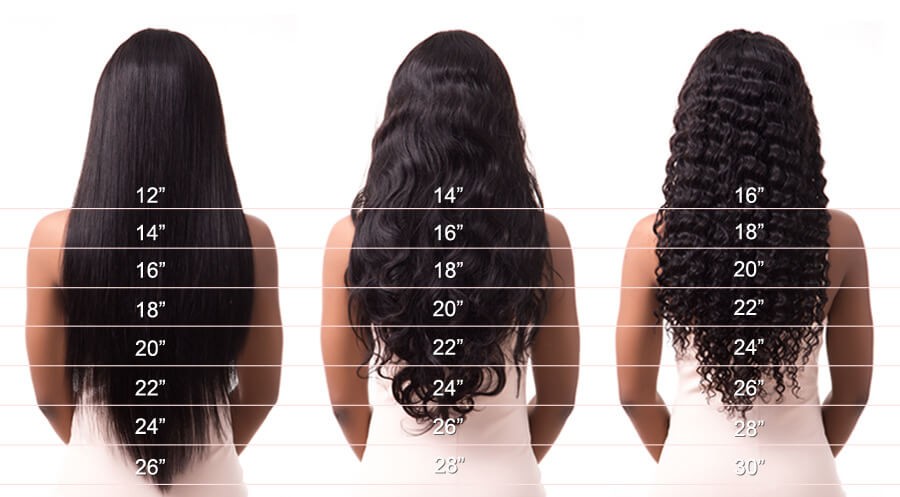 Many people think that the length of a wig is only the length from root to end. Although it is true, based on this understanding, you will find that the wig you buy looks shorter than you think. This is because wigs look different in length with different hairstyles. Wigs come in different lengths, usually from 8 inches to 30 inches.
Short hair is generally about 10 inches, medium length wigs are about 12 to 16 inches, long hair is about 18 to 24 inches, and 26 inches of hair will be considered as super long hair.
The length listed on the wig is an approximate value of the position where the hair falls after the wig is installed. For example, if your wig is 18 inches, your hair will fall about 18 inches above your head. This distance may be larger or smaller, but the fluctuation range is not large. When measuring the wig, it should be measured from the root of the hair around the top of the head to the end.
Wigs with different hairstyles are measured in different ways. For straight hair, the length from the root to the tail is directly measured, but when you measure curly wigs, you need to straighten your hair to get accurate measurement values. This is because the curly texture makes the hair look shorter than its actual length. So, even if some curly hair is about 18 inches long, it may look like 16 inches.
How To Choose The Best Hair Length:
1. Your Height
People usually think that tall women are suitable for longer hair, and short women are suitable for shorter hair. But no matter what the length of hair is, you need to understand the appearance of different lengths of hair on your body. For example, if you are five inches to eight feet tall, it may come to your shoulder when you wear a ten-inch straight hair. If you are shorter than this height, then you may look slightly longer with a ten-inch wig.

2. Your Face Shape
When choosing the length of wig, it is very important to consider your face shape. Different face types are suitable for different hair lengths. For example, if your face is square, then you are more suitable for short hair, because short hair can modify your face and make your face look small. If you have a diamond face, medium length curly hair will be more suitable for you.

3. Your Body Shape
The wig length you choose can also modify your figure. So when choosing the wig length, you should also consider your body shape. For example, fat women should choose wigs of medium length. This will help you get a more feminine look. If you match it with curly hair, the effect will be even better. If you are thin, a Bob wig will suit you better than long curly hair.
Write For Us
Questions & Answers
Q
How long is a 16 inch straight wig?
A
A 16-inch straight hair wig (40-centimeter wig) can reach down to the shoulder and over the chest. This is a length that you can have a neat and clean medium-length hairstyle. The length of a textured 16-inch wig is shoulder-length, the wig can extend to the shoulder.
Q
What's the perfect hair length?
A
Middle straight. One of the easiest to wear. The medium straight provides the perfect length so you can do any hairstyle (ponytails, half ponytails, braids, ponytails, etc.), and at the same time, it's still medium-cut!
Q
What length hair is considered long?
A
What length of hair is considered long? If your strands reach past your shoulders, it's considered long. You can opt for a mid-back length cut or grow it out to your tailbone for extra long hair.