How Do You Remove Glue From Your Wig
May.31,2022
Most curly lace front wigs are usually installed with glue because glue provides extra security, thereby helping keep the wig in place. This means that you don't have to worry about your wig sliding on your head or falling off. The wig adhesive or wig glue used may vary. Depending on the type of adhesive used, the bonding strength can last from one day to a month. Moisture and heat can affect the binding. When this happens, you need to wait until the bond re-hardens before you manipulate the hair unit.
But just because wig glue or adhesive can provide additional security, it doesn't mean that it is safe. The adhesive residue can actually find its way into your hair system, or in a worse scenario, your natural hair. In most cases, this is often unavoidable because it is always possible for some glue residue to come into contact with your natural hair when you are installing your wig.
Of course, this can be very dangerous because washing, pulling, or brushing your hair wrongly can cause severe pain and damage not only to your hair but to your scalp too. Thankfully, in this article, we discuss various ways that you can remove glue from your wig. So, let's delve into them.
How to remove glue from your wig
Well, there are plenty of ways you can remove glue from your wig. They include:
1.Use warm water
One of the most effective ways to remove glue from your affordable human hair wig is by using warm water. To use this method, you must first start by taking a small amount of soda or salt and mixing it with warm water or olive oil. Once you have done that, pour the mixture into an empty container. Take warm water and a towel and put it over the area with glue residue. Spray the solution you made earlier around the edge of your hair piece. Remember that this is the only natural way through which you can remove glue from your wig.
2.You can use chemical products
You can also use chemical products to remove glue from your cheap wig. There are several chemicals that can be used to remove glue from a wig, including a wig remover or isopropyl alcohol. Here is a step-by-step guide to using a chemical product to remove glue from your wig or natural hair.
Apply your chemical product [wig remover or isopropyl alcohol] on edge of your head or on the parts of the wig that has glue residue and rub the area with your fingers. Let the chemical rest for a couple of minutes so that it can loosen the bond of the glue.
Once you have done that, take a fine tooth comb and brush your wig as gently as possible. This is to prevent the glue from getting stuck to the denser, thicker hairs such as those on the front part of your wig.
You should collect the residue of glue in the comb's narrow teeth. Use paper towels to remove it and continue combing your wig until all the glue residues from your wig are removed.
Use your paper towel to clean your hair, or you can use even a piece of cloth.Wash your wig with shampoo and rinse with clean water. Make sure that you use lukewarm water when washing your hairpiece. If glue residue is still stuck on your hair system, you can soak it in the mixture for about an hour, brush it again, rinse it, and dry it.
3.Mirror or table slide
This is also another method to remove glue from your hair piece. This method involves spreading a plastic wrap on a mirror, table, or any strong surface. Then you slide the base of the wig down from the top of the surface to the bottom just once. You will press it toughly onto the surface as you do this. This is why you must only do it on a strong surface such as a table or mirror. By doing this, any glue, especially hard-to-remove residue, will separate from the base and stick to the plastic wrap. After one round, you will notice less stickiness.
Once you are done, get rid of the plastic wrap and wash your wig with dish soap before you rinse it. Apply shampoo and conditioner to your wig, let it rest for a few minutes, then you can rinse with lukewarm water until there are no traces of shampoo and conditioner coming from the wig. Then you can let your wig dry. It is best to let your wig air dry. But if you are in a hurry and it is not possible to air dry your wig, you can use a blow dryer to dry the wig. Just make sure that it is set to a low temperature.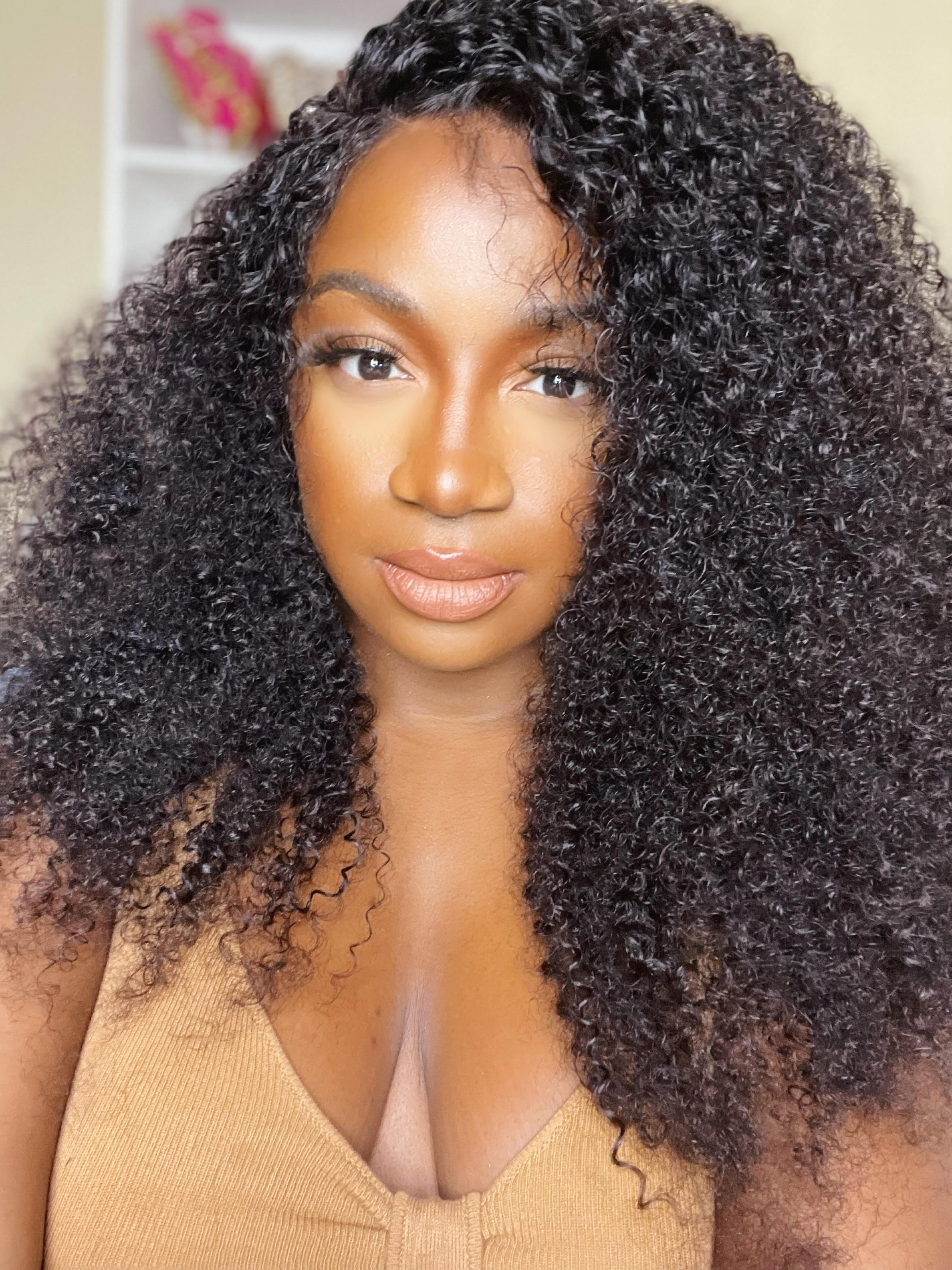 Regular maintenance
It is worth mentioning that while you may not be able to see traces of glue on your hair piece, it doesn't mean that they are not present. That's why you have to make sure that you maintain your cheap human hair wigs properly. This will help ensure that your wig is always clean, bacteria-free, and glue residue-free.
In addition to that, it will help you extend the lifespan of your wig. Unfortunately, many people tend to ignore washing their v part wigs as they should. This will result in a bad-smelling wig. But, of course, you wouldn't want that, which is why you must ensure that you clean your wig regularly.
There you have it- some of the ways you can remove glue from your wig as well as your natural hair. You can choose any of the above-mentioned methods that you feel is easier and more convenient. However, remember to be as gentle as possible so that you don't end up damaging your wig or your natural hair.
Write For Us