Deep Wave Vs. Finger Wave Vs. Pineapple Wave Wig: How To Distinguish Them
Dec.14,2022
Curly wigs are one of the most beautiful wigs available today. They will enhance your look and give you that elegant and chic look you desire. The best thing about curly wigs is that they come in various styles to choose from.
Some of the most popular styles of curly hairstyles include deep wave, finger wave, and pineapple wave. In this post, we focus on these three types of curly hair: deep wave, finger wave, and pineapple. We look at these hairstyles individually and how you can achieve them. So without wasting time, let's get started.
What is a deep wave wig?
If you are new o wigs, you are probably wondering what type of wig this is. Deep wave is a popular classic human hair wig noted for integrating admirably with black women's natural hair textures. Deep wavy curls give off a full, lovely, healthy appearance with lots of hair shine. Its texture is stronger than body wave curls and flows with the regularity of a smooth wave. Many ladies love this particular deep wave hair because of its beautiful "S" shaped curls.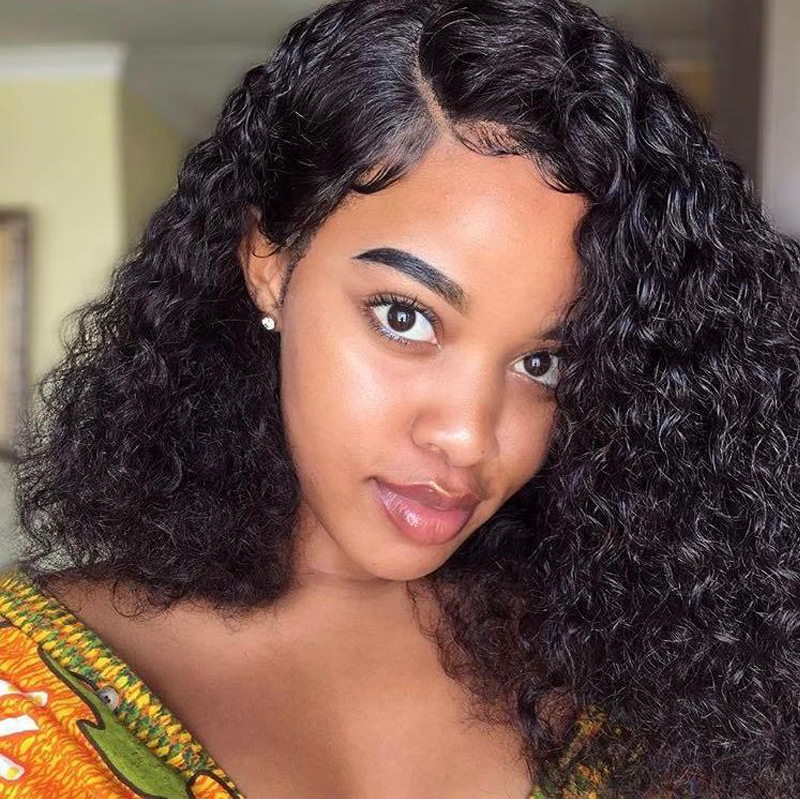 How to get deep wave hairstyle
The ideal option for you is a deep wave wig if you don't intend to use a lot of time and effort customizing your hair. Of course, you may also do your own deep wave hairdo at home or contact a hairdresser at a barbershop.
What are finger waves?
Finger waves are a very popular hairstyle among black women. In the 1920s and early 1930s, as well as in the late 1990s, finger waves—a technique for creating waves in the hair—gained popularity in North America and Europe. Finger waves are "S" shaped waves that are often flat on the head. Both longer and thicker tresses, as well as shorter or thinner hair, can be styled successfully using this method.
The history of finger waves
Finger waves can be traced back to the Jazz Age, when short, straight bobs were the trending hairstyle of the day and were first made popular by cinematic stars like Bette Davis and dancer Josephine Baker. The newest finger waves were worn by several Hollywood movie stars, which helped the hairstyle gain rapid popularity.
How to do finger waves
This hairstyle requires you to curl wet hair, so use a styling lotion to keep it smooth before curling. You simply need to use a comb and a few clips for the subsequent processes. There are lots of YouTube videos with detailed steps. You will learn about finger wave techniques as well as how to create the most elegant retro hairstyle quickly and easily.
What are pineapple waves?
This hairstyle involves styling hair using a hairnet and a rat-tail comb lifted slightly from the net's perforations with a rat-tail comb. This pineapple waves hairstyle will be well-known to those who were born in the 1980s and 1990s; if you were born in the 2000s, you might see this hairstyle more frequently on social media.
How to do pineapple waves
You can use pineapple waves to style both wet and dry hair, and many hairstylists use hairnets to get this look. Of course, if you're skilled, you may shape your hair without a hairnet by using a comb straight away.
If you have medium or long hair, lightly pinning the curls at the top of your head will also help you achieve a lovely bunch of pineapple-shaped curls. Pineapple hair keeps its curls and doesn't usually tangle overnight.
What are the differences between deep waves, finger waves, and pineapple waves?
Here are some of the most notable differences between these beautiful wavy hairstyles:
1. Wave pattern
One of the major distinctions between deep wave, finger wave, and pineapple wave wig is the shape of the waves. Waves found in both deep wave wigs and finger wave wigs are often "S" shaped. On the other hand, waves found in a pineapple wave wig are usually "C" shaped. So if you want to try "S" shaped waves, you can go for either a deep wave wig or a finger wave wig. Besides, these are the most popular type of wavy wigs.
2. Suitable length
These types of wigs also suit varying hair lengths. For instance, a Finger wave wig is ideal for short hair. A pineapple wig is more suitable for short hair or medium hair length. On the other hand, a deep wave wig suits any hair length, which is one of the reasons that make it more popular than these two types of wavy wigs.
3. Beginner-friendly
These wigs also vary in terms of beginner-friendly. For instance, a deep wave wig is ideal for beginners because it is easy to achieve, and it also blends well with most hair textures, especially for black women. The wig also looks more natural, making it easier for newbies to transition to wig-wearing effortlessly.
4. Maintenance
When it comes to these three types of wavy wigs, deep wave wig is the one that requires less maintenance. All you have to do is wash, condition it, and let it air dry. This makes it a budget-friendly wig.
Wrapping up
Don't be afraid to try these looks! They'll give you a chic and striking appearance, and they go great with your at-home casual look. You can easily wear these hairstyles for days on end without having to restyle them as long as you take adequate care of them with a hat or a nylon scarf and you avoid sleeping on them as much as you can.
Write For Us