Peekaboo Hair Wig--Catch The Looming Beauty
Sep.16,2020
Recently Hurela has released many new hair products. When editing the product information, I was totally fascinated by the hidden highlight hair wig which are called peekaboo hair wig. This must be shared with you beauties. Besides the color, the hidden highlight design is really amazing, peekaboo hair wig is just like a cute cat whispering "meow' to attract your attention. I know that plenty of you ever wanted to rock a fun with colorful hair trend but felt like you couldn't commit to such a bold hue, peekaboo hair is just coming to meet your need.
Then your curiosity may arise:
1. What is peekaboo hair wig?
2. Does the highlight part appear too much?
3. What's the difference of peekaboo hair wig and highlight hair wig?
4. Is peekaboo hair wig right for me?
5. Where can I get high quality peekaboo hair wig?
Answers are coming one by one!
1. What Is Peekaboo Hair Wig?
Peekaboo (also spelled peek-a-boo) is a form of play, one of the person hides and the other one tries to find him or her, it's a quite classical game that most people know how to play, hair wig designers apply this to hairdos, created such an amazing hair style, especially the highlight part could be all kinds of colors to meet different interests. Though colorful, they never look exaggerated because of the hidden dye technique.
Peekaboo hair wig is actually a kind of ombre or highlight hair wig, difference is that the highlight part of peekaboo hair wig is hidden or half-visible, which make the hair mysterious and more attractive. While highlight hair wigs hold visible ombre color with a bigger area. If you enjoy more lovely and stylish hair, then ombre color wig is also suitable.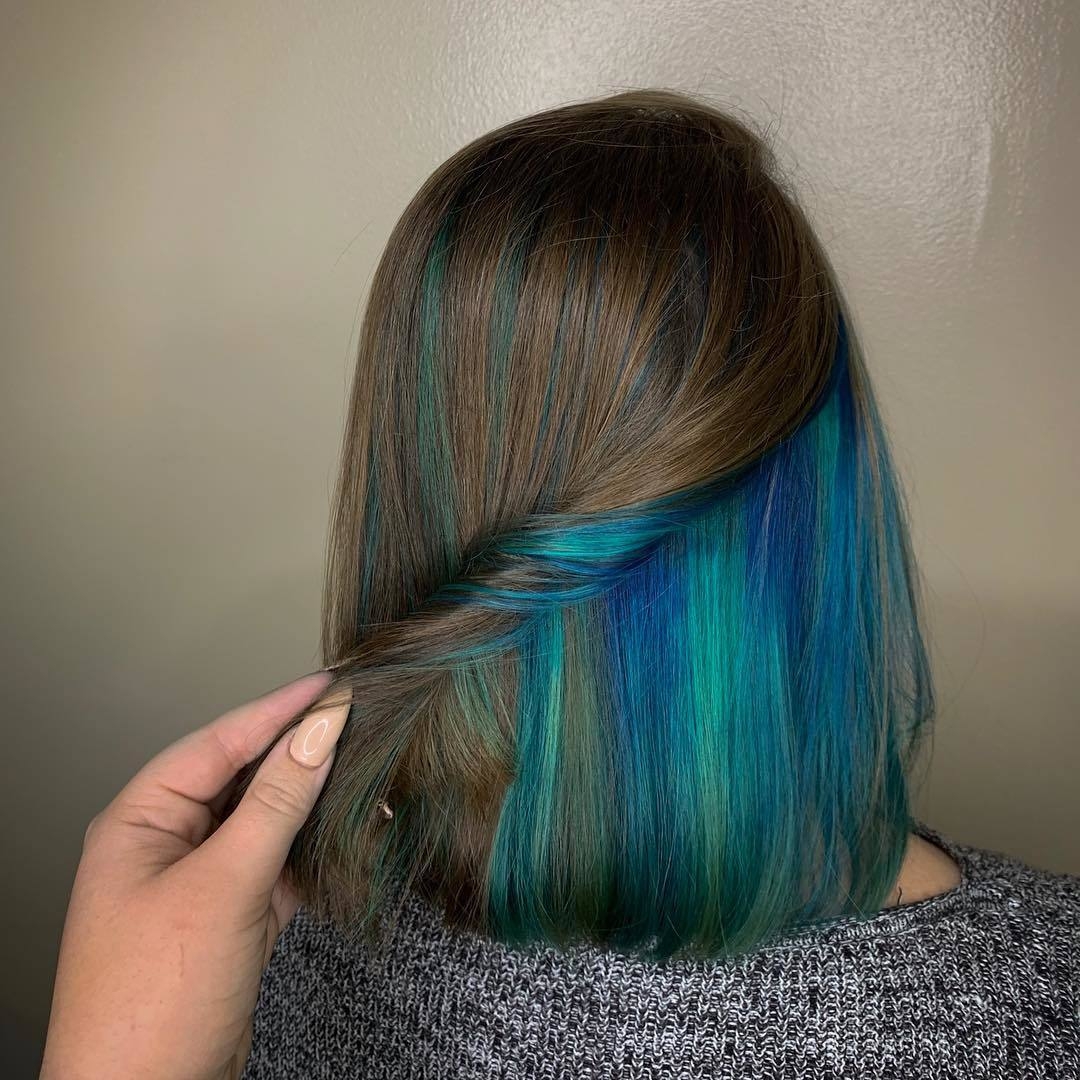 2. Does The Highlight Part Appear Too Much
Because of its half-visible feature, peekaboo hair wig are not possible to be too gorgeous to look fake, on the contrary, it adds more elegance on women. For most beginners who want to try ombre colored wig, they may hesitate to buy an pure ombre wig, then a understated peekaboo hair wig will certainly cater to their taste. Yes, they need such a hair style to transit. After getting used to this type, you may challenge the pure ombre wig.
The highlight part is actually underlights part, which involves highlighting the bottom layer of your mane with an array of vibrant, colorful hues. While natural color is kept for top layer, it's up to you whether the hidden highlights can be seen or not. Peekaboo hair is kind of fun that when you wear your hair down, you won't be able to see the vibrant hues. But when you wear your hair up, the fun can be revealed with colorful twist!

3. What's The Difference Of Peekaboo Hair Wig,Ombre And Highlights Hair Wig
You've already known peekaboo hair well, but still may get confused by ombre and highlight hair.
Highlights are hair strands that have been isolated and treated with a lightener. There are three main types:
▶ Full highlights: the entire head is applied evenly, full highlights give you a totally brand new color but still retains a bit of your natural color for some contrast and dimension.
▶ Partial highlights: Partials lit up only parts of the hair, attracting attention to specific features. Highlighting the mane nearest your face, emphasizing the framing effect.
▶ Babylights: These tiny highlights color look like babies' hair color shining in the sun, they are created using small sections of hair all over the head.
Ombre is a gradient of hair color that combines darker roots with lighter ends or lighter roots with darker ends. Ombre is named from the French words for "shadow" or "shade." Ombre looks offered a stark division between the dark roots and light ends with two=toned, Nowadays, it's more common to see a gentle transition from dark to light—a transition created with a balayage hair-painting technique.
Here are some pictures for an overview of their distinction: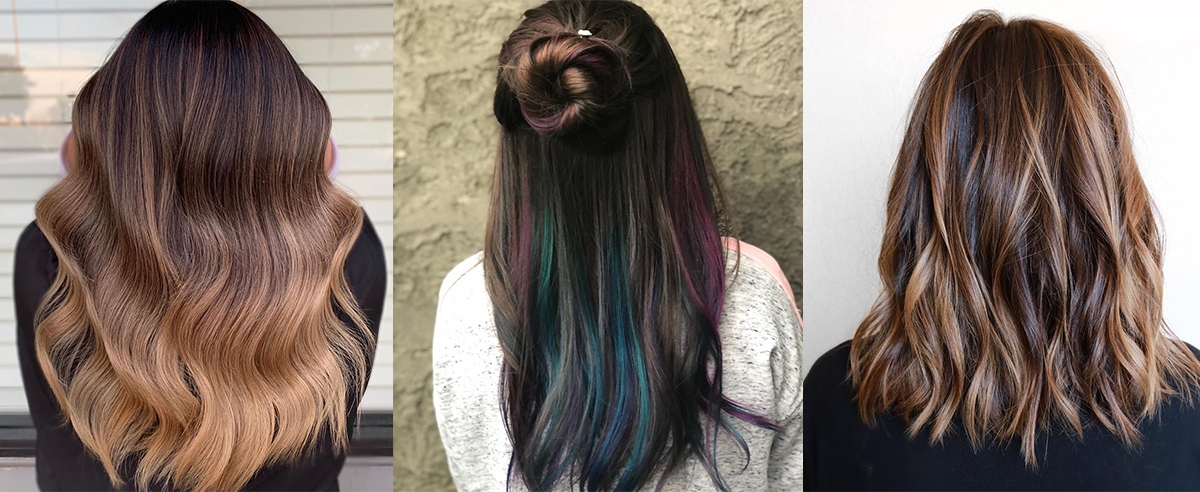 We can see clearly the difference between them, the ombre hair is big area ombre with different shades, while the highlight wig only emphasize on the certain strands, peekaboo hair is quite interesting that highlight underneath the top layer.
4. Is Peekaboo Hair Wig Right For Me
Whether your workplace is quite a formal occasion or you prefer something more natural the most of time, peekaboo hair wig must be a craze which may be just what you are looking for! This hairdos is not critical to all, the only thing that matters is the color you want, well, you could just keep your top layer of hair your natural hue, hiding a colorful hair underneath! What a fantastic hair appearance!
Peekaboo can be suitable for all occasions, when you need access to formal place, just need to put your hair down and show off the top layer which is your own natural hair, and wear up the top layer when on a party and radiate your unique bottom layer beauty. This layer can be any color as you like. Imagine that you are dating with lover, there comes the breeze and your hair is flying up with the half-visible highlights, what a beautiful and romantic scene!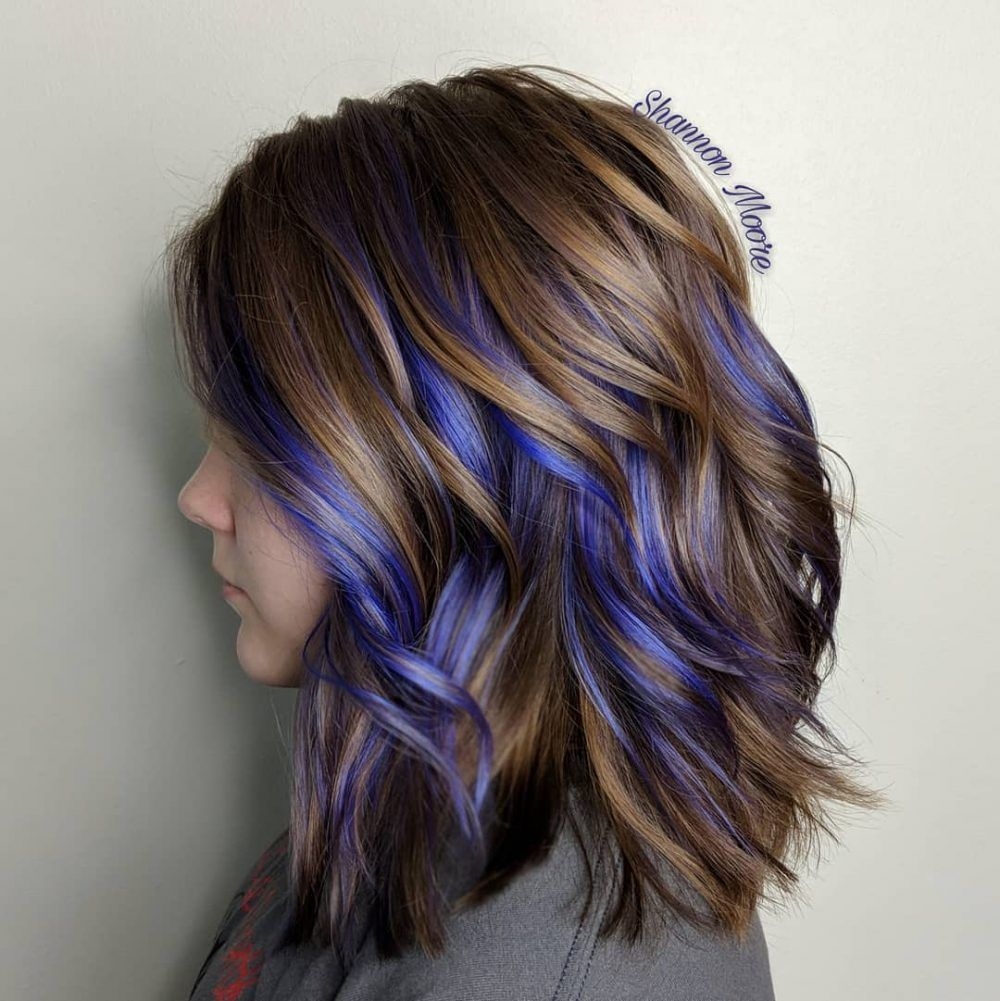 5. Where Can I Get High Quality Peekaboo Hair Wig?
Peekaboo hair is more and more popular nowadays, compared to full highlights hair, it takes less efforts to finish, but still need turn to a professional colorist to reach perfect effect. If you intend to hold peekaboo hairdos for quite long time, then just dye your own hair with the color you want, But if you just want to experience and try, peekaboo hair wig is a better option. However, best effect is based on the high-quality of a hair wig, otherwise the hair on you looks fake, let alone the peekaboo appearance.
For peekaboo hair wig beginners, we recommend Hurela online store as your first access, the new two types of peekaboo hair wigs we launch are just perfect for beginners, chic bob style with glamours purple will absolutely cheer you up with confidence. If you are not so into purple color, then the other type of orange is also nice option.
Pros of Hurela Peekaboo hair wig:

Compared to pu hair wig of other brand, Hurela makes the pu part to three layers--the handmade lace, glue scalp and diamond lace, adds diamond lace at outer layer, which brings soft texture, touch soft and subtle, just like your own scalp. About the hair root highlights part, Hurela leaves the root natural color so that it transits vividly. Also when you wear up the top layer, the highlights layer appears naturally. When put down the top layer, the slight wind could bring your hair delicate half-visible beauty.
This entry was posted in
wig
By Hurela Human Hair
Write For Us
Questions & Answers
Q
How Is Kinky Straight Hair Made?
A
Kinky Straight hair weave is chemically processed for the hair to resemble, look, and feel like kinky curly natural hair that has been blown out or has a texturizer. This hair also shows off light soft crimps and luster.